Restorative yoga is a "gift to yourself." That's what one of my teachers said a few years ago during a restorative weekend workshop. In thinking on it…yes, that's exactly what it is. It's a class where I carve out time and settle in with props and minimal effort and it is a gift.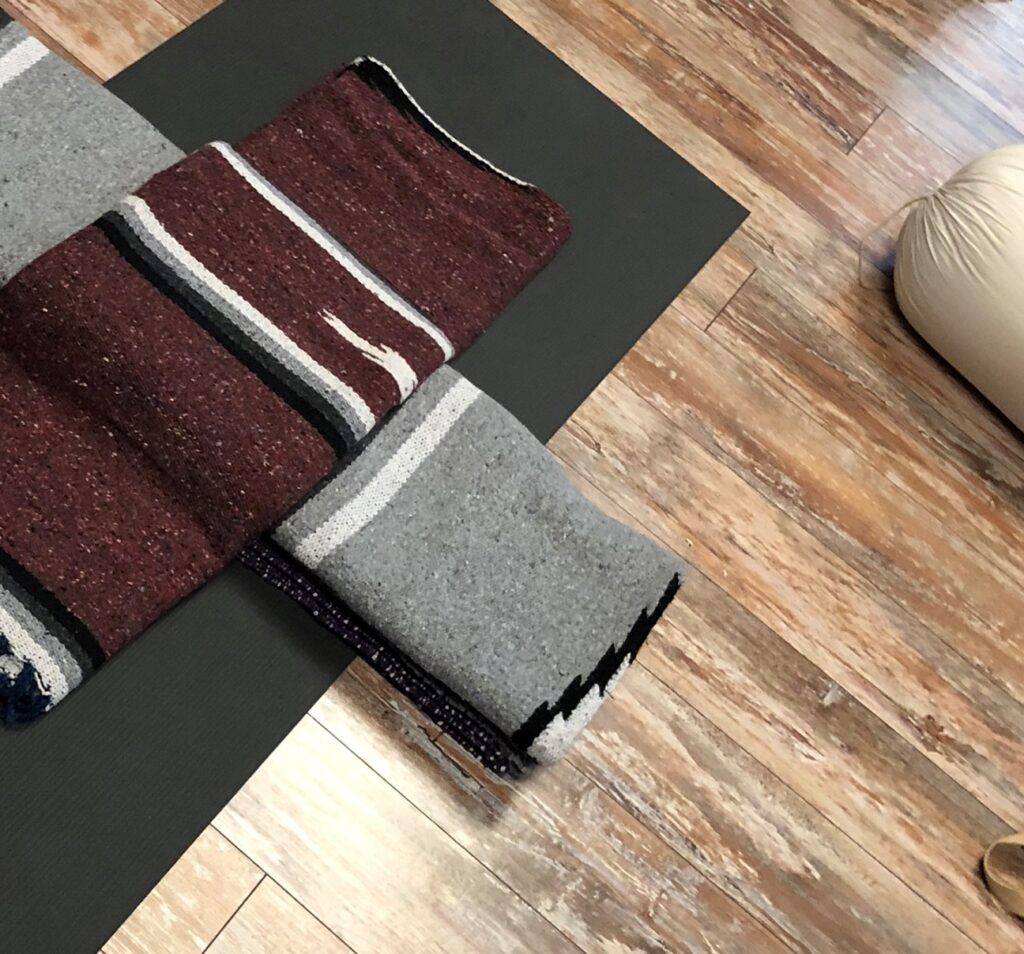 Restorative yoga leans heavily on props: blankets, blocks, bolsters, and potentially small sandbags for grounding areas of the body (only if comfortable and if the sandbag would not antagonize an issue in the body). During a restorative practice, the parasympathetic nervous system may be stimulated – the system that regulates the "rest and digest" state of the body. And that ties back to it being a gift for oneself: taking the time – an hour or more – to rest.
In each pose, you settle in for several minutes. Let the props support you and feel free to adjust as needed. For instance, in one class in a forward fold over a bolster, I had a larger bolster than some of the others, which resulted with my arm resting along one side raised a little off the ground. I was comfortable, but I was still doing a little "work" with that arm that with the forearm not fully supported. All it took was folding the blanket under my arm one more time to raise the ground just a little and let my full forearm rest along the top of it. It was a small adjustment, but it made all the difference in dropping into the pose fully supported.
Last month I talked about yin yoga, which also makes use of props. But in my experience, even while yin is slower and focused on stretching, those stretches are more active. Yes, I want to relax a bit nto the pose so that I can hold it for several minutes, I still feel – and want to feel – a little something working in the tissues. I don't experience that depth in a supported restorative class, but that's okay. I'm there for the "restore" part.
Late in 2021, The Mat added restorative classes back on the schedule with the first Friday of each month offering a 75-minute class at the Dallas Studio. And starting this month – this week! – the Plano studio will offer a 60-minute restorative class monthly on the third Fridays (note: these classes may shift depending upon upcoming weekend workshops, so keep a look out at the class schedules).
As with new-to-you yoga styles, there are contraindications for certain poses. If you are seeking a modification, be sure to check in with your teacher to help set up for those modifications. And if restorative is entirely new to you, talk with your doctor as well before trying to review questions and concerns, or understand what those contraindications may be for you.
This is the part of a series of posts for The Mat Yoga Studio, sharing my thoughts and observations as a student only. The views and opinions are my own experience.