The Mat Yoga Studio, at both of its locations in North Dallas and Plano, has brought back its yoga challenge! The challenge? Deciding to take 3 or 4 classes each week for the month of April.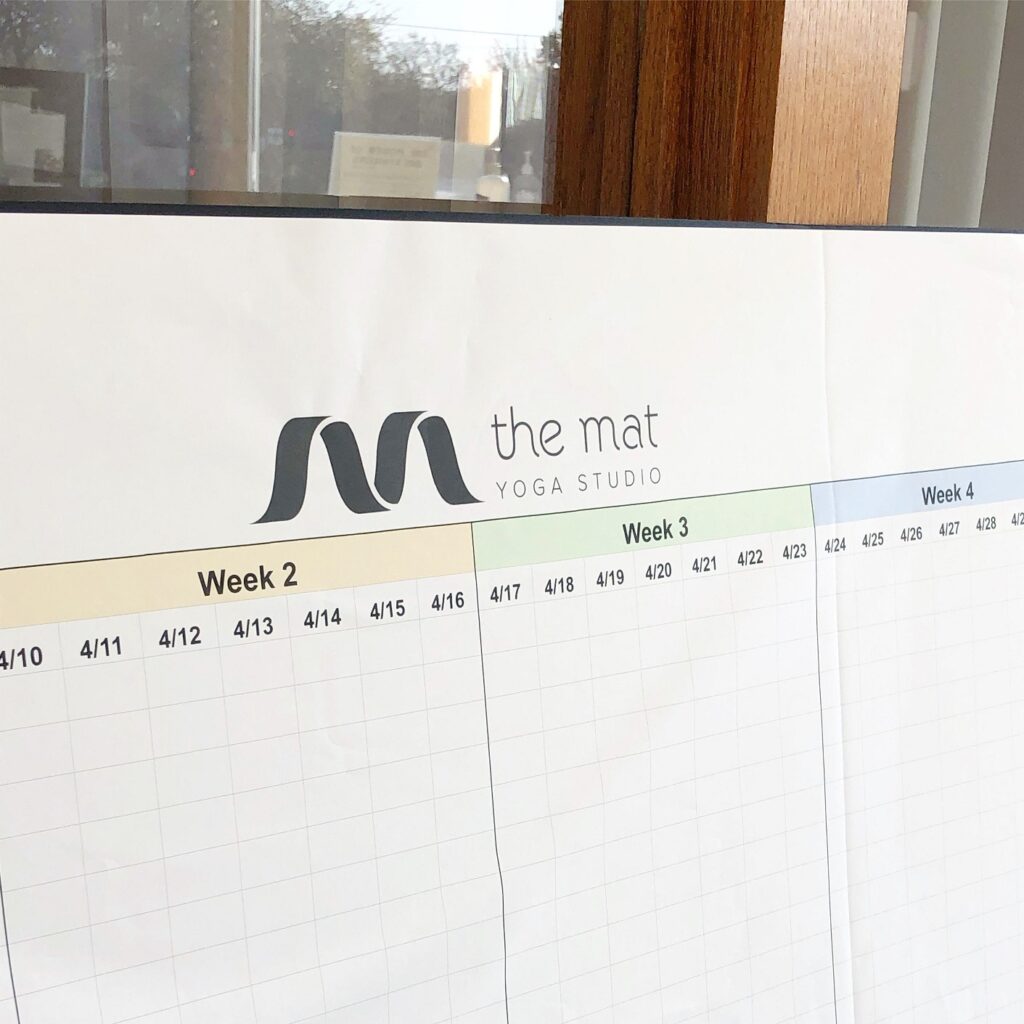 I've seen variations on challenges at The Mat and other studios in the past – and it's not limited to yoga studios. Other boutique studios or even some gyms will offer some type of monthly challenge. Challenges can range from taking a certain number of classes to trying new things (like resting in savasana for a whole class!). While this challenge is about the number of classes, this still offers opportunities to try new things.
How so? By being open to trying other classes. For instance, I'm aiming for a certain number of classes a week and I have plans for one evening at the time of my regular class. Most weeks that might not give me pause, but in wanting to meet my challenge, I can look at other class times which may introduce me to a new-to-me style or teacher. If there are classes on the schedule I'm not familiar with, this is also a great opportunity to talk to the teachers to learn more or to see what other classes are available and might be a good fit.
And while there may be rewards for completing certain steps along the challenge, participating in a challenge can also be motivating and personally satisfying. For one, through the challenge tracker itself. If there's a board or a card, I find it motivating to really want to strive to make another check on that box. And the satisfaction is two-fold for me: seeing the progress I've made and also accomplishing something I've set out to do (attending a certain number of times, this month at The Mat, for example). That's one place where I find personal satisfaction, but also seeing my own progress in myself when I practice more regularly.
Sometimes those rewards I mentioned may be for class passes or studio swag. For this April challenge, The Mat is offering prizes drawn each week, but also grand prizes for accomplishing one's goals each week throughout the whole challenge. There are some prizes from other local area businesses – which might also be a great way of discovering a new business – and grand prizes that offer some great studio rewards. And those studio rewards would be a great way to continue practicing with the momentum built through the challenge.
Finally, there's one other aspect of a studio challenge that I need to highlight: community. I start to see familiar faces in classes and it's a great sign of the community to help encourage each other to meet one's goals for the week and for the challenge. It's a great way to meet others and strike up a conversation with some of the familiar people you might see in class.
The current challenge continues through April, but keep an eye out on The Mat's social media or sign up for the newsletter to learn about the next challenge when it happens.
This is the part of a series of posts for The Mat Yoga Studio, sharing my thoughts and observations as a student only. The views and opinions are my own experience.