I flew into a small airport just outside of Gdansk, met a very nice cab driver (who thought I was Norwegian) who took a route that circuited the city center, so I have to say didn't quite happen at first sight. But I was incredibly excited about being in Poland. I did appreciate the already cooler weather, and had a lot of excitement about seeing my friends in just a couple of hours. And maybe we drove this way because it was the quickest way, or maybe it was because the main city streets – those streets with which I was to fall in love – were closed for the St. Dominic's Fair, but I was quickly going to be okay with that.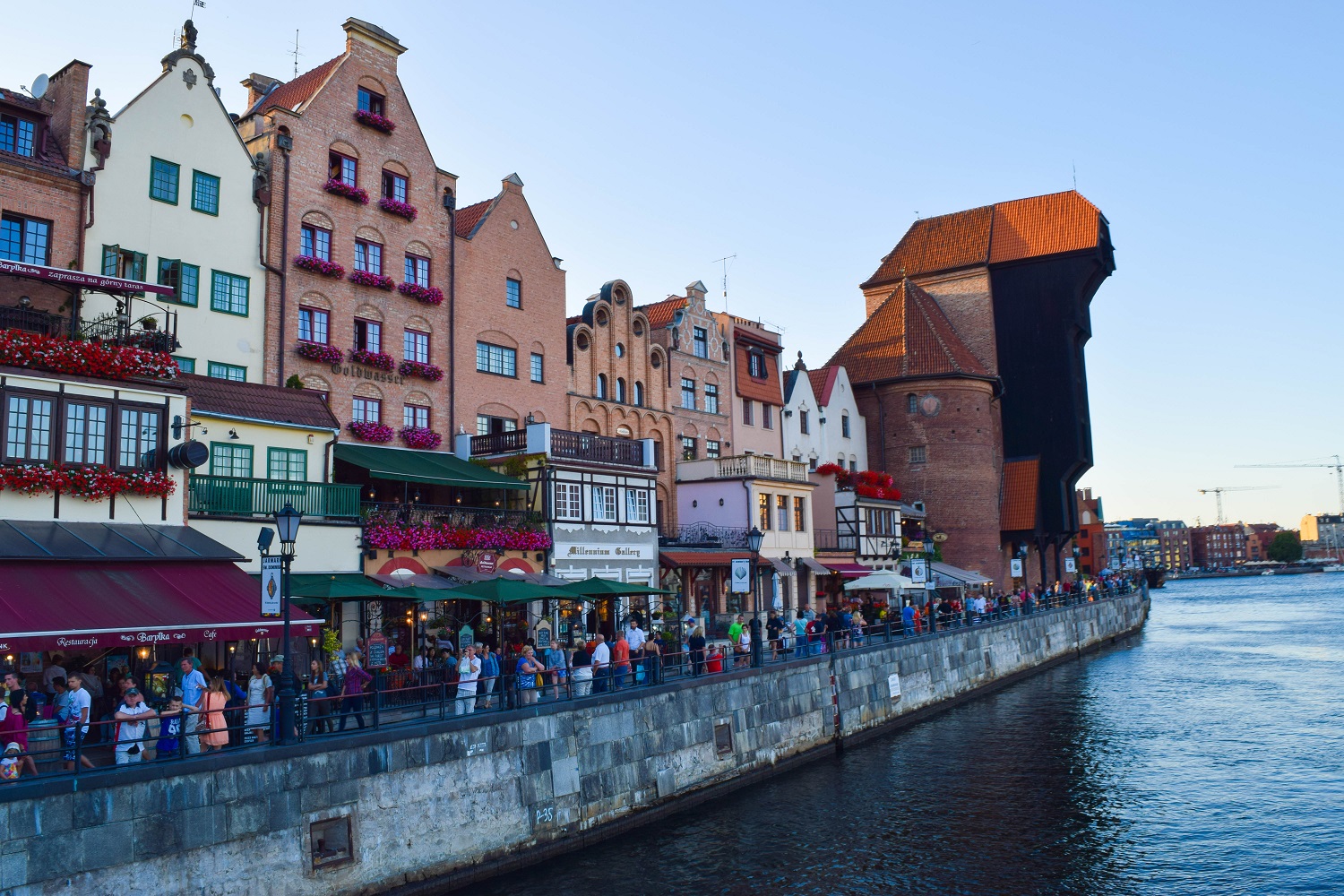 I'll be honest, the first small hint that I was going to fall for this place was my room. The Mercure Gdansk is this sort of imposing building – imposing for it being the tallest building around and fairly plain on the outside – but with a beautiful space inside (I should remind you that I love hotels, so staying in one that was comfortable and pretty/chic is important to me, especially for vacation), and then I saw my view: the shipyards. For history buffs out there, the first independent labor union in Poland – and I believe also the Soviet Union – was founded in the shipyards by Lech Walesa.
I remember first learning about Lech Walesa, so I enjoyed being able to look out over the shipyards while in my room. Before heading out to visit friends, I got settled in my room, made a cup of coffee and sat with the curtains drawn to overlook this view, and my copy of the Lonely Planet Poland (Travel Guide)
in front of me to mark off a couple of things nearby that I did not want to miss over the weekend.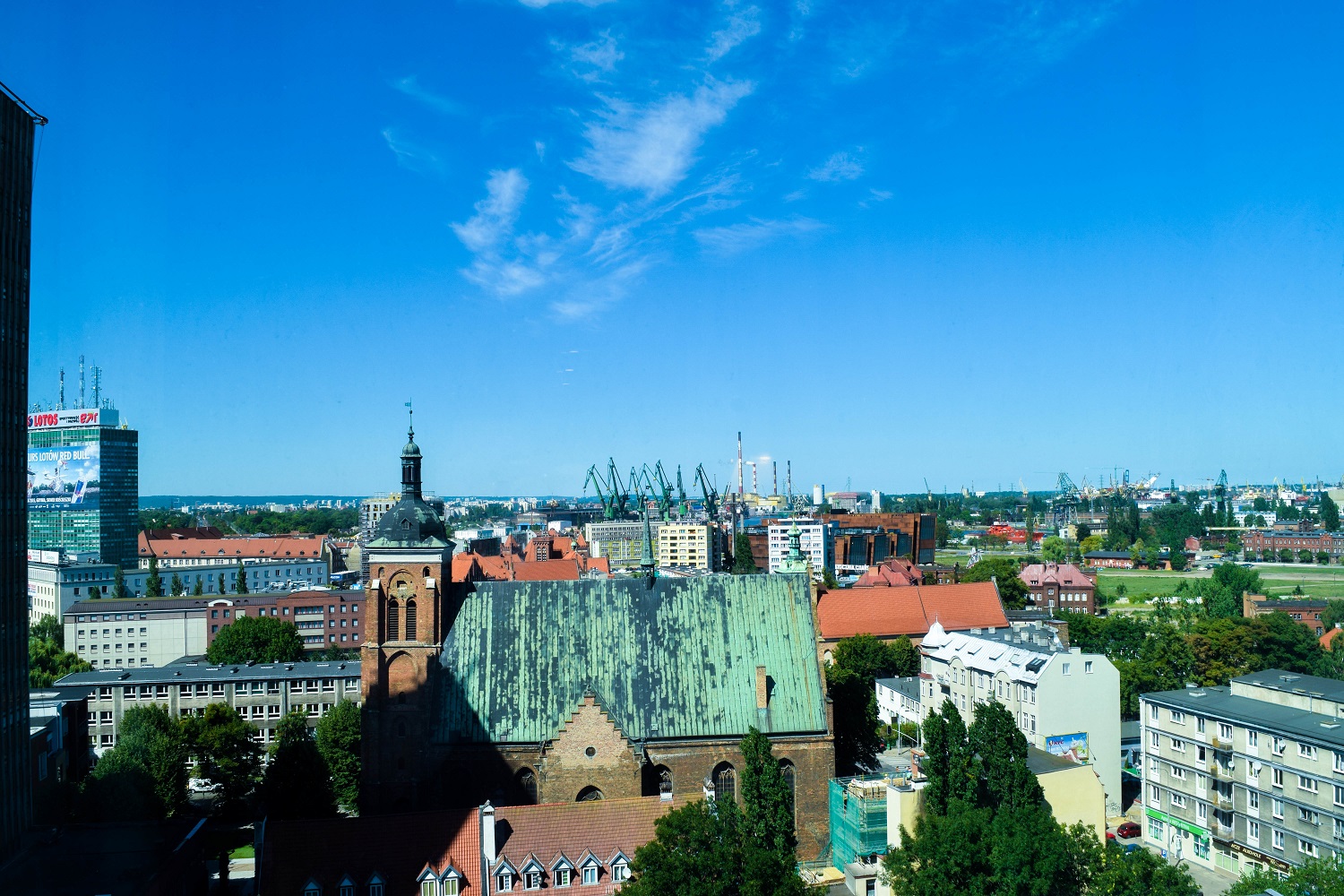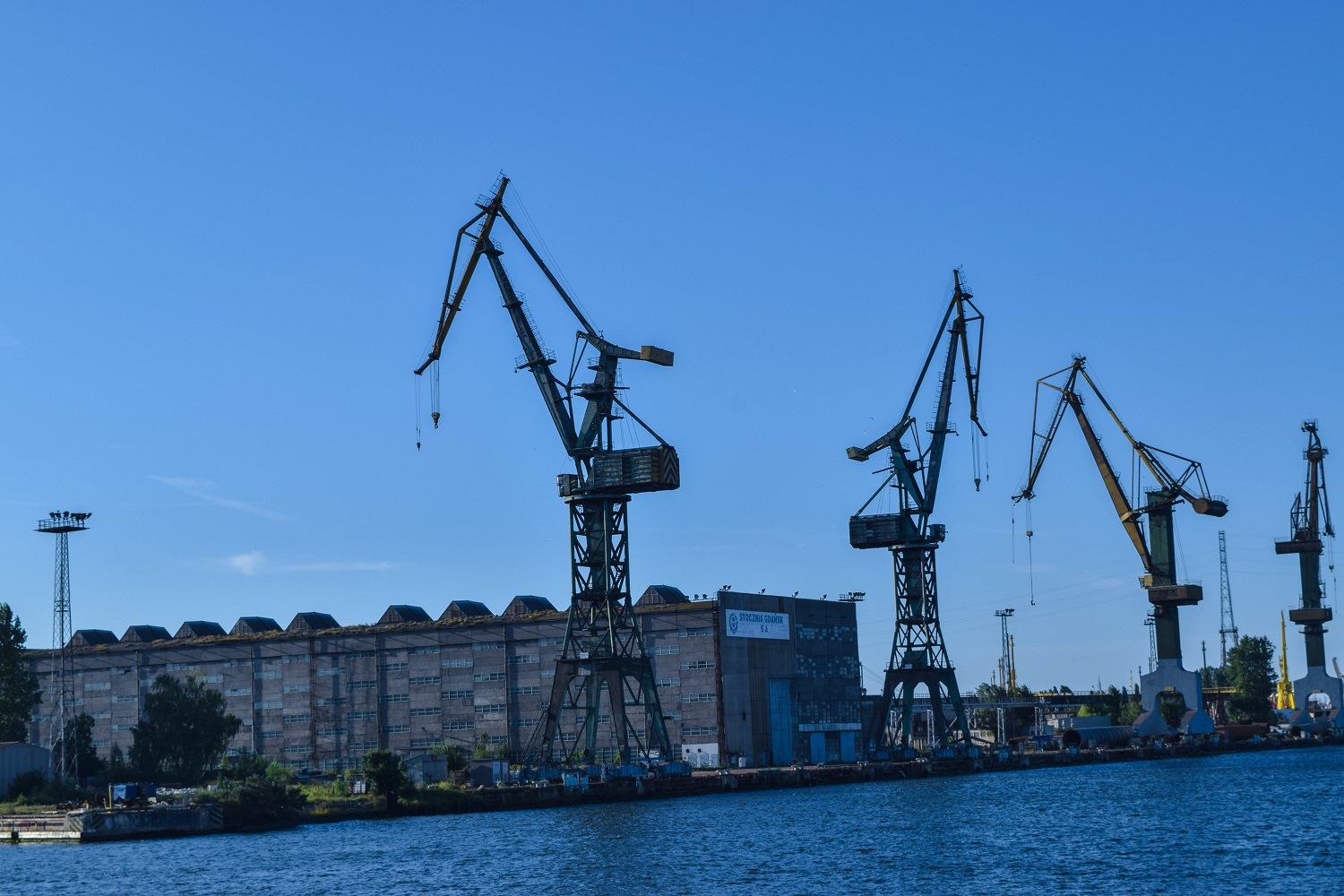 It was a bonus surprise that the St. Dominic's Fair – the city's oldest such fair – was still on-going the weekend I visited. I'd read about the fair in my guidebook, but calculated three weeks from the last Saturday in July and thought I'd missed it by a week. Fortuitously, the final weekend of the fair turned out to be the weekend we visited! And I found a beautiful ring at the fair – so not only did I find a piece of Poland to bring home with me, but also a memento of the fair I'd read about and loved wandering through.
The fair was a great way to experience just a little bit of Poland in that festive atmosphere. There were all sorts of vendors, selling jewelry, amber pieces, textiles, wooden figurines and cooking utensils, food and beer. I looked forward to walking through this fair each time I went to meet my friends.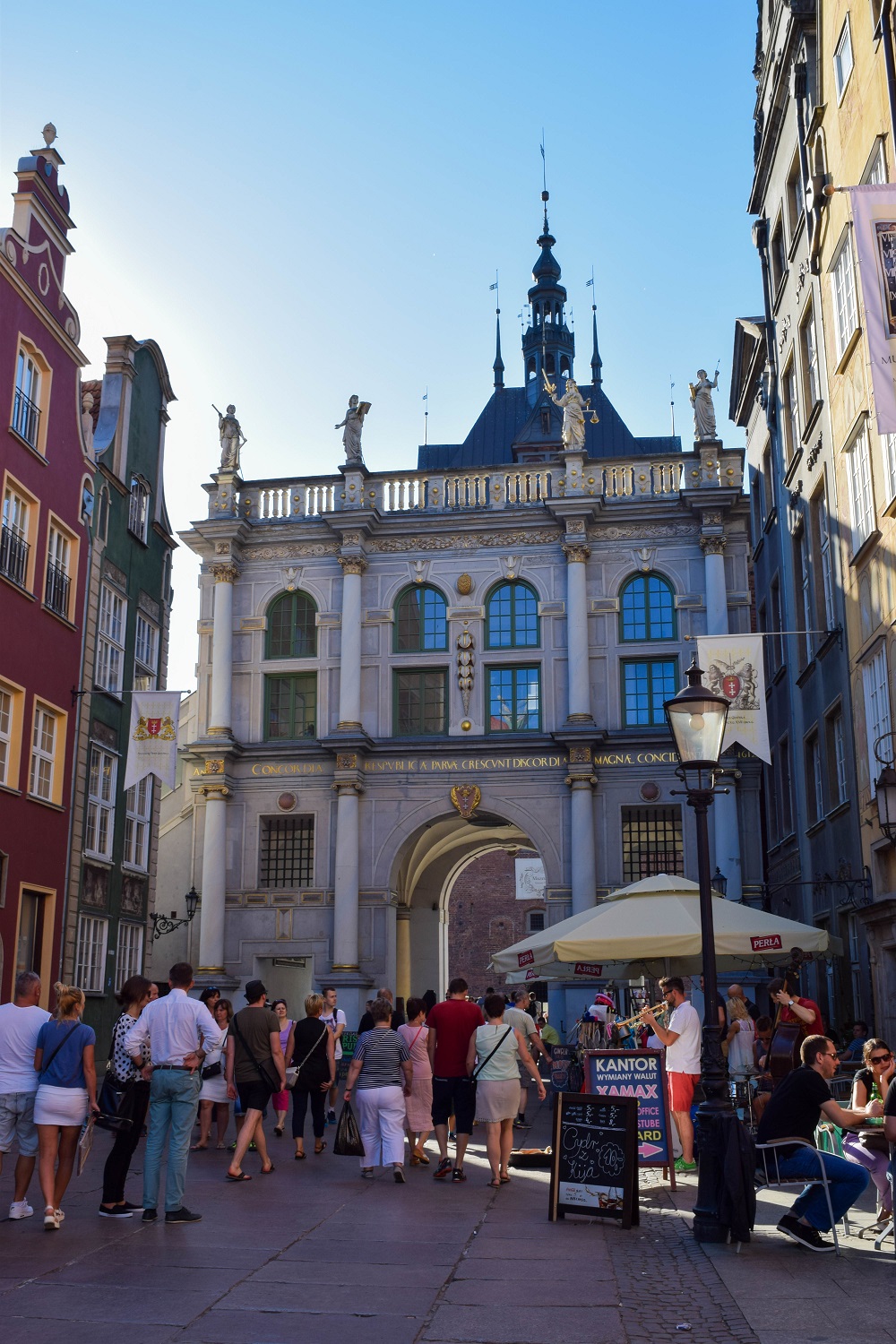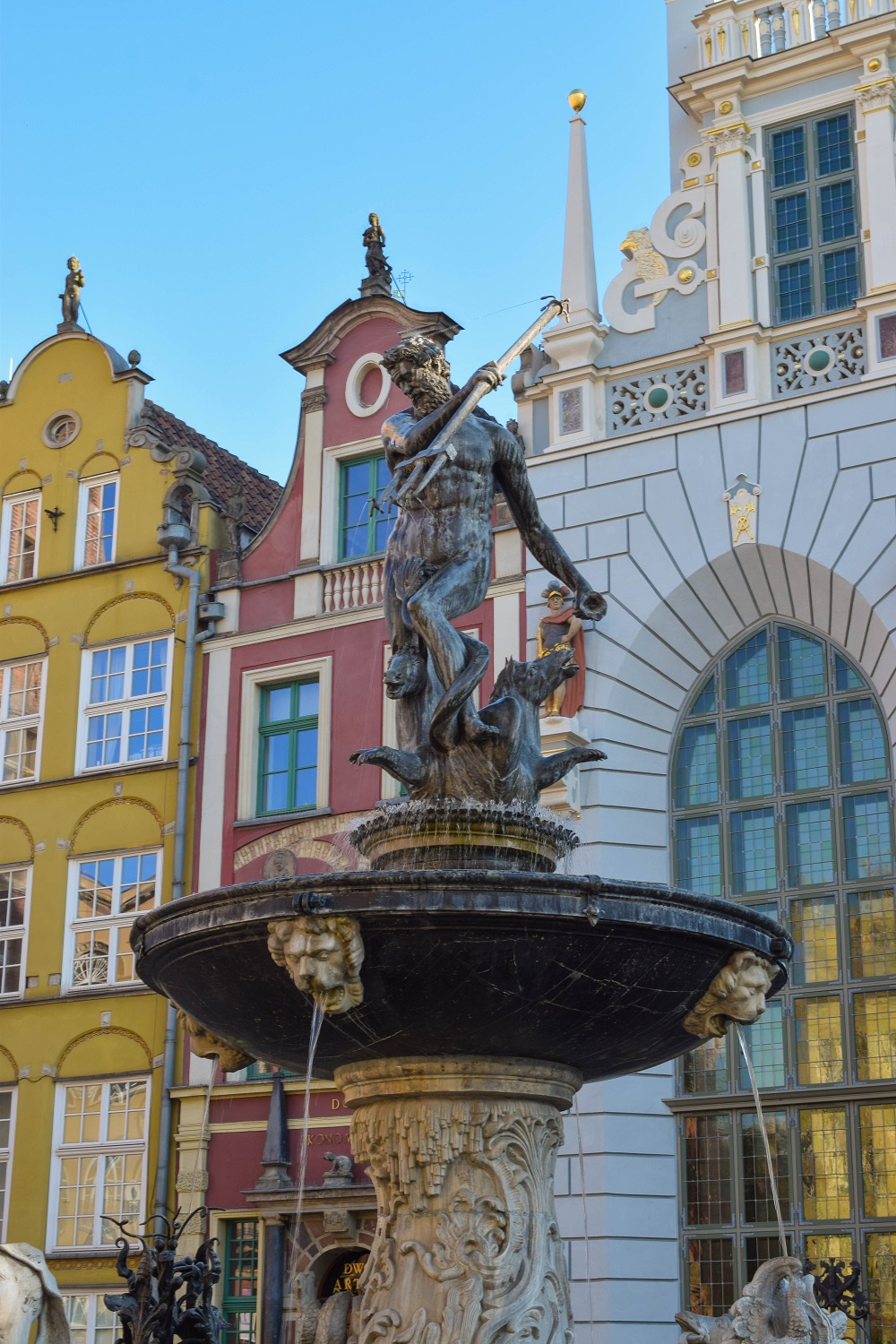 Then of course there was Dluga Street. Such a beautiful, charming street. The houses along the street were in a multitude of colors and have been turned into shops, museums and a plethora of restaurants, all with tables outside to enjoy the cool, Baltic summer air. I met friends a couple of times under the Neptune sculpture to then find a place for dinner, or for breakfast and coffee (how I love coffee and pastries in Europe!) and just enjoying the street view.
There were many more things I read about in and around Gdansk (including maybe kayaking around some of those canals I liked walking along), and so I guess I'm just going to have to go back. Not to mention Malbork Castle, which I only glimpsed at from my train to Warsaw, a visit to Krakow and hiking around the Polish countryside. But back to Gdansk – what's not to love?