With roughly two days, my time in Munich was limited. I did explore my first day, though without much of a set plan. It wasn't until my second day that I had sites in my mind that I wanted to see. Some of those came after my explorations – places I stumbled across and wanted to explore a little more. But there were others I'd marked in my Lonely Planet Munich, Bavaria & the Black Forest (Travel Guide)
and wanted to see what I could see now that I knew my area a little better.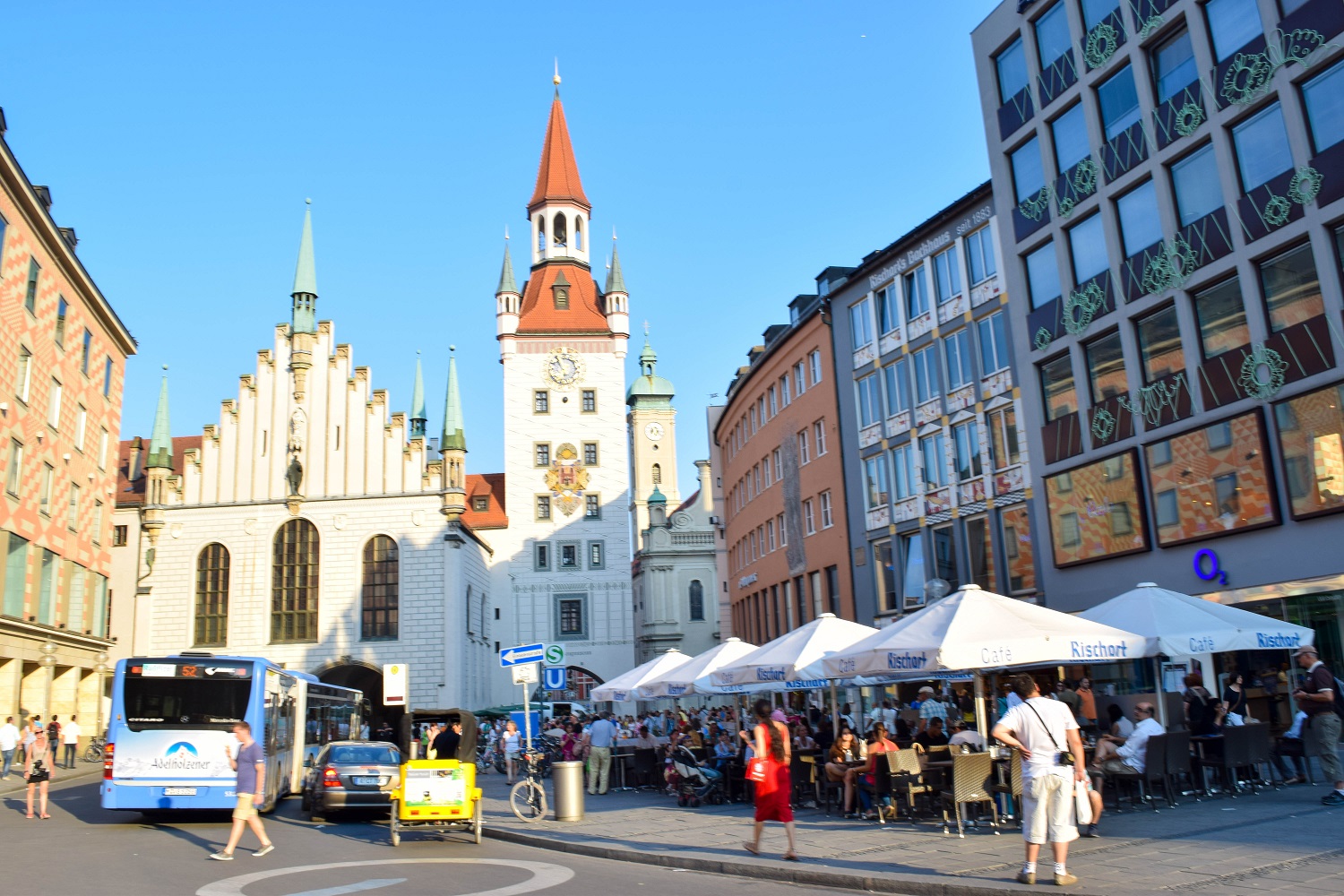 There are so many things to see, and while I was happy to check a few experiences off my list, there are plenty of things I did not see. Which I guess just means I need to keep my list handy for another trip?
But if your trip is a little like mine and you're passing through, here are five things to see int he Altstadt (Old Town) area. This is also if you don't want to spend much time traveling from place to place, as I walked everywhere seeing these places.
1. Viktualienmarkt
This market covers a large center square and has stalls for fruit, meats, cheeses, seafood, flowers, wine and an assortment of other very good things. I knew the market was near me, but this was one of those fortuitous getting lost moments when I stumbled upon its city streets within a city. The market has been in this location since 1807, and has definitely aged well. I just wish I had a farmers' market like this near home. Also included are tables set up around the market. It's a great way to shop for lunch from a variety of vendors and then sit down to enjoy and people watch, and just enjoy being in Munich.
And even better? The market is open daily!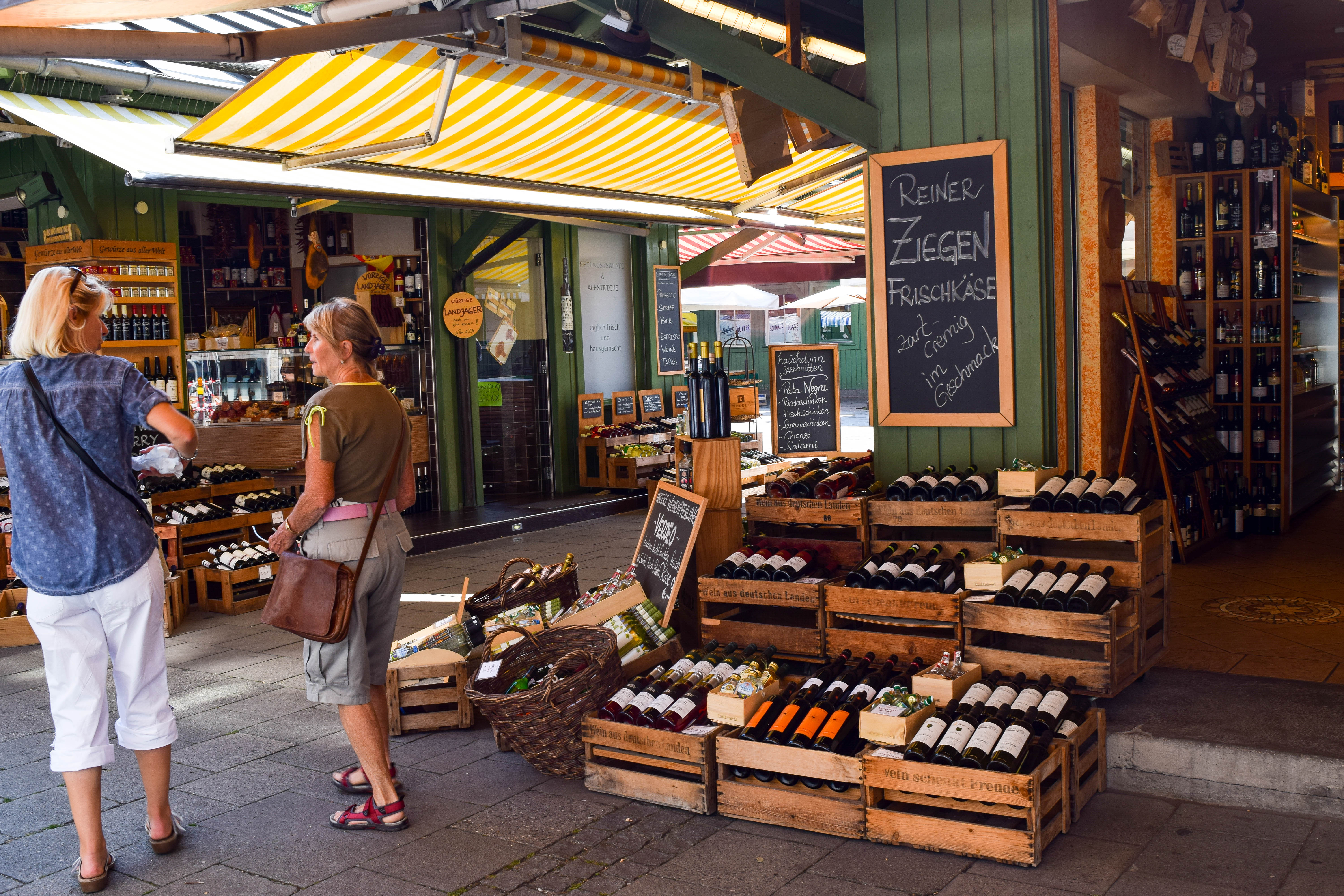 2. Residenz and Treasury Museums
I've already written in more detail about the Residenz Museum, and while I did not also tour the Treasury, it is located right next door to the Residenz Palace, so if you have the time it could be worth doing a combined tour. For about 13 euros for tickets to both the Residenz and the Treasury, it's not such a bad price for so much history.
The palace was the home to the Wittelsbach ruling family (rulers of Bavaria), and is also a lesson in reconstruction. World War II bombing destroyed the facade and rooms, but have since been renovated. Signs around the palace will mention what a room originally was used for or what a missing painting was, and as beautiful as the palace is, it did make me wonder what it might have looked like had it remained unscathed.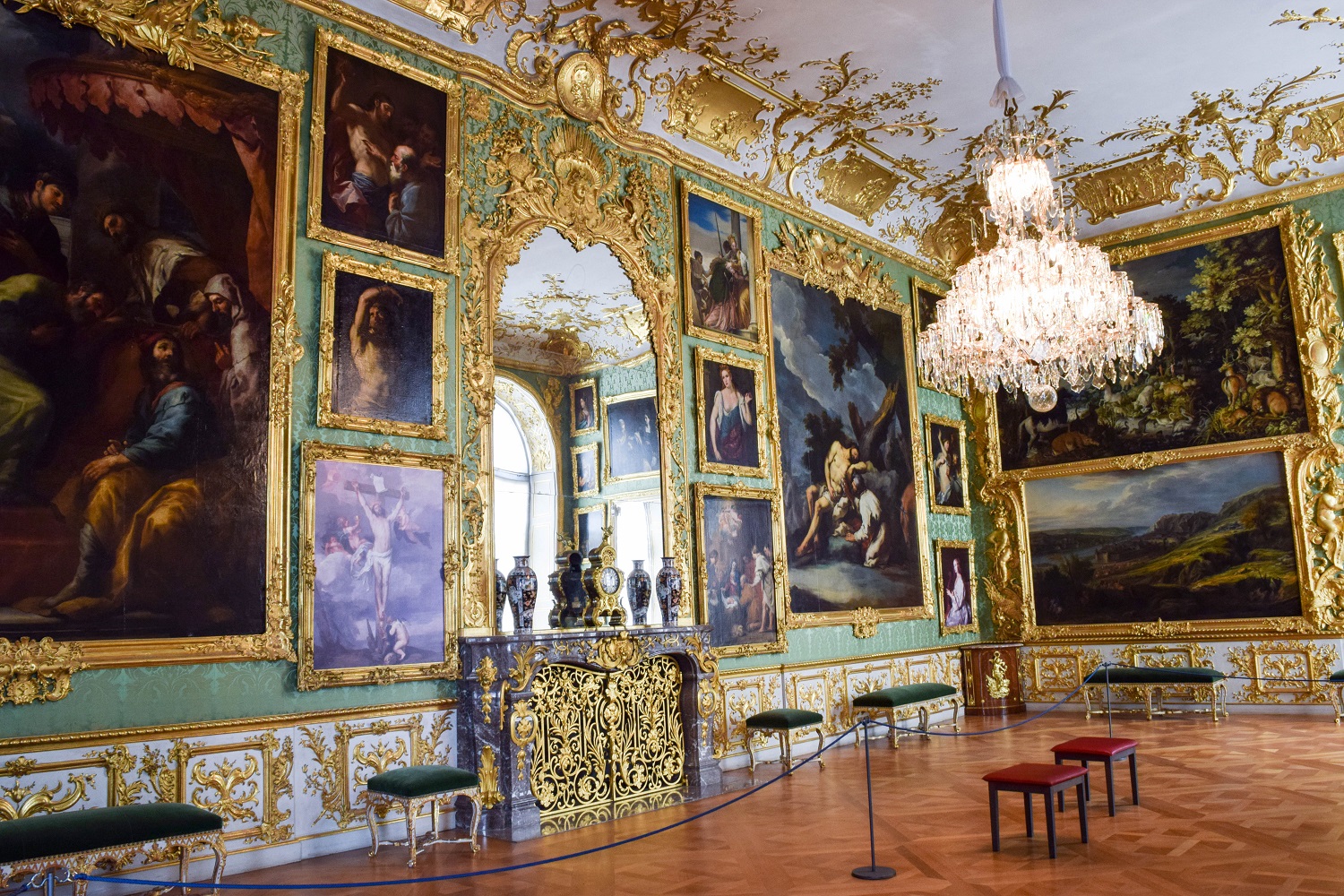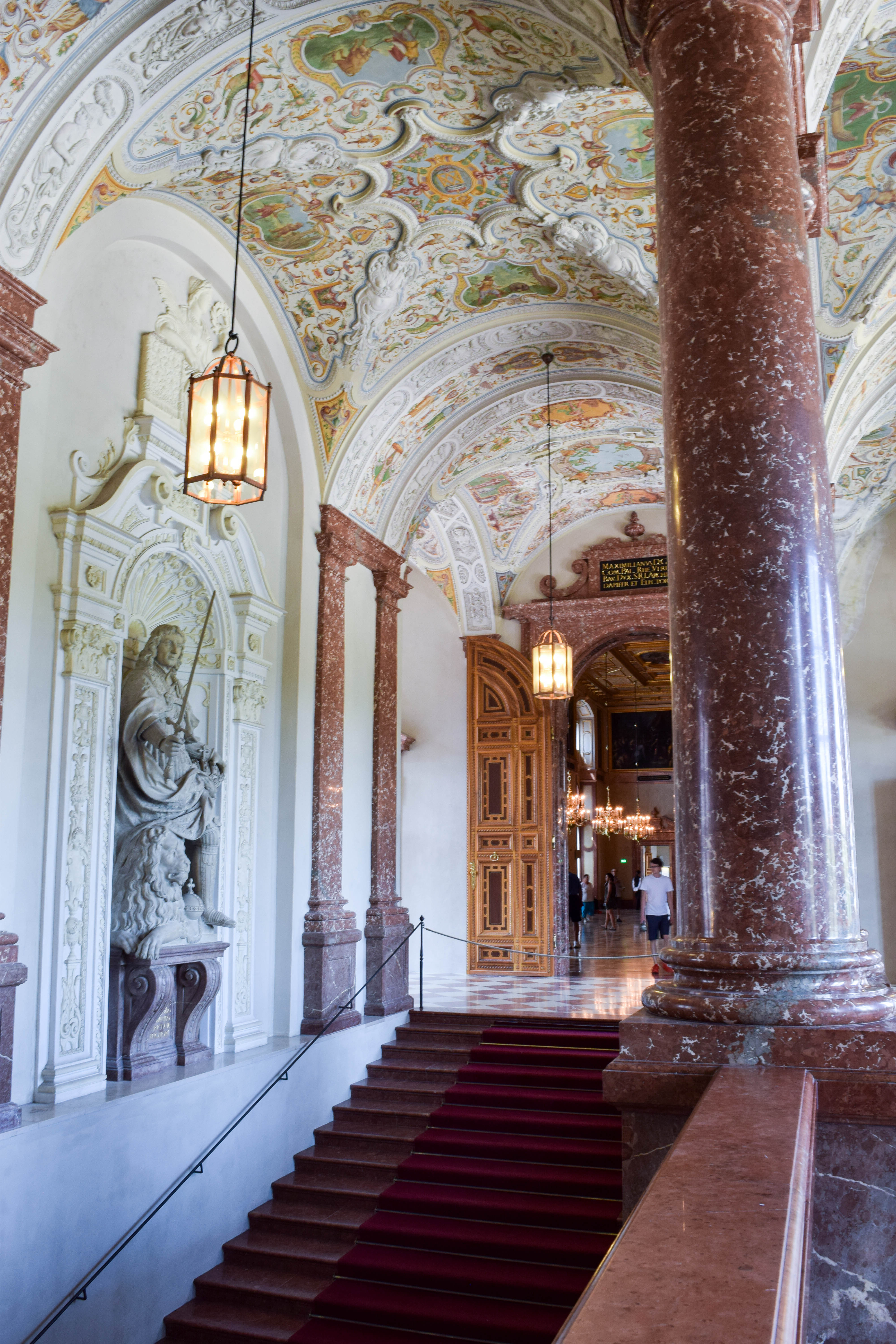 3. Englischer Garten (English Gardens) and Surfing
To put this large, green space in perspective, Munich's English Gardens are larger than Central Park. So while I only had one afternoon to view it, I clearly did not cover all of its grounds. But I did enter from near the Hofgarten (next to the Residenz Museum) and followed the small river to a bridge on the other side of the park to see what I wanted to see: the surfers.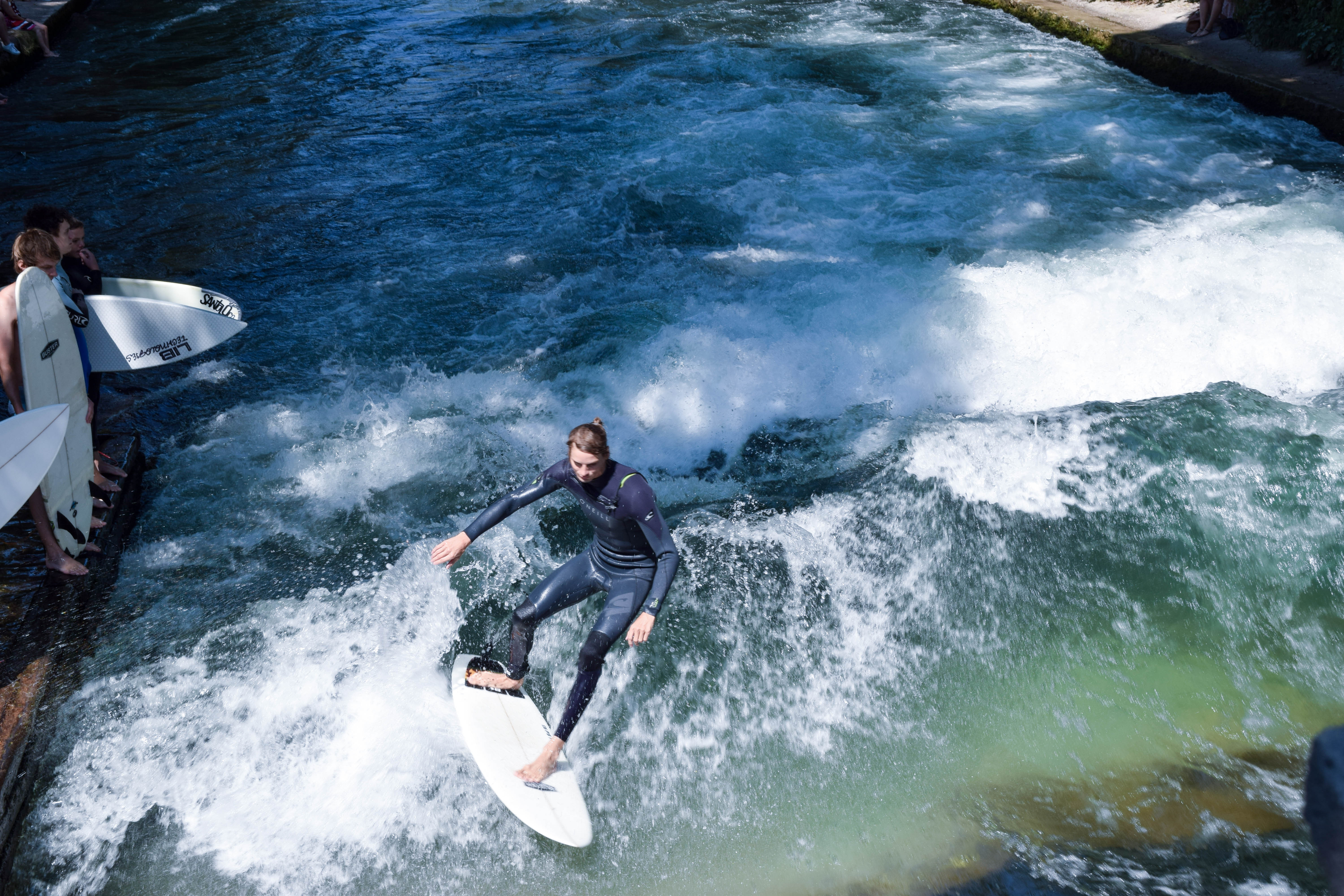 The waves are generated by a water pump and fun-seeking Germans take turns surfing from side to side on the wave before diving (or falling) into the water. It was definitely warm while I was visiting, but that water must have been cold! Nearly all of the surfers I watched wore wet suits, though there was one brave guy in swimming trunks only.
If you have additional time, the park is beautiful to walk through, especially if you visit on a sunny day like I did. The trees offer a cool respite from the heat, and families are picnicking, sun-bathing and playing in the water. A word of caution though, if this may make you uncomfortable: some people out there sun-bathing may not be dressed..at all. My guidebook had mentioned this in regards to the Hofgarten, but I did not see it until visiting the English Gardens.
4. Churches
It probably goes without saying that Europe has amazing churches. Absolutely stunning. Some might be more on the visited path, such as the Frauenkirche (Cathedral of Our Dear Lady), with double towers rising over the Altstadt skyline. And thankfully so, since those towers helped me find my way a number of times!
These churches I wandered into had massive, soaring ceilings with ornate wall columns and the most beautiful altars! Like the first picture below in Baroque-influenced St. Michael's. I found this church by accident. It was my first morning in Munich and I had a couple of hours to spend before my hotel room was ready, and as I passed I thought "hmm…let's go in and see what this place is about." And wow. Some of my favorite buildings to visit when I travel are churches. You can pull a lot about the history and the culture from them. And even see how the history and culture has progressed, as you see styles shift between church to church from Baroque to Gothic and more.
5. Rathaus-Glockenspiel
I also could not include a list of things to see without including this architectural wonder. This is a beautiful grey building, rising up from the square with a clock tower complete with a working figurines. In the summers, it chimes twice a day. You may want to verify the times, but at least at noon and then once again in the afternoon. The figures come out and reenact Munich's historical stories.
Regrettably I did not witness the chiming and the show. For the first show, I was still wandering the halls of the Residenz, and for the second, I was making my way back from the English Gardens. But I do hear it is definitely something to see. And even if you don't get to see the show, the building itself is stunning. It also is said to have some of the most amazing views of Munich from the top of the tower.
6. Biergarten (Beer Gardens!)
What would a stop to Munich in the summer be without a visit to a Beer Garden for a brew? I don't know, and I wasn't about to find out.
I met a friend for dinner, who took me a beer garden and introduced me to a beer you can only find in Munich. And it was delicious! It was cool and crisp, and such a great way to end a long day wandering in the sun. We also had a pretzel, cheese dip full of chunky, cheesy cubes, and sausage. Now, he had the sausage, but I did try a bite. I mean, I was in Munich, in Bavaria. I had to at least try it.
The tables become crowded, but find an open place and strike up a conversation with the person next to you. My friend and I caught up, but at the table behind us, I heard a Japanese tourist teaching the German next to him Japanese over their beer, before the tourist excused himself to see the next site or just to enjoy sunset in the city (I can only imagine).
What did I miss? Have you fallen in love with any of the above suggestions? Or where would you recommend I visit the next time I make it Munich?