I'm going to try something out: a series of posts of the past week aiming for posting on Saturday sometime (and yes, I know today is Sunday, but today's the day I started thinking about it). I'm thinking I'd like to aim between 5-7, but I'd also settle for 3 good things. I also may or may not be posting every week, especially if some weeks have something that deserves its own post. Like trips to Glacier National Park last month or the upcoming National Book Festival next month. But let's get started with this past week
The first thing out of the norm for a week was seeing my godmother yesterday (best godmother ever!). She's awesome, and I get to see her and her husband late summer and early fall a few times when they come into DC for sporting events (they don't hold it against me that I don't like baseball or that I'm a Cowboys fan…I've even been invited to games with them!). I haven't seen them since I went to visit at the beginning of the summer. Remember those beach pictures? Yup, that's just an additional perk for visiting.
You know it's tourist season when the museum cafes replace real plates and silverware with plastic. I spent some time before meeting my godmother at one of the museums and stopped by the cafe for an aranciata and some roasted vegetables to tide me over until our late lunch…and I swear the last time I stopped for a similar lunch two months ago, there were actual plates and glasses and silverware. Obviously it didn't change the way things tasted, but I did find it amusing. And it definitely makes the cleanup quite a bit faster, which is a plus during tourist season.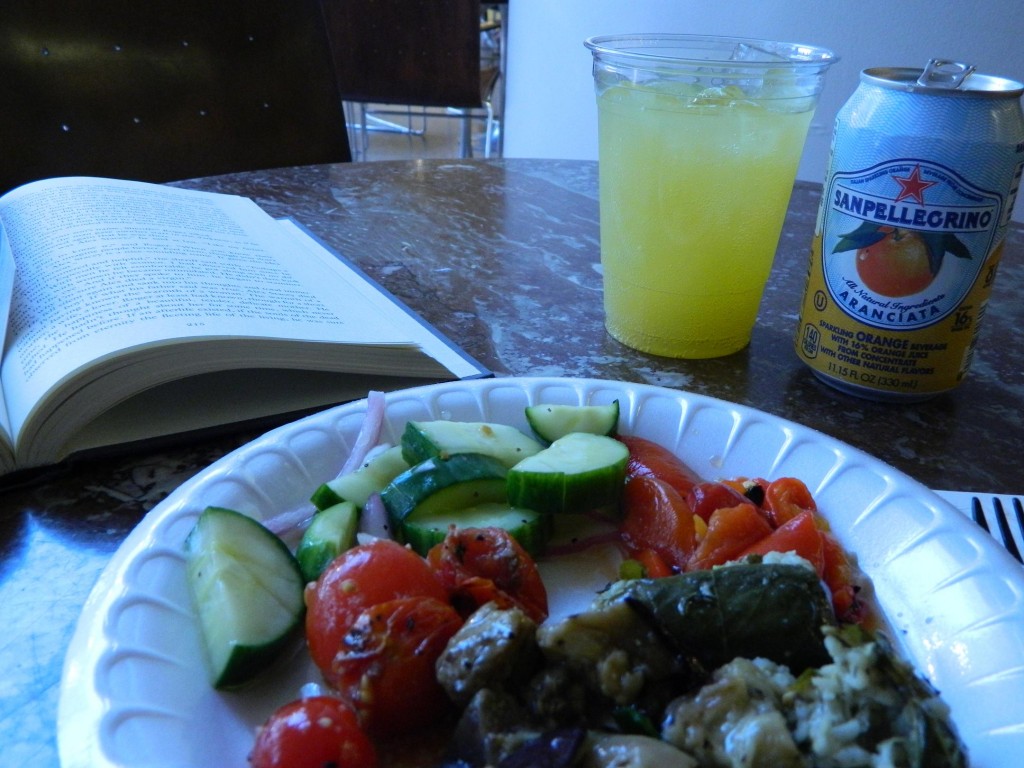 One of my Pandora stations put me in a nostalgic mode. I was listening to a band station along the lines of alternative rock, and an old Oasis song came on, Wonderwall. I used to love that song! And of course, I had to go look up the video and then out of curiosity, had to look up when it came out. 1995! I had not placed that song at 17 years old…but I guess it makes sense. Yeah, once I start thinking about it, it does make a lot sense.
I've gotten hooked on this one TV show on Netflix, or rather it currently has the first season to view by DVD only, and the first couple of episodes I admit I liked, but wasn't completely invested in. Only now I am. I had two discs (two episodes on a disc) and watched all four episodes last night and now so want to know what happens next! But I won't get the final disc until mid-week probably. I should totally have found someone who owned the season and just borrowed it.
Last weekend I spent the day with some friends for some long-needed catching up. We started out with brunch and then somehow ended up eating gelato late afternoon in Chinatown before two of us had some tapas for dinner to let the storm past. It was one of those lovely, gastronomic days filled with delicious food and tasty drinks and great conversation. Lovely to have a chance to catch up with those ladies. Until next time!