I spent the last weekend in Virginia, hours outside of DC. Several years ago was my first time back and also the first time in a long while I've driven through much of VA. After all, it is a bit of a drive from DC. And I'd made a comment then that Virginia is such a pretty state. One drives through the mountains and the gentle slopes are sprinkled with a mix of hillside farms and cows, a splash of color in the Redbud trees along the highways.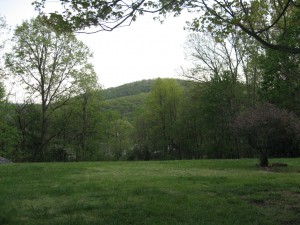 It's beautiful even in the rain, as I was reminded on my drive back to DC, when a light mist rolls slowly through the mountains and down over the hills. Notice how everything is so much more vibrant after it rains? The colors brighter, the leaves bigger…it's nice.
Like the park today when out picking up lunch. It was raining, so it was kind of empty, but it was so green!
So I started to digress, but let me get back on topic. Virginia. This time around, I didn't get a chance to drive through the Blue Ridge Parkway, but if it's something you get the chance to do, I recommend it. It's a beautiful drive, and since it does take a bit longer, there seems to be less traffic. If there's time, then it definitely makes for a great drive.
Just be sure you've got a great playlist too.