Every year it seems the holiday season gets shorter, but I know that it's likely because my mind is busy with other things and I don't have the same time to devote to the holiday excitement. Of course last year I think it actually was shorter since Thanksgiving fell a little late. But the Christmas evening and morning after are always a little bittersweet.
The nice thing about traveling back to Texas is that I don't have to deal with taking the decorations down. It's nice being able to leave with the feeling of Christmas still up. Since this was the first year in a long time I haven't traveled, I got my own decorations and a small tree. And I'm not looking forward to putting those away.
But…that aside, it's been a wonderful Christmas weekend so far. I've caught up quite a bit of reading, which considering that I have close to ten books in my to-read pile is definitely a good thing. I've also gotten in a fair amount of writing too. Since it's snowing now, it's the perfect time to sit here with my coffee and my current novel…taking momentary breaks to look outside at the snow.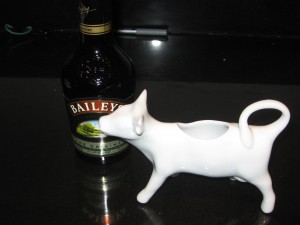 Christmas was also good to me. One of my favorite things, a little thing, was a cow creamer. Have you seen these? They're a coffee creamer shaped like a cow, and when you pour cream into your coffee, it comes out of the mouth. I don't know why, but I've wanted one of these for awhile. And yes, it graced my table on Christmas morning brunch with some Bailey's, making it, as my sister said, a happy cow.
Today is still all about Christmas. Come tomorrow, I can start thinking about the New Year (which already has quite a few fun things planned!). I'm keeping my fingers crossed the snow accumulates some so I can go out and take photos later, although I do not need the two feet or so that we got last February. I think I'm still recovering.