Last month I wrote about taking advantage of a trip to western New York to visit Niagara Falls the other year, but my friend and I also did a little more exploring around that part of the state. As with every place, there's so much to see, even beyond the highlights or what was thought to be the main purpose of the trip (something I came across again recently and plan to write about soon).
Letchworth State Park
About an hour away from Buffalo is Letchworth State Park, a park that I think has many opportunities for exploring though I only had a few short hours (and not to mention that despite having gorgeous weather for most of the trip, had some clouds and a little rain when I visited this park). But I had time to drive through the main road and see a waterfall, which was a nice introduction to prepare me to see Niagara. There were a few points along the main road I drove where I could pull over and get out and walk a little bit for some views like this one: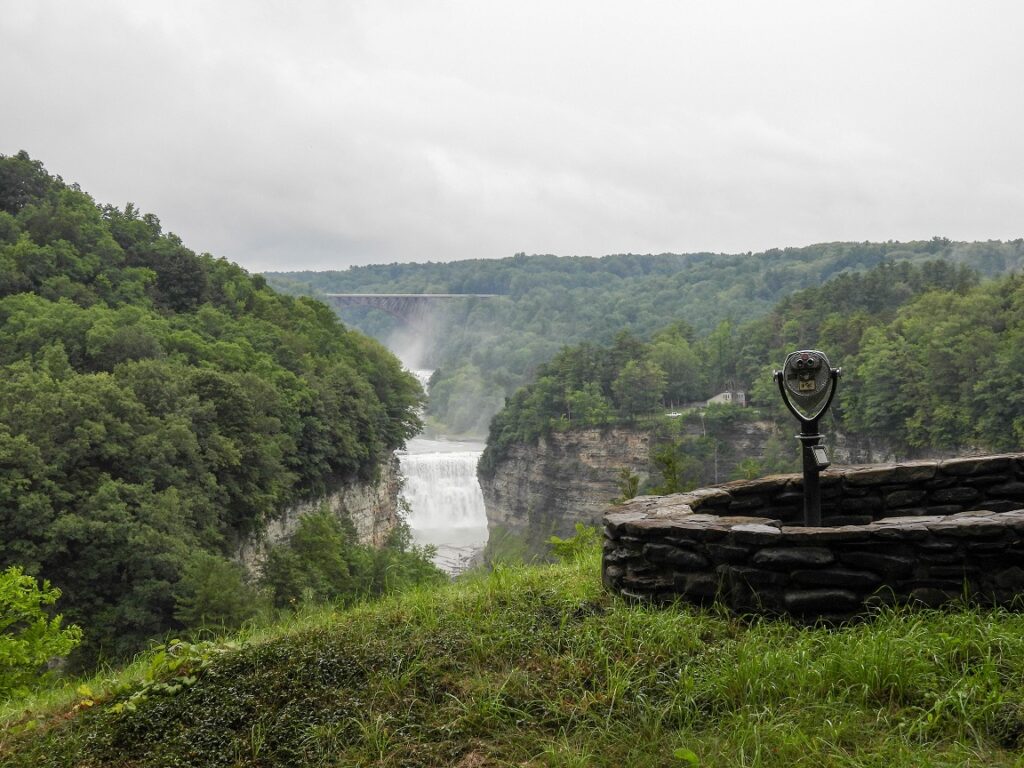 National Shrine Basilica of Our Lady of Fatima
Dedicated in 1965 – and receiving Basilica status ten years later – the Fatima Shrine (www.fatimashrine.com) is about ten miles away from Niagara Falls. If visiting – and if the weather's nice – you may want to set aside enough time to walk both inside the church and all around its gardens filled with statues of saints or other religious figures as both are worth places for spending some reflective time walking or sitting.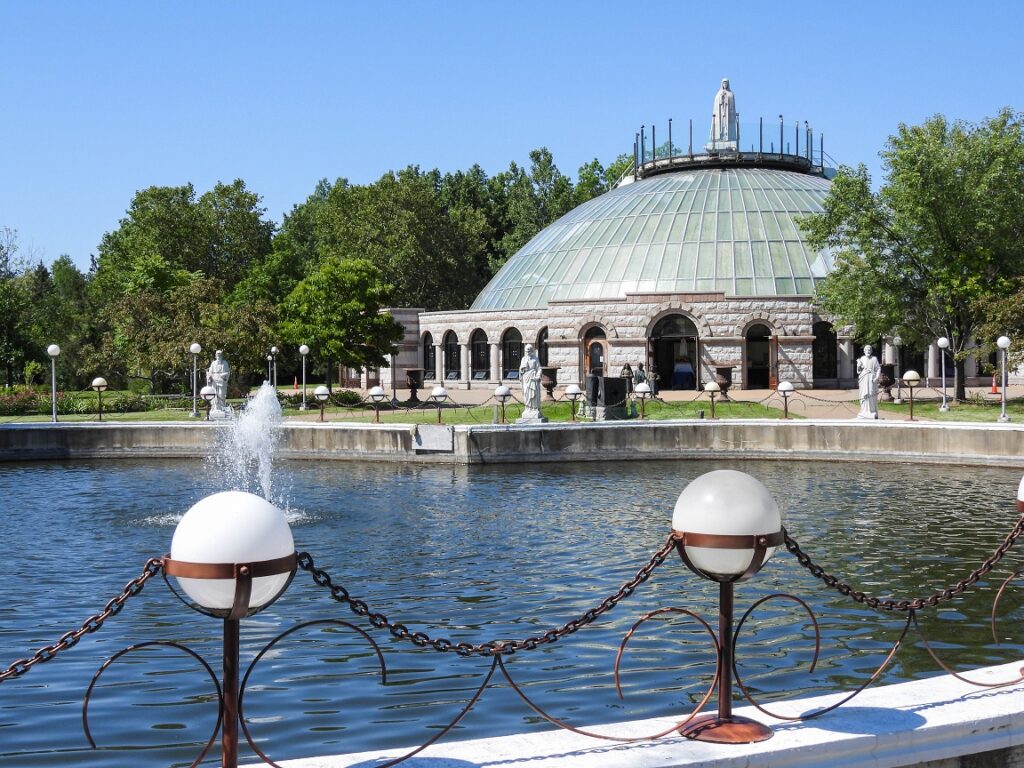 The round structure itself was cool and dim – and quiet when we visited – and looking up at the glass dome I quickly realized the marks along it indicated a map of the world. I hadn't been able to see that from the outside. And the other thing I didn't realize outside at ground level was the fountain in the garden resembling a heart. Knowing that, I can see how might be able to get a sense from certain angles, but, if you're able to do so, a visit to the roof offers a view of the heart and gardens.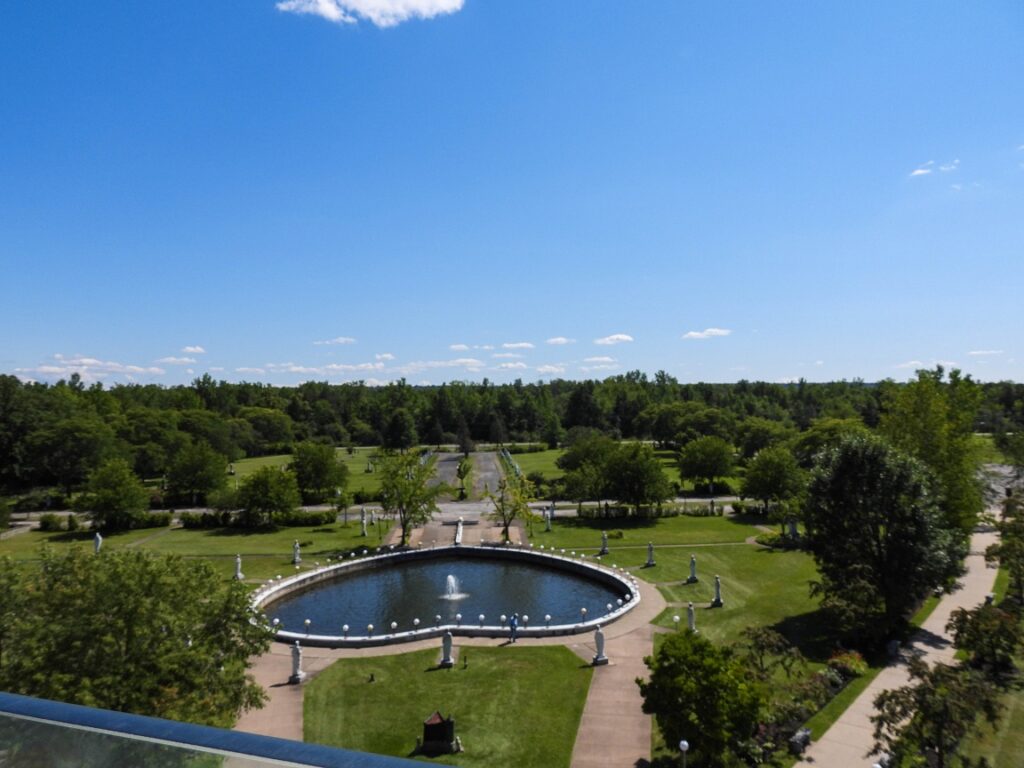 Wine and Cider Tastings
Many years ago, I had my first taste of ice wine from a friend who'd been to upstate New York and brought back a bottle. I've had a few glass over the years, but when I started making plans for my own visit to New York, I immediately thought back to that souvenir.
Now admittedly, I didn't have any ice wine this trip, but we did take a nice little drive through the countryside to visit a cidery, a break at the lake and then a winery. This is such a beautiful area for wine and/or cider tastings! And to sit back and take in the views, relaxing at having some time stretching out before you.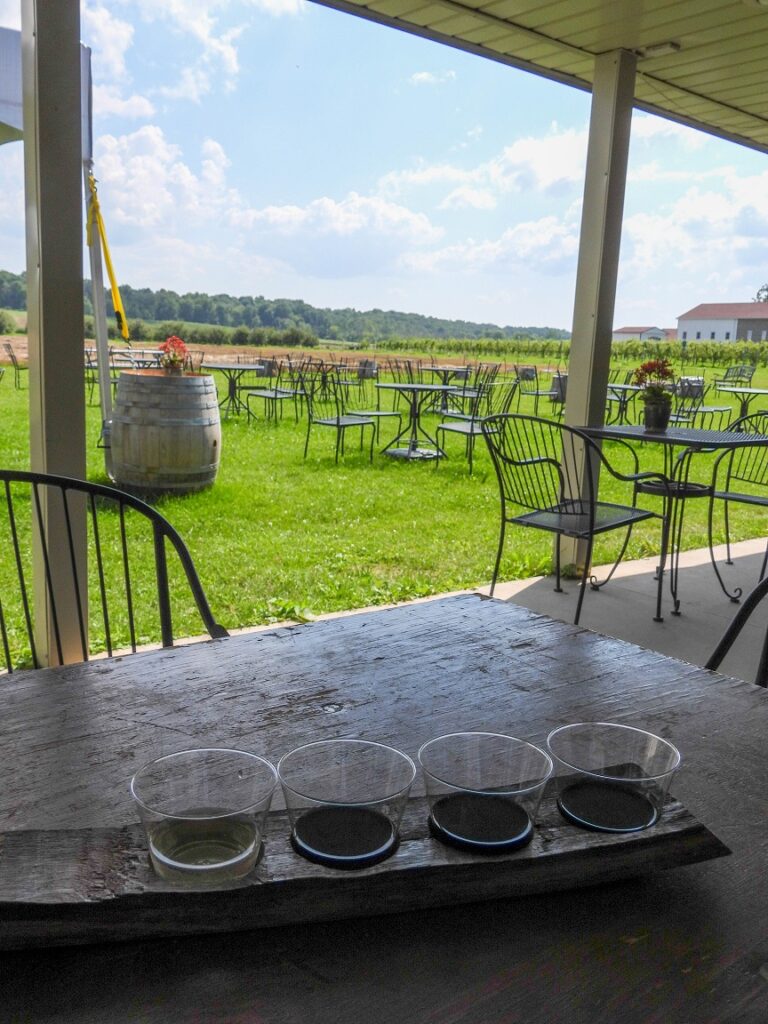 Frank Lloyd Wright's Martin House
This was my first visit to a Frank Lloyd Wright house (though I've since been able to visit Falling Water and Kentuck Knob outside of Pittsburgh). There are actually three houses on the complex (https://martinhouse.org/) and an option to tour all of them in a longer tour, which is what I did. When we returned to Buffalo, my friend had an earlier flight and I had several hours in between. So rather than sit at the airport, I consulted my guidebook and maps to see what was nearby and arrived at the house just in time for a two hour tour – which actually for my schedule was perfect (as soon as it was over, I got in my car and drove back to the airport with perfect timing for check-in and finding my gate).