Niagara Falls was something I would have liked to see, but I have to admit that the sight didn't come up when actually planning travel – often because I wasn't planning on being in the area (though that can lead to a larger question of when there's so much to see, how does one decide on where to travel to begin with, but that's for pondering on another day).
But in 2021, I had the opportunity to visit Western New York and I decided to make a trip out of it when I started looking at things to do nearby (and that I'd be flying into Buffalo – so what was nearby there). It was also after about a little over of a year of not traveling due to the pandemic and I was really looking forward to getting out and exploring somewhere new.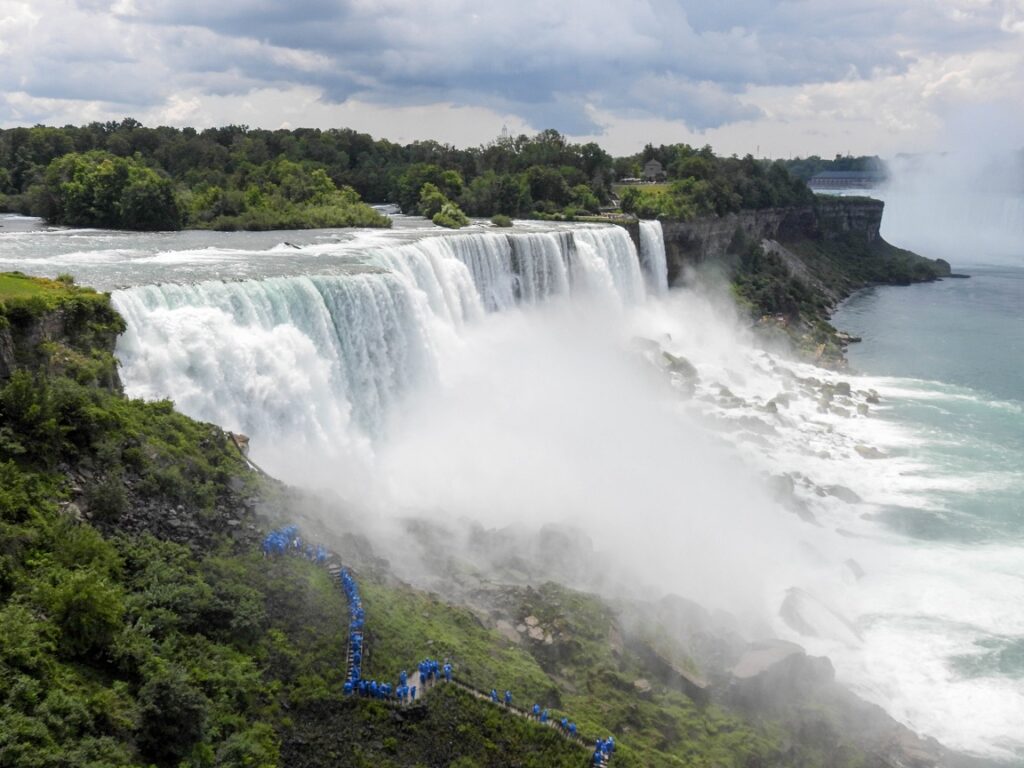 After a few days, I met a friend who flew up to meet me and visit the falls, and I'm glad she did since she'd told me Niagara Falls had been high up on her list of places to visit and I don't think I'd have had the same experience without her research and the things she wanted to do at the park.
In thinking of how I wanted to describe the experience, I feel like impressive is likely overused to describe the Falls that it may no longer truly does the sight justice. But it's true. Other words that come to mind? Majestic. Indescribable. Powerful. Massive.
My guidebook said that it's 750,000 gallons of water that go over the American falls. Per second. 750,000 gallons. Massive, right?
Our introduction to this experience was on a walk from our hotel to Niagara Falls State Park, strolling along a nice path along the river (Fun fact: my guidebook stated this park is the oldest state park in the country, opening first as Niagara Reservation Park in July 1885). From a bit of a distance, before we even entered the park or could hear the roar of the falls, we saw a white plume rising high above the trees. Not knowing how close – or far – we were, I first wondered if it was some sort of factory or something. But we quickly came to realize that was the mist from the falls. Wow.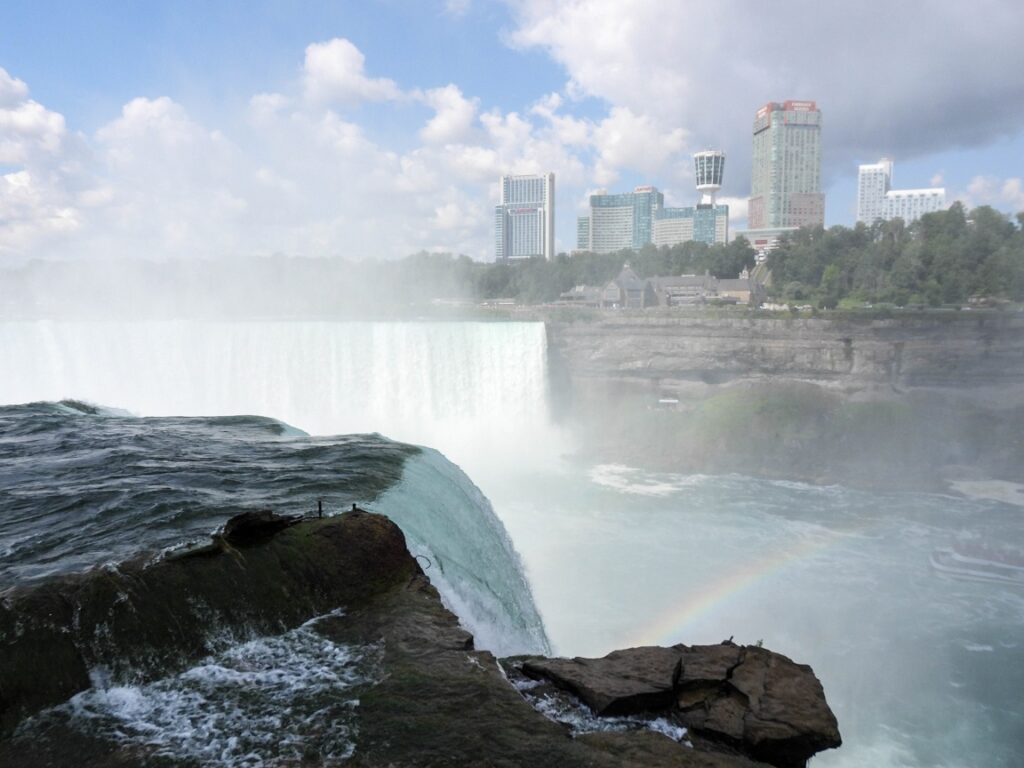 To feel the full power of the falls, we took one of the Maid of the Mist boat tours that circled below the falls. It was kind of amazing how quickly the water went from a nice little rock to, well…a lot more rocking. I'm also grateful for the ponchos that were provided! And I have to say, I naively didn't think that with said ponchos and our spot on the lower deck that we'd still get that drenched. I was wrong – and I didn't really mind one bit.
But while I was a little hesitant to make that water-filled trip, this was something my friend wanted to do and I'm so glad we did it (see above where I noted it was a different experience having someone who had a great idea of the things they wanted to do!).
Other things that were lovely to see in the area: walking through Niagara State Park (when we went, we were so lucky to have great weather and everything was so green and lush), checking out the small town and visiting the falls at night when they're lit up. One thing we didn't get to do was cross over to the Canadian side due to the pandemic travel restrictions at the time. But I think from the observation deck after our boat tour, we still got a gorgeous view of the falls – not to mention that we got an incredible view from the water on the boat.
And there was more we did around the area outside of the Niagara Falls area, but I'll save that for another post.