I have to start with noting that I took far too many pics of food, joking those first few days that I'd have to have a separate photo album just for the food. The first week's food at the yoga retreat was so fresh and light: fruits and vegetables, all freshly prepared. Those early meals started the pics of nearly every meal for the two weeks I was in Costa Rica. And even when later we weren't eating meals that seemed to showcase local produce – like a wood-fired pizza and salad towards the end of the trip – the food was still amazing.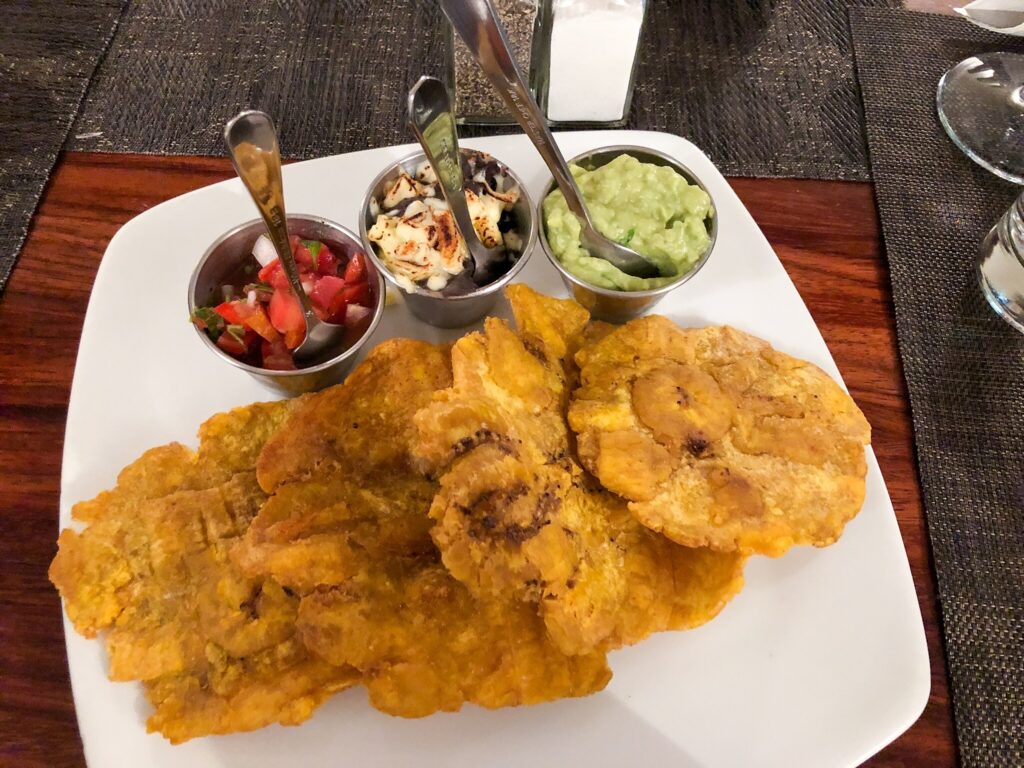 Local and Traditional Food
Beginning with our arrival to our hotel in San Jose, I kept hearing about gallo pinto: a local dish of rice and beans and, in Costa Rica anyway, Lizano sauce. We heard this was definitely the sauce to use if you were going to have it. I associated this with breakfast from the descriptions offered and from when I saw it on available menus served with eggs and tortillas. It is a filling, delicious dish and one I also attempted to make once I got home with this recipe from Pura Vida Moms.
And fun fact: Gallo pinto translates to "spotted rooster."
The internet tells me this is from the beans cooked in with the rice, creating the "spots." Which seeing gallo pinto on your plate can easily showcase the spotted part. I'm guessing rooster maybe for it being a breakfast staple, maybe early morning? That part is pure speculation for me – but it's fun to think about why things are called a certain way (or as I have spent countless hours discussing with friends, all of the different sayings and colloquialisms that we all have and how similar ideas are conveyed in different languages).
The other thing I fell for were patacones (first pic above): fried green plantains. I've always loved the plantain chips that I can buy at home, but these are were quite different. That flat crispiness was also the perfect vehicle for guacamole and some of the other sauces we tried as an appetizer.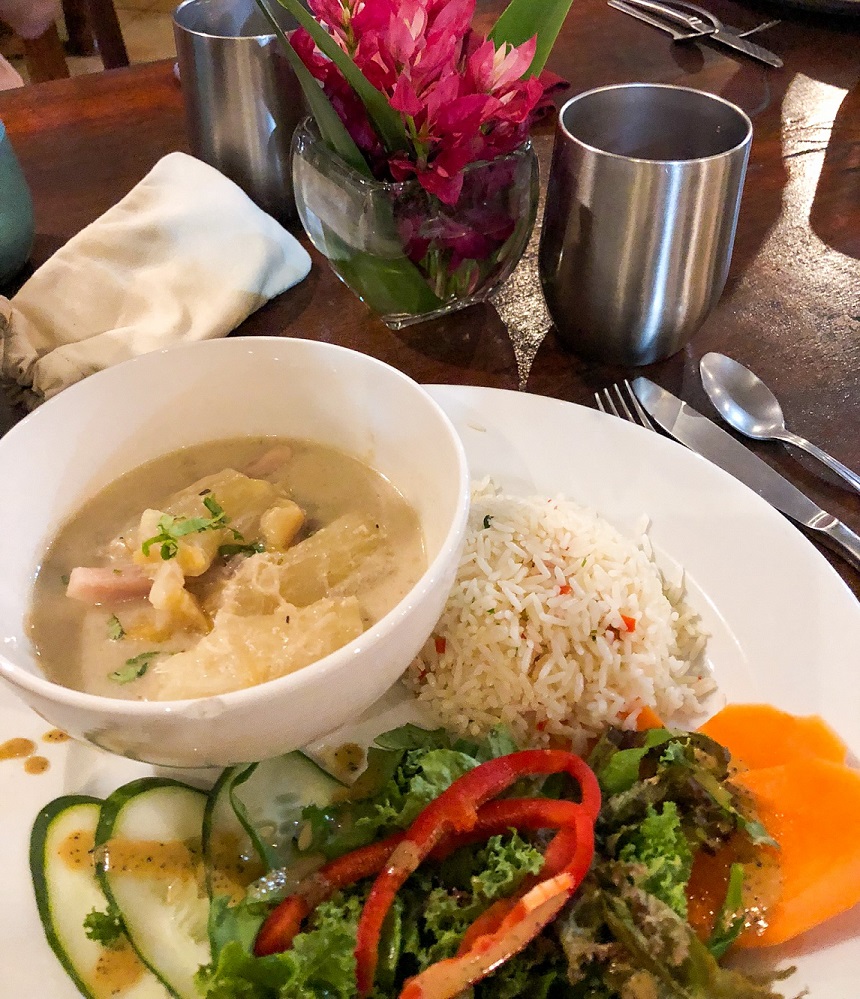 We were also introduced to Rondon – or "run down" – which we were told was a soup that the people in the town would make by "running down" to throw in the ingredients they had together to make the soup and share together, which has a nice communal aspect to the story. Looking this up from home, the internet also suggests the name was more for its "runny" consistency. I kind of liked the story we heard, a lovely idea as we ourselves were sitting down to a community dinner.
We had a vegetarian version of this one night and writing this post reminds me I need to look up to see if I can find a similar recipe online. Along with the gallo pinto, we also had a type of vegan (or vegetarian) poke-inspired dish that I've since tried a version of in my own kitchen.
Other Meals
As I said before, even when the food was not traditional – like the pizza we had in Arenal – it still tasted amazing. Some of that may have been the fact that we were on vacation, eating in an open air pavilion with the wind brushing through the palm trees nearby – and certainly that may have been part of it. Not to mention shared meals with friends, toasting together with a glass of wine, and laughing through the continued conversations during the week.
All of that a reminder to enjoy the time with others and a well-prepared meal. Now that's something I can work to replicate at home.