After a week on Costa Rica's Caribbean coast for a yoga retreat, some friends and I moved on into the Costa Rican mountains to visit the cloud forest in Monteverde. Which was such a different experience from the sunny and warm coast, but no less wonderful.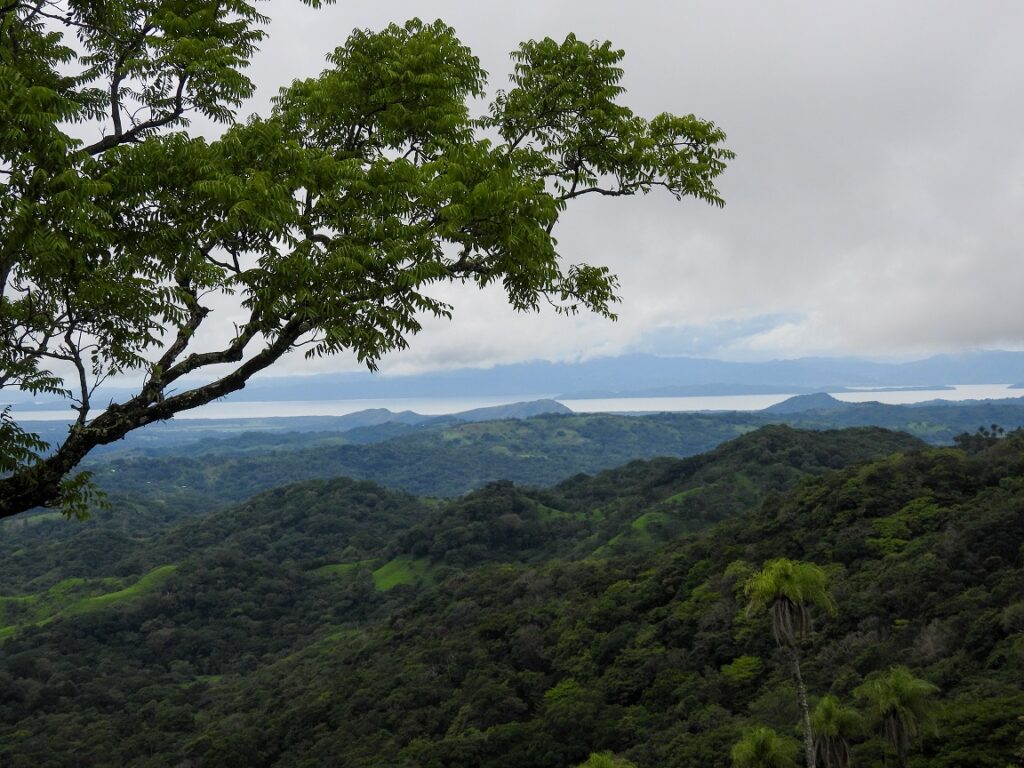 It starts with a climb up towards the mountains, and in the summer when we went, the landscape all around was lush and green. And as we drove up, the clouds settled in, whispering through the air around us while the temperatures dropped. We had joked one evening on the coast after the rains about how one time we would laugh at "that one time we were cold in Costa Rica." Well…up there, I came to understand there might be more than one time for those of us who came up to Monteverde.
We visited the Hanging Bridges, which offered an experience to almost feel like you were walking amongst the treetops (after all, a tree branch might sway like that…and possibly even a little more!). At the start of the bridges, I admit that I was more than a little hesitant. The swaying when several people crossed was a little unsettling. The first couple I walked as steadily as I could in the center, casting a glance on either side to get a grasp of the views, but then took them in more closer to the ends of the bridges.
But as we walked deeper into that park and crossed some bridges on our own – the smaller number of us helping to keep the steadiness – I found myself slowing down and even stopping to take in those views. And truly enjoying the experience.
And another note on the trees. The trees were like something out of another world. Some tall and slender, others just as tall with branches and vines looping all around. Sometimes through a break in the trees you can catch glimpses of the clouds and more trees just on the other side of the small valley, rising above those wisps.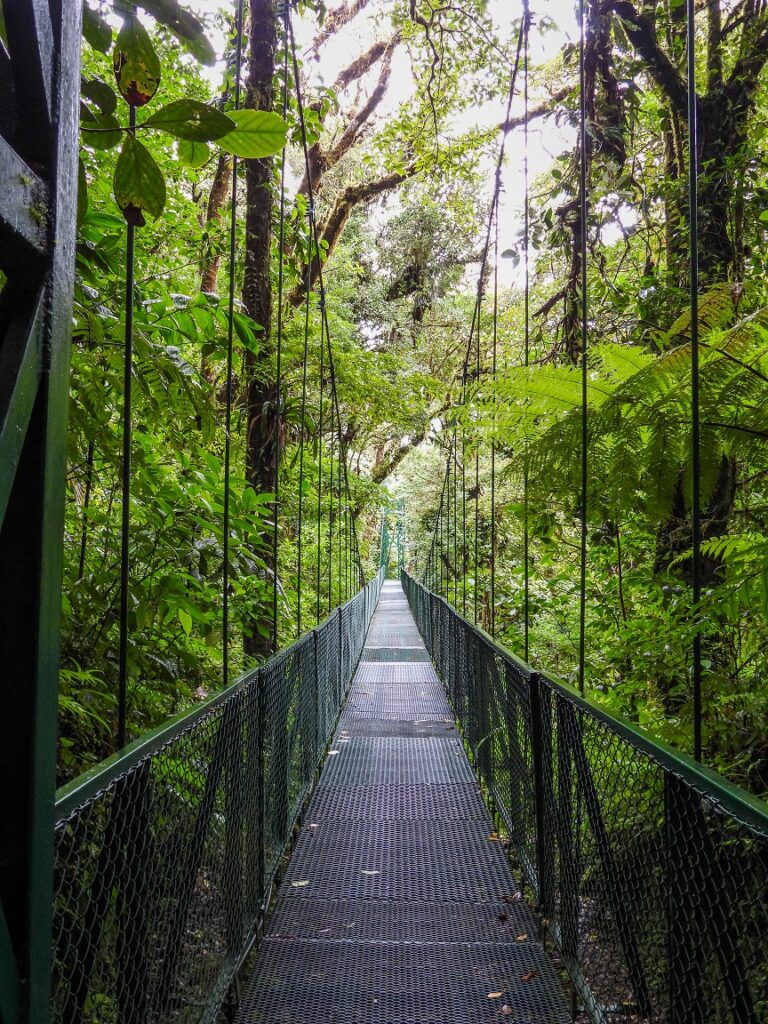 When we returned the next day for a guided hike in the Cloud Forest, we were introduced to many of the animals that make their home there. I will highlight the benefit of going with a guide as many of those animals we may not have seen as high up as they were in the branches. I very much welcomed our guide's experienced eye and the wealth of knowledge he imparted.
It is truly a remarkable experience to see animals free in their environment, or "in the wild." And as we walked, a troop of monkeys traveled across the tree tops. We heard them first, catching glimpses of them from time to time as they passed overhead, able to take the most direct path while we followed the trail, hoping we'd come to a spot where they might pause and we could get a better view.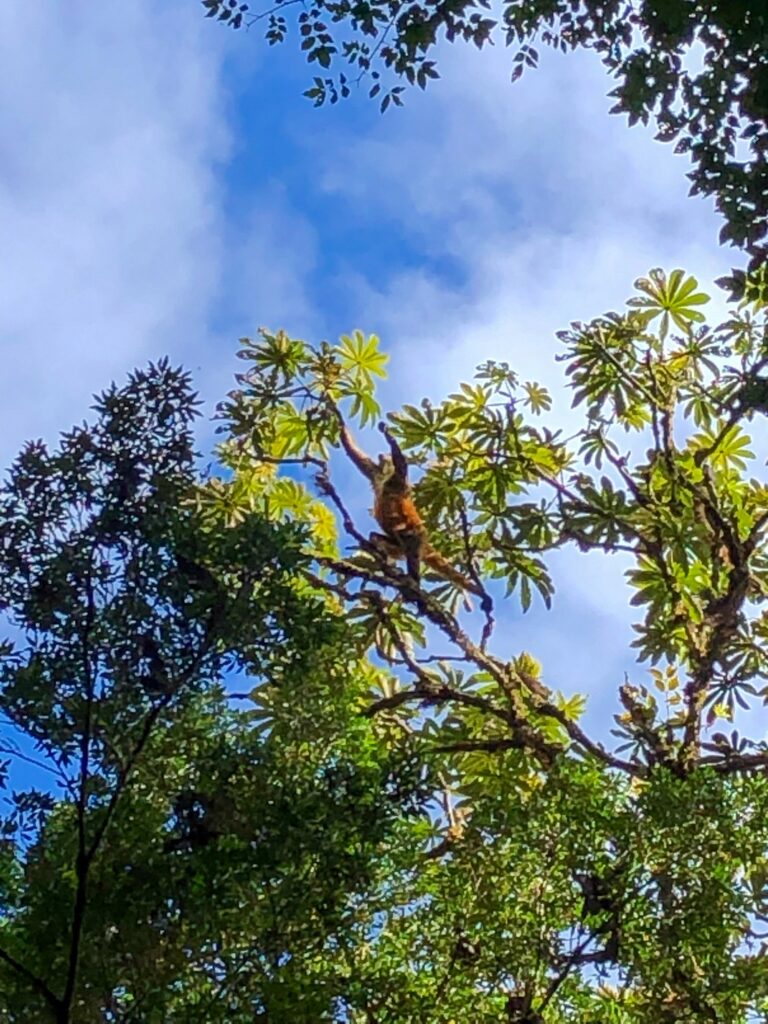 And a better view, I'm happy to say we did! We were able to stop at a spot in the trail and watch as a couple members of the troop rested in the branches around, some right above us and others further into the trees. One or two stopped to eat a little bit, before moving on, the rustling coming from a little up ahead as I suppose those in the front figured it was time to get moving. A few moments later those above us stretched out for the next branch and went along their way.
I am also amazed to say we caught a glimpse of the famed quetzal, a beautiful jewel-toned bird. No pics from me on that – again I have to thank our amazing guide for helping us to see one and having a monocular for us to spot him over the distance. And you know…thinking back on it and not having a picture actually kind of makes the experience more magical. It's a memory to keep, that experience of seeing one and not rushing to try to get the right frame. It was completely being in that moment: I'm here, I'm in the mountain forests of Costa Rica seeing this most beautiful bird.
And aren't experiences like that what makes travel magical?