I attended the annual DFW Writers' Conference this past weekend at Dallas' Wyly Theater. I've come across a lot of praise for writers' conferences, hearing about all of the help the critique groups and workshops provide, writers meeting their agents there, the camaraderie, etc. It was definitely something I wanted to do, and I was thrilled to learn about a writers' conference happening in my city!
I was unable to attend my first year back in Texas, but I knew I was going to sign up for the 2015 conference. I'm not going to lie, it was a long weekend! I came home Sunday evening feeling both tired and excited (they were definitely early mornings to make it downtown each day!), and really looking forward to getting back to work on both a current Work in Progress and a few other ideas I've had floating around.
Perhaps counter-intuitively, for me, some of the most inspirational words came when talking about rejection. That's right: rejection. Finding the next novel in publishing is subjective, something we were reminded about throughout the weekend. Which of course, makes sense? Haven't you been completely in love with a book, only to find out that a close friend didn't care for it? When it comes to your personal novel though, rejection means that you're getting a response. Which means that you're putting your work out there.
I think was best summed up by non-fiction writer Benjamin Hedin when he said that these rejections are signs of progress. Because after all, if we're not getting rejected, then chances are that we're not submitting our work and getting our work out there. Rejection is progress.
@BenjaminHedin reminds us what rejection means: "If you've been humbled, you're making progress." Well said. #DFWCON

— P. L. Heatherington (@plheatherington) July 26, 2015
 The final event on Sunday was the Query Gong Show. The theatre filled up without competing sessions going on, and there were excited whispers around me and lots of clapping once the show was announced. Submission to the show is not for the faint of heart! Your query is read aloud (anonymously) and the agents strike the gong when they would stop reading.
It's tough, but oh so educational. One of the most common causes of the gong was the length of the query. I can admit that there have been times I've read over my query draft and thought, it's so short! I can't possibly cut out anymore. Well. You can. While I did not have my query read during the Gong Show, I'm going to begin reading my queries out loud. A piece of writing advice I've received before is to read you work out loud, even if it's just to yourself. While in that exercise it's to see how the writing flows and if it sounds natural, I think it can – and maybe should – extend to the query. If it starts to sound too long…then revise. Or if you're brave, maybe even get a friend to read it to you.
Or even braver…submit it to the next Query Gong Show.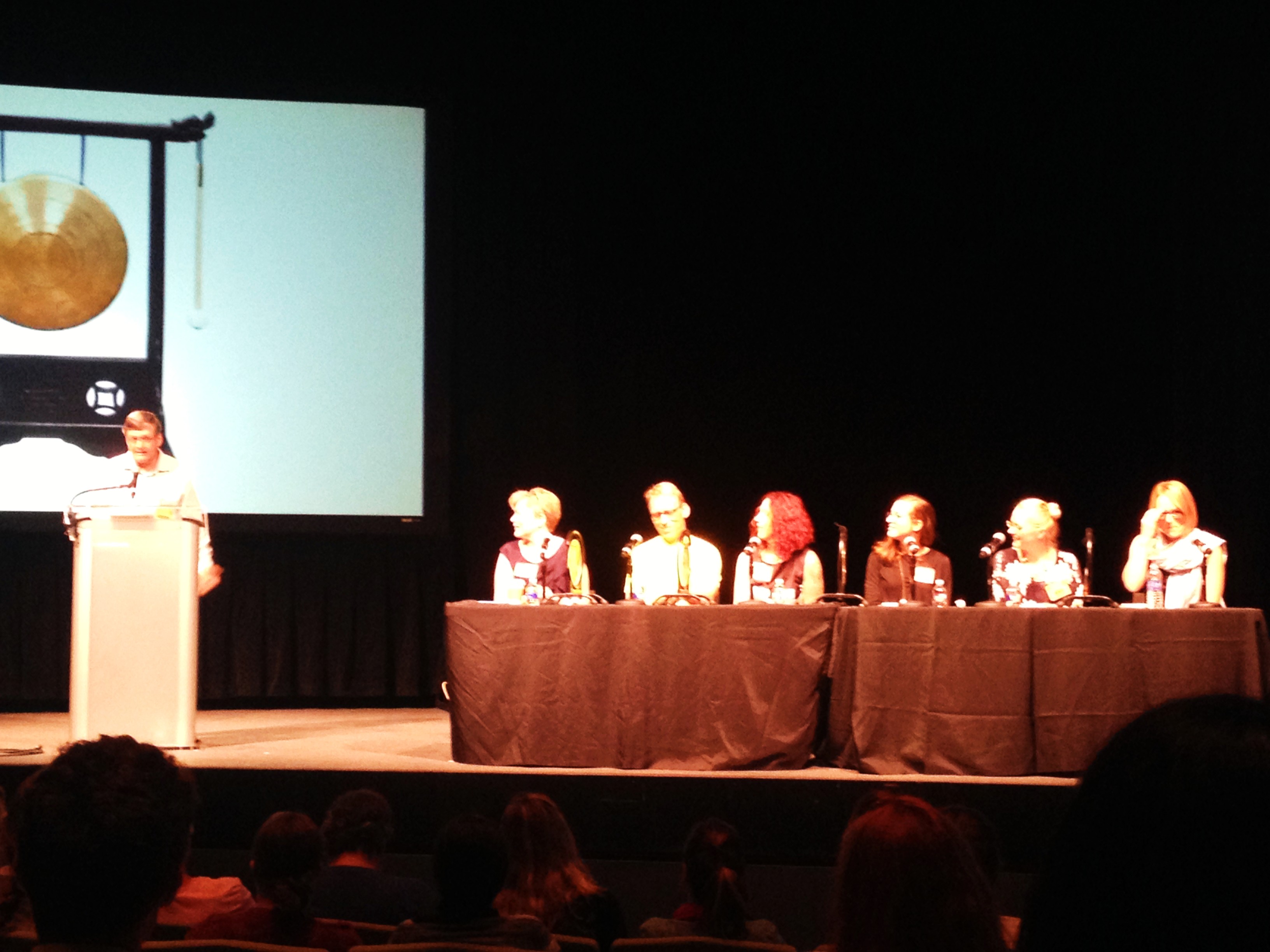 To the wonderful writers that I met this past weekend: Good Luck! And a special thanks to everyone involved with the planning and the running of the 2015 conference! I'm looking forward to next year!