On the first day of summer, I tried something new, something I've wanted to do for some time. I tried kayaking. It's a relatively new interest of mine, starting several years in to my time in DC. I would walk along the Georgetown waterfront early in the weekend mornings and watch people kayak on the Potomac. There were of course kayak rentals nearby, but I just couldn't quite get anyone who had an interest to coordinate schedules. At least, that was my excuse.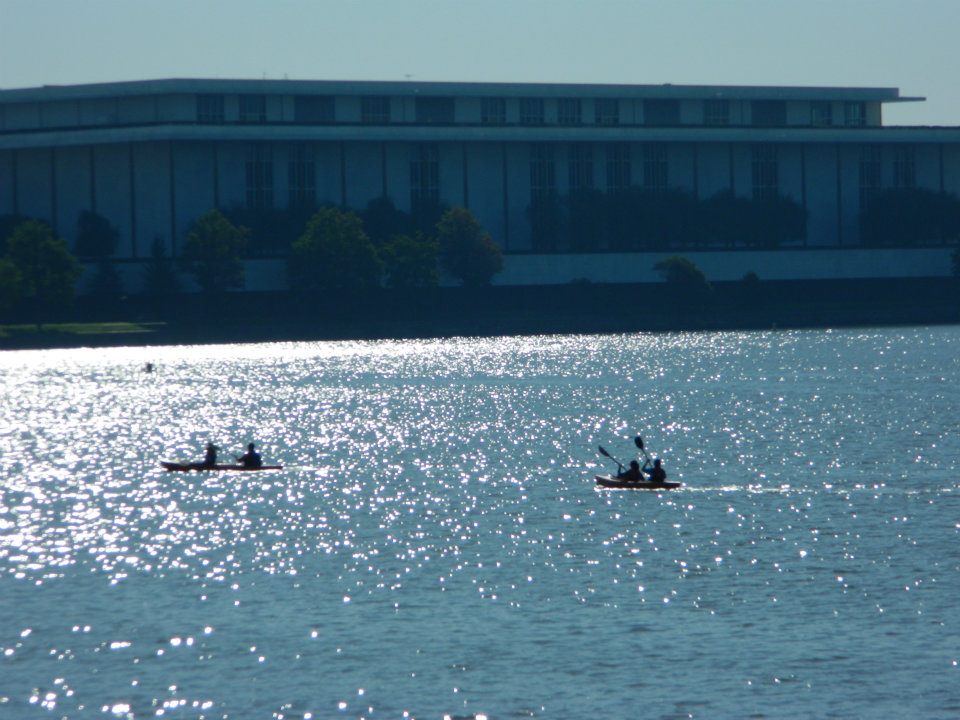 After being back in Texas for a little over a year, I still thought about kayaking. And then after fortuitously finding a Groupon for kayak instruction in Rowlett, I mentioned it to a friend who was all on board with trying it out. No more excuses. And now I had a Groupon to use by the end of the summer, bought and paid for. So my friend and I made plans for one of the first classes offered after we bought our vouchers. Kayak Instruction Inc. offers an intro class and also rentals if you may already know what you're doing (they even offer standup paddle board instruction! Yes, that is also on this summer's to-do list). And even without a Groupon, at $60, it's a great price for a 3-hour introduction.
Dave, our instructor, was funny and engaging, and he put us at ease while still conveying a lot of information. We spent the first half hour on land learning about the kayak, terminology, and how to get in the water. After that and picking out a kayak, we spent the next two and a half hours out on the water.
My final verdict is that the morning was a lot of fun. At times there was getting in a little bit of speed and gliding along the water, and other times it was nice to just sit there drifting in the current and watching the birds fly low to the water. It was very much worth trying out and I am looking forward to getting back out on the water.
After my experience on Saturday, I did feel like kayaking, recreationally, is fairly intuitive (in my humble opinion) , which also makes it very beginner-friendly. It still helps to go along with a friend, someone to chat with while hanging out on the water and also to make plans to do it again sometime very soon. And of course, someone to just make sure you follow through with a new idea or that newly purchased voucher.
There were a few other things I learned that I'll share for other new kayakers:
A bottle of water is okay to bring. There will be space for it on the kayak, especially as a beginner and using a recreational kayak.
Wear old tennis shoes. The shore of the lake (and probably a lot, if not all, of the lakes in the area) is muddy. The kind of muddy that threatens to suck your shoe down into all that mud. And since the kayak is about half-in half-out of the water when you're climbing in, you're going to be standing in that mud.
Quick-drying shorts would be perfect to wear. A little bit of water will pool at the bottom of the kayak, and water will drip on you as you paddle, and will be a little more comfortable than a swimsuit. I also wore a t-shirt over my swimsuit top and that remained mostly dry.
Sunblock! It goes without saying, but I'm still going to say it. I did wear mine, but it probably faded by the time I got out onto the water. I did have every intention of putting on more after parking…
I will definitely kayak again. I've already been looking into the options in the area. White Rock Lake offers kayak rentals closer to Dallas for $15 an hour, and a quick search for kayak rentals in the lakes and rivers near me offer other rentals at other lakes. It's going to be a great way to explore more of North Texas. Or even South Texas! Just…mind the snakes. Even more exciting is the idea that I'll have something new to try on my next trip to Montana. I am already in love with the idea of floating out on the water on the Flathead.
Who wouldn't like to be out this water: