My Aunt and Uncle had a long-standing invitation for me to visit them in the great northern beyond. I always joked that there was only a tiny window of opportunity to visit…the few weeks of warm weather in the summer. Slight exaggeration, though I did find myself wearing my sweater as we viewed the fireworks over the state capital.
I didn't think that a small window would turn out to be true. Minnesota received more than its share of rain at the end of June, and each day when I checked the forecast for the holiday weekend, it was usually forecasting clouds if not rain. But the travel gods were smiling and the weather mostly cleared for my trip.
We packed a lot into roughly three days. I'll visit a couple of our activities later on, but in brief, here are five things I learned (or was reminded about) during my trip to Minnesota.
1. Minnesota is beautiful. And green!
When I think of Minnesota – or when I did before my visit – I thought of white, of snow and ice. And a lot of it. This is likely do to popular culture (and movies), and the snow stories from my Uncle. Even though I have flown in and out of MSP a dozen times or more, what I really noticed this time around is just how green everything was!
Then outside the city centers (Minneapolis and St. Paul are even closer than I realized), there was so much green along the highways. And then of course there were the parks. We stopped right after the airport to Minnihaha Park (one of the oldest state parks in the country!).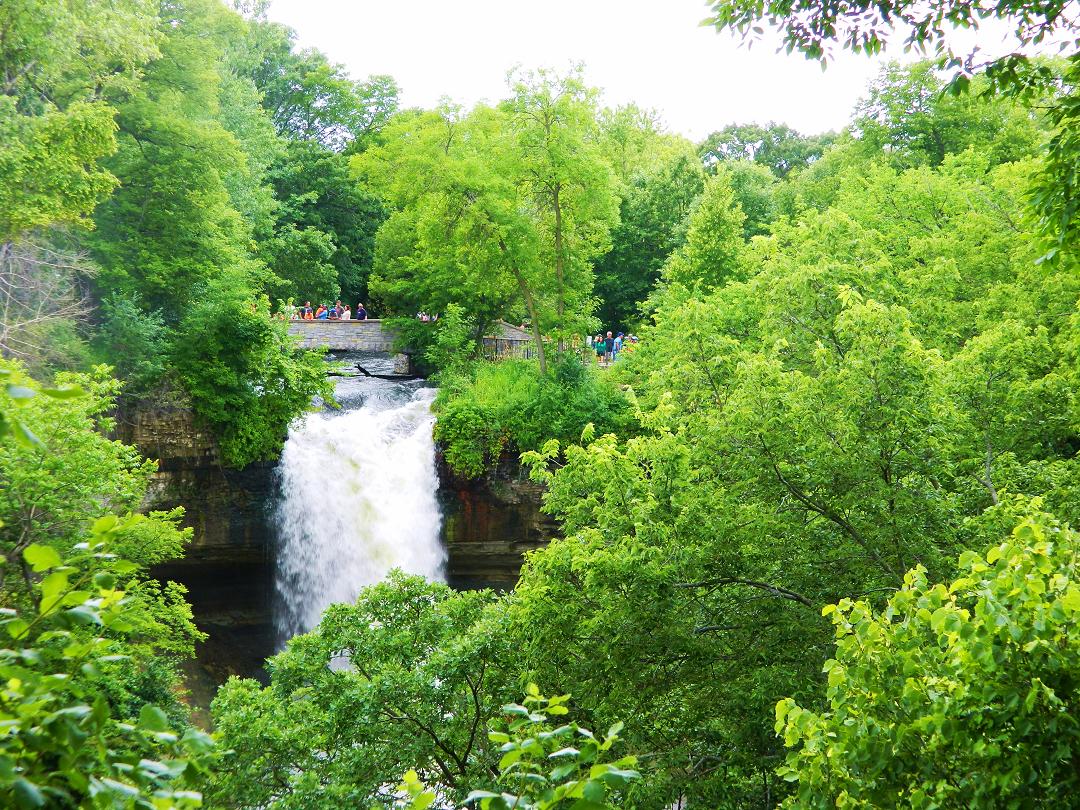 2. There is a difference between Basilicas and Cathedrals
I think I knew that the cathedral is where the bishop's throne is (and is then the main church in a particular diocese). But I must admit to not knowing the difference between a basilica and a cathedral. I've thought about it from time to time, but not until my weekend in Minnesota when I visited the Basilica of St. Mary in Minneapolis and the Cathedral of St. Paul in…St. Paul
Two big, beautiful churches in two days. So I looked it up. And if you're curious, the difference is that a cathedral is what I noted above: the main church of a diocese and the location of the bishop's throne. A basilica earns that designation from the Pope and is given that because of special significance, be it historical, spiritual, etc. In this case, the Basilica of St. Mary became a basilica in 1926.
And what's also neat about the Cathedral, aside from the beautifully ornate bishop's throne, is that there is a stone from Rouen castle. A little carved plaque on the stone reminds one that Rouen is where Joan of Arc was held prisoner. It's back in one of the smaller chapels behind the alter.
3. Fireworks are awesome (this was more of a reminder)
I love fireworks. They are just…such a great way to celebrate. They're loud, bright, beautiful and kind of intriguing. As I watched the St. Paul show, the colorful bursts over the capitol, I found myself wondering a little about the mechanics of fireworks. how do you get them so that there may be white lights first and then blue immediately after in seemingly the same firecracker? Or those with the delayed burst. How are those best timed?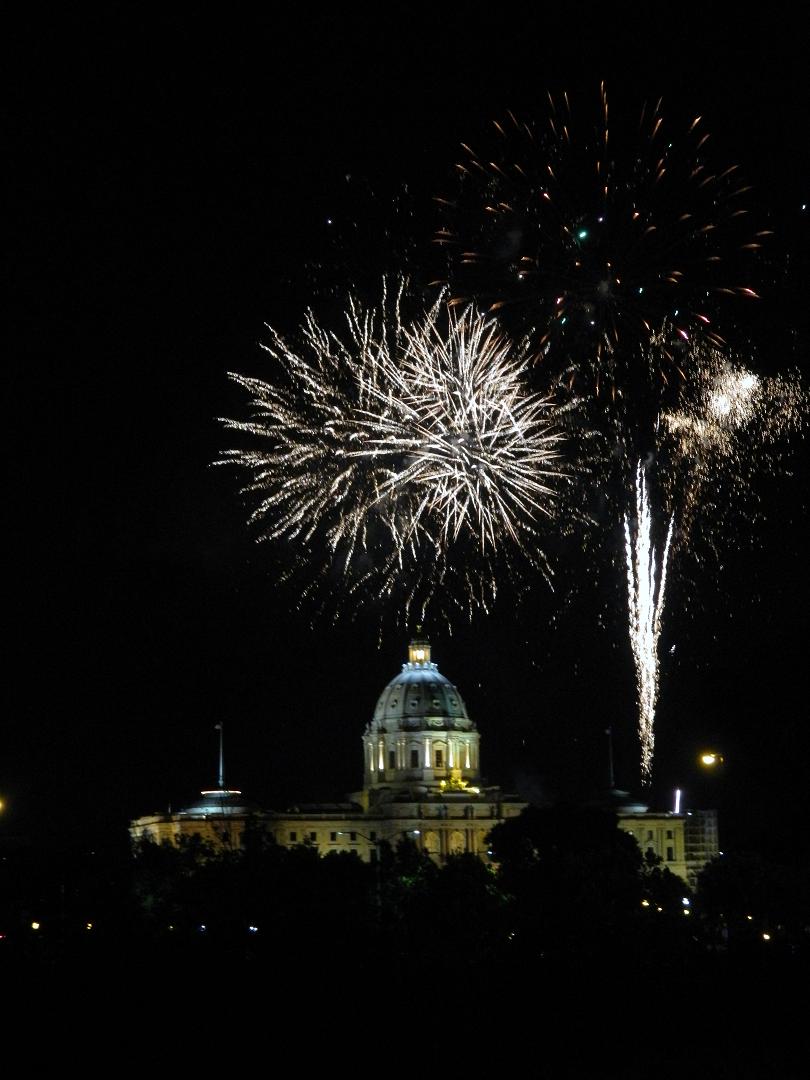 This may require some research now that my curiosity is sparked. But I quickly pushed away those thoughts when I heard a little boy seated behind me: "Yay fireworks!"
Yeah. I hear you, kid.
4. Food is taken seriously
It seems the Minneapolis area is continually showing up on Food Network or Food & Wine. My Aunt sent me a list of restaurants surrounding Mears Park, and the initial plan was to stop and sample a small plate, maybe with a glass of wine, and then move on to another place. That didn't quite happen. The first place I wanted to check out was a couple of blocks away: Senor Wong's. The reason was because their menu had a mock duck taco. Yup. Vegetarian duck. I was beyond intrigued.
It turned out when we got there, that their menu had been updated. But thankfully, there was still mock duck in the form of a banh mi (and I do love a good vegetarian banh mi). It was delicious, with warm spice on the mock duck and then that fresh cilantro and pickled vegetables.
We did stop by elsewhere for a coffee and dessert on a patio overlooking the park. With a cool breeze, the greenery in front of us, it was a great way to spend time waiting for the fireworks show (see above).
But there's more. The next morning, we went to the St. Paul farmers' market, which began in 1852 (!). If Zagat is any indication of just how great something is, well then it might interest you to know that last year the St. Paul farmers' market was ranked among their 8 Must-Visit Farmers' Markets in the US. We picked up fresh vegetables for dinner that night, along with swordfish steaks from a fantastic little seafood store.
5. How to prepare lobster
And speaking of that seafood store, Coastal Seafoods, we also picked up a lobster. I have only had lobster in the form of lobster bisque (an incredibly inventive and delicious lobster and white chocolate bisque one year at Taste of DC). I mentioned this to my Aunt, who decided to remedy the fact that I'd never really had lobster on its own and then also did not know how to prepare lobster. We got a lobster.
We prepared it that same night and she showed me how to best get the meat out of the claws, legs, tail and even some of the body. It was quite a bit easier than getting meat out of crabs and crawfish, I must say. And we prepared the salad to eat as a lobster roll the next day.
Ultimately, I guess it was more of a lobster sandwich, since we didn't have any hotdog rolls. But it was still delicious. I can see the benefit of a hotdog roll keeping the lobster meat inside. The important thing was that it worked, and I essentially got to try a lobster roll. Now I just need to visit Maine for a truly authentic experience. Though that far north, it will be another trip to wait for summer.