I didn't realize it when I wrote down a list of ingredients to purchase, but this weekend I had a few culinary firsts: first time poaching an egg, first time making rice pudding and first time trying almond milk. Although I guess in all fairness, the last two firsts go together in one recipe.
So the first recipe I tried was an almond milk rice pudding from January's issue of Food & Wine. I've actually blogged about it more thoroughly at my food blog (shameless plug: the post is here at Grilled Fruit). I've long thought about attempting rice pudding, but to be honest, never quite sought out a recipe. So when Food & Wine had it for their January pantry staple, I thought: Perfect! And…I got to try almond milk for the first time too.
The verdict on almond milk was good. I do think it was a little on the sweet side to have a full glass of on its own, but that might just be the vanilla. I'm curious how almond milk would taste with hot chocolate…and if it snows this week, then I just may get to find out.
On to the egg poaching. I have to admit that I've kind of been a bit intimidated to try poaching an egg. Watching copious amounts of cooking shows, I hear about how it can be challenging to keep the egg together and on the cooking challenge shows, have seen a few poached eggs break along the way. But my friend gave me one of the most visually stimulating cookbooks and the first (out of too many) recipe I decided to try called for a poached egg. I figured no time like the present.
And it worked! Granted, the white did spread quite a bit and fell away from one side of the yolk when I took it out. So it wasn't a perfect poach, but it really wasn't quite bad for my first time. I was quite pleased, and it didn't break when I patted the excess moisture off and laid it out over the top of a mushroom ragout. Voila!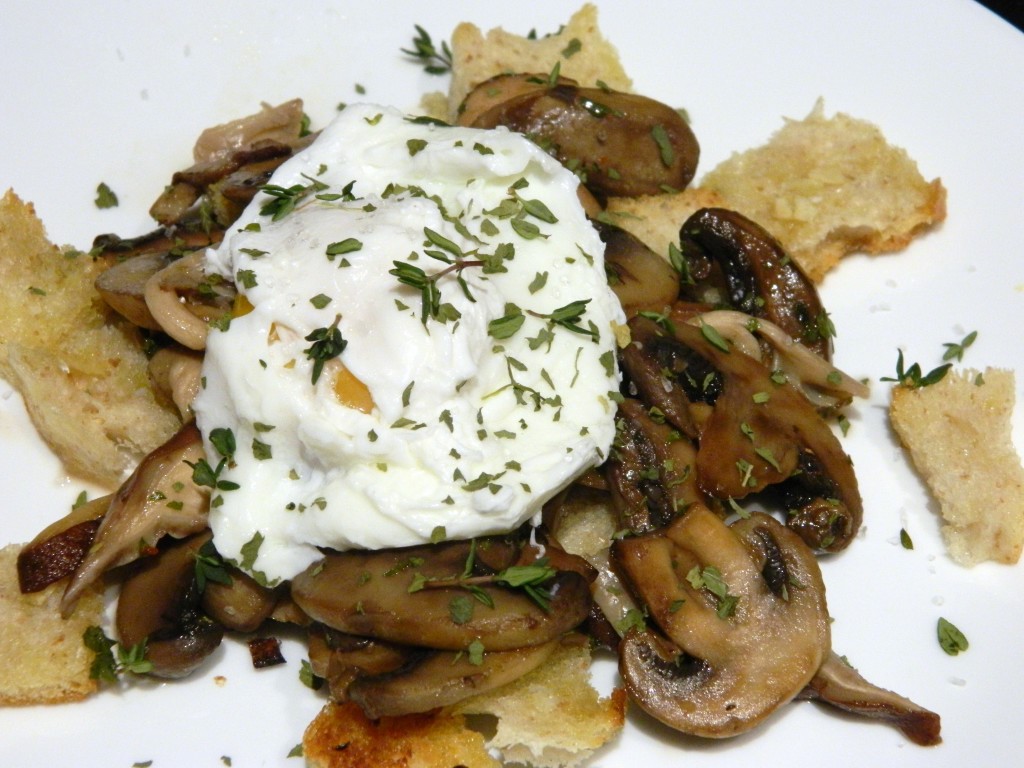 If you're curious about said amazing cookbook, it's Plenty: Vibrant Recipes from London's Ottolenghi
. So far have only made one, but I have several more recipes flagged to check out. And who knows? They may involve a few more culinary firsts. The other great thing about this book? They're all vegetarian!