This is actually a couple of weeks in a row, as I had some other posts lined up, though there were still several things worth noting. It's also been a very busy couple of weeks, but I'm not complaining.
Finally had lunch the other weekend at Founding Farmers, and am sorry I waited so long before eating there. It was delicious! Beginning with the fried green tomatoes, and spreads and rustic breads to the succulent three cheese ravioli with such a light, refreshing sauce (light even though I could definitely taste the butter).
Tango! Last summer I wrote about the tango nights at Freedom Plaza and how amazing it would be to tango there, with the Capitol building lit up to one side and the Treasury Department on the other. Well last summer I never danced, but I did go quite often to watch. This summer I had not been once (it was either too hot or rained). Until this past Sunday. I went without having planned on going, and learned to tango. I had about three different partners, each teaching me something new and explaining different things, so it was a nice overview. And each were good leaders, so I could just enjoy. And it was just as fun as I hoped it would be.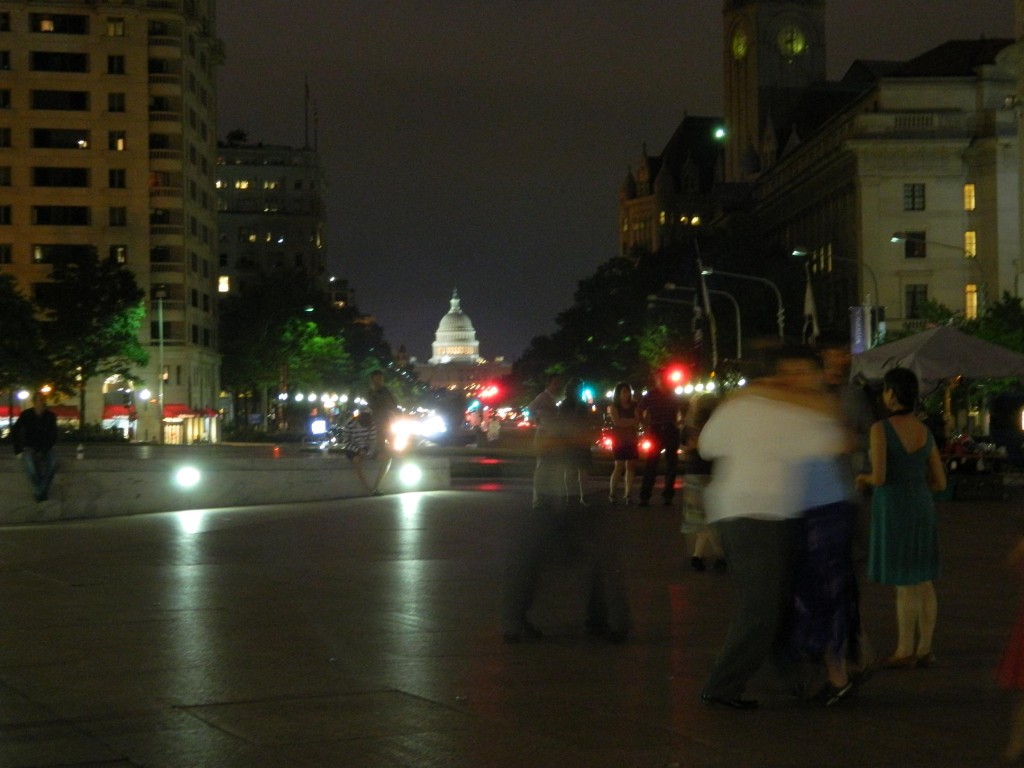 Last weekend was one of those weekends I've loved living in DC. There was the above mentioned tango, but I also made it back to Dean & Deluca. This summer has not had too many great Sunday mornings, as there seems to usually be either the promise of rain or it's too hot, or I've been out of town. And while I got there a little later than normal and all the tables were taken, I still had a very enjoyable morning on the waterfront with my coffee, ducks and a book.
Three day weekend! It seems like awhile since we've had one of these, and I think maybe because July fourth was in the middle of the week this year. The downside is it's supposed to rain – so all these great Labor Day weekend ideas seem to be all outside. But that's okay, I'm still just going to take the three days to relax, catch up and take a beat. The other great thing about September? It ushers in the festival season: H Street, 17th Street, National Book Festival, Turkish Festival all coming up.
The reflecting pool is back! I went down to take a look yesterday, but unfortunately this weekend is cloudy and rainy (really universe?). Still, it was great to see a familiar view again, and the Washington and Lincoln reflections, and I'm looking forward to the next sunny morning when I can get enjoy a morning coffee walking down to Lincoln and then sit on the steps and enjoy the view. If you remember, I did that once awhile back and was met with a dug up pool and cranes. Didn't known then a two-year renovation project was just beginning. Not a bad view to start the weekend.