There's nothing like baking a lot (or cooking with some complicated recipe) that makes me really wish I had one of those spacious kitchens with a very large island which would all equal one thing: lots of counter space. But I make it work. Even if that means sometimes the recipe time doubles (like when I made lemony mushroom and pine nut stuffing muffins) because I'm constantly washing nearly every dish used to put away and clear off the largest area of counter space I have.
Which reminds me I would also like to have some more storage to store more mixing bowls and more pots and pans. But this is for a Christmas wishlist in the future.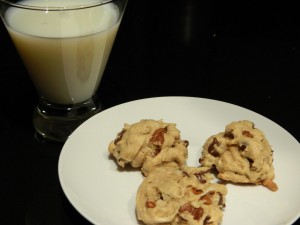 But while I tend to bake throughout the year, the holidays are definitely a time for increased kitchen activity. The oven warms up the kitchen, the smells permeate the house and create a delicious anticipation of the finished product. And then of course there's sharing the cake (or cookies, or brownies, or whatever) with close friends. What's the Christmas season without chocolate chip cookies anyway? Even more than that, a lot of us know that the main reason for baking is the delicious batter left in the bowl (kidding! Kind of).
For some time I had my mind set to try a chocolate-cherry fruitcake I saw while browsing David Lebovitz's website (an earlier recipe I tried from there was incredible, possibly even divine!). And that's what's in the oven right now. Of course packed away on my kitchen counter are Bailey's OMG cookies (as my sister dubbed them), made for a cookie swap I was invited to early in the week. I made these early so that if they did not turn out, I had time to make something else.
Dangerous.
There is a chance there may be fewer cookies than I planned to bring. Luckily I have enough leftover ingredients to make another batch for the cookie swap, though without pecans. Hmmm…maybe I should make that batch anyway. You know. For research purposes.
A couple of links in this post, but it's the holidays and I'm all about sharing, whether it's the finished cake or a platter of OMG cookies, or at least the recipes so you can try them out in your kitchen. Happy Holiday Baking!