Looking for something new to get into the holiday spirit? Over the last weekend I made it back out to the National Zoo after dark to see the zoo lit up like…well, kind of like a long, winding Christmas tree.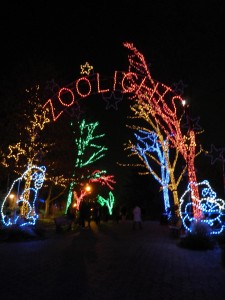 Many of the paths leading off to see the animals are closed, of course, but several of the houses were open and lit up in front (like the reptile house and the small mammal house), but the main attraction is of course the light display. The cafes were open, so of course we picked up some hot chocolate.
It was really kind of nice walking through the zoo, lights everywhere, and hot chocolate somewhat keeping the chill in the air away (though in all fairness, the chill aids in the holiday spirit…but after Christmas the cold needs to go away). And since some of the animal houses were open, they provided a nice break out of the chill too. Particularly the house where a baby gorilla slept! Too adorable.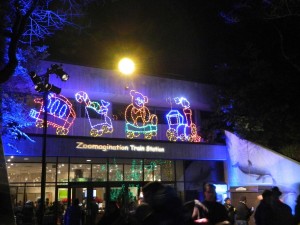 The light displays were also cute. And animated. And I don't just mean animated with twinkling lights. But there was a gecko with a fly lit up in front of it, and periodically a small red trail lit up from the gecko to the fly, and when it went out, so did the fly. There was a flying eagle, a wolf howling at the moon, a family of tigers and lions and of course, pandas. Plus it's just also kind of fun being in the zoo after hours.
But of course, given the cold, I highly recommend stopping for hot chocolate or coffee before and taking it with you. Next visit I'm planning to stop just outside for a peppermint holiday coffee.