Two more festivals, tackled in the same day. Granted, Taste of DC did run for three days, my friend and I opted to check it out on Sunday while we were already planning on being nearby for the Festa Italiana. We started out with Italy, knowing it would last for a shorter period Sunday afternoon. We were greeted with some very intriguing art, and then met with an olive oil tasting (I liked the one from Sicily best), finished off by $2 wines and singing in the parking lot.
But the highlight might have been the cars. More specifically…the Ferraris. And why was being up close and personal with such beautiful craftsmanship fantastic? Because I got to sit in one! Yes, it is the little things in life, and sitting in a cherry red Ferrari definitely made me giddy for about twenty minutes. As soon as I got out, I texted my sister something eloquent, like: OMG I just sat in a Ferrari.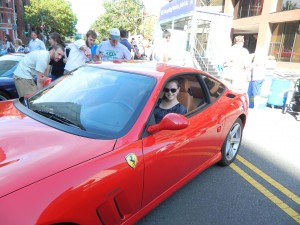 So after that fun, it was on to day 2 of Taste of DC. I have to admit, I had not originally planned to go. But a friend of mine had several tickets from a Groupon deal, so we went. And it was quite a bit of fun. We wanted to save enough tickets for a fish taco from one of the food trucks (which was okay), but started off with dessert with a Nutella and mint calzone. It was so Nutella-y, but couldn't taste much of the mint.
I think the best thing we had there, food wise, was the shrimp po' boy sliders. Maybe I'm just really missing New Orleans and looking forward to going again early next year, or maybe it was just the delicious shrimp, spices and hot sauce on a tiny little bun. Or both. I want another one just thinking about it.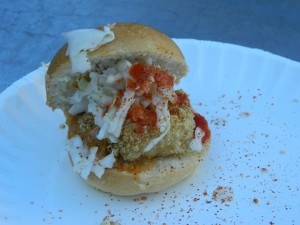 Lastly the other amazing thing from the festival was the wine. We sampled a couple of different wines, but I was most impressed with a Moldovan wine. I wrote the name down and will have to look it up, but it was a wine they said was currently only distributed in New York and New Jersey. So come on DC! Let's get in on this!