Okay. So this may be the last festival update until, well…until the festivals kick back off again in the spring. At least I don't know of any coming up, barring the holiday market which isn't so much a festival as an outdoor market.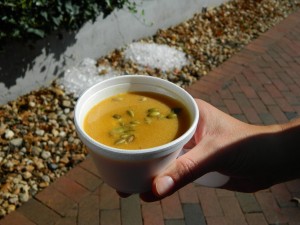 The Taste of Georgetown featured little bites and drinks from neighborhood restaurants for tickets, so much like the food festival the previous weekend. In addition to that though was the Pumpkin Food Fight, where some of these chefs prepared special recipes using pumpkin. And we tried three things (though as it turned out, did not try the winning recipe). Of the three, my favorite was the spicy pumpkin and coconut soup from Mie N Yu. O.M.G. it was good.
We used our method from Taste of DC, divide and conquer. We would get something different and share from the tables we visited, but with this soup, we first split one bowl and then went back for seconds and got our own bowl. Come to think of it…I need to see if I can find some similar recipe for that online.
We stayed there for a little longer. Other highlights was a felafel wrap, hummus and a drink (also from Mie N Yu) called a Lounge Lizard that had St. Germaine in it, and another pumpkin recipe that was so cute! It was served in a little tiny pumpkin. Definitely a fall flavored (and looking!) treat.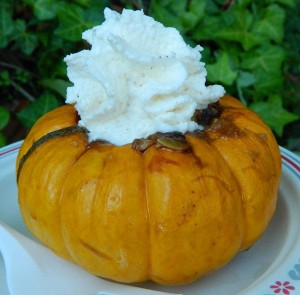 The day finished off with trying a new restaurant in DC. I've long wanted to try Bodega, and my friend told me that had a cute patio, which was a requirement. Taste of Georgetown ended up being on a fantastically beautiful day, especially when the days leading up to it had been so morose.