I've written before about my new interest in ballroom dancing, particularly tango. Tango has long held a fascination for me, and if you've seen it, then maybe for you as well. It's a very strong, but yet still romantic dance. And then you hear about those places in Argentina where the music's live and people will tango at the center of bars or in outside squares. But here…well, here you can learn to tango in class.
Right?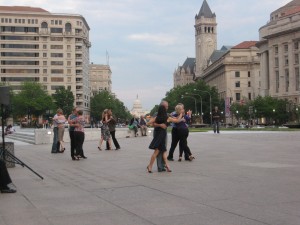 Not so much. While looking up other tango classes in the area, I came across evening at Freedom Plaza. They set up some music and people will tango right there in the plaza. It's throughout the summer, and I went two weekends ago to check it out (not to tango…not quite ready to try to tango in public).
There were only one or two couples dancing when I first arrived, but I sat there for a bit and enjoyed the music, the beautiful spring weather and more and more people came and started dancing. It was such a unique dance floor, there on Pennsylvania Avenue with the Capitol lighting up behind it. I didn't stay too long, so didn't get the full effect of the lit up buildings against the night sky, the tango music in the background…but am looking forward to going back.
And by the end of the summer, I would like to at least once have tried to tango on Freedom Plaza.