It's that time of year again! Although, given the cold this past weekend, one might not know it. Yes, it did snow Saturday night. I woke up early on Sunday and there was just a light dusting of snow outside my window. And of course it was gone very shortly after viewing.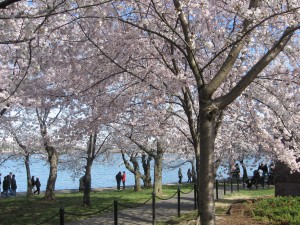 But Saturday was still decent enough to do one of my favorite early spring activities: viewing the cherry blossoms. It never gets old.
This year though I saw something new. I've seen wedding photography and engagement photo shoots down at the Tidal Basin, but this year I saw an actual wedding! I didn't even know one could do that, but it would be a gorgeous wedding album and video. I wonder too how much planning was involved, since the cherry blossoms did seem to come out a little early this year. Would it still have gone on with just the budding?
It was a little crowded down at the basin, which reminded me that I like going first thing in the morning when much of the world is still asleep. Plus the rising sun gives beautiful lighting. Maybe I'll try again this coming weekend…that is depending upon how the weather holds. There's more snow in the 10-day forecast. Seriously?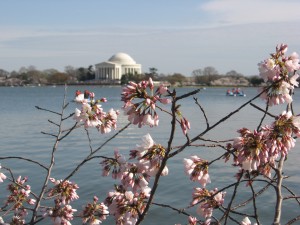 At least I know I'm not the only one hoping this is winter's last farewell!