Yesterday I bought French Market style coffee. It wasn't the Café du Monde kind, because all that was left was decaf (and what's the point of decaf?), but it's still coffee with chicory. And it's still delicious. I tried a small cup last night, but this morning made a full pot.
Chicory has been added for some time to coffee, and all over the world too. Though here, it's mostly associated with New Orleans and Café du Monde. And drinking this is definitely making me miss the French Market. I would love to be waking up and then walking down to Jackson Square, maybe a quick trip up to see a sunrise over the Mississippi, and then stopping by for outside seating and a chicory infused café au lait with beignets.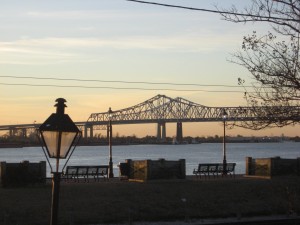 Guess I'll just have to go back. But my sister and I are thinking the next trip we take will be over my next trip to Texas and we'll head back down to Austin for a few days. Maybe this time I can finally see some bats! Now that's another long story for another post, but needless to say, in the three times I've been to Austin…I've yet to see them. It just didn't work out.
But anyway, now my coffee with chicory is waiting for me. Mmmm…