It's been a busy last few weeks, and I am definitely looking forward to a long weekend after today. And today should be a fantastic way to start. DC is supposed to be 73 today! And this is after yesterday was in the high 60s. Oh…that made me a happy, happy girl. I've lately wanted to bring lunch more and try new lunch recipes, but when I saw the weather for the end of this week, I nixed that idea in favor of going out and enjoying the sun and the warmth.
Now I realize it's still a little early to get too excited. After all it's supposed to drop back down again this weekend, but that's okay. I've had my first taste of spring and I know it's coming!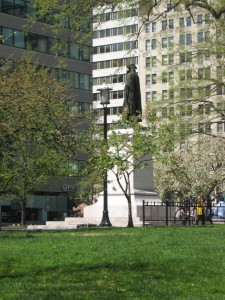 But other than wishing for spring, my main weekend plan is of course writing. I love these long weekends where I know I have time to get a lot done. I also have a new baking recipe I want to try out (I've never baked with white chocolate so I first need to do some research). And of course see some friends of mine. Other than these general plans, I don't really have anything set yet, and sometimes that's the best way to go into the weekend.