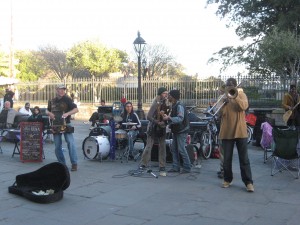 New Orleans is known for many things. And one thing I heard repeatedly when I mentioned where I was spending my vacation was "oh, the music!" And the music was everywhere. It poured out of the bars and intimate restaurants, it stationed itself on street corners or in the back of a truck driving down the street. And I would bet that were you to walk along the banks of the Mississippi, you would hear it wafting across the waters from the steamboat cruise ship in the early evenings.
On the street we mostly heard that big band jazz style. And on Decatur on Saturday, we came across a brass band playing on the corner, with one kid dancing nearby and the band definitely getting in the spirit of the Saints game later that day. I got in the spirit myself and bought a CD, although nothing will compare to hearing them improvise and engage the spectators.
We saw another man dancing to a different band later that afternoon, this time in front of St. Louis Cathedral. And I can understand how it would be hard not to want to just let go and start dancing to the beat. And how many times did I want to stop on our way down to the street to listen to the bands playing in the bars? Only if we did that to every one, it would be hard to get anywhere. As a contrast to that vivacious music, on one corner of Royal we came across a violinist with a guitar accompaniment. The violin is one instrument I do wish I'd learned (I opted to not to, to wait a year for the flute which I played only two years), and hearing it live is a beautiful experience. She was excellent, and the guitar provided a nice, earthy contrast to the strings.
Our last night there was a slightly more mellow experience. Because of the rain that drove us in after an overcast morning, and also the fact that we had to wake up incredibly early for our flights, we ate in our hotel restaurant with a guitarist playing. He played mostly covers during our meal, but as if he'd heard my sister, he did play one original shortly before taking a break (my sister had wondered if he was playing over covers). With one song, he reminded me of one of my favorite Beatles songs…which I am now looking to see if I still have here in DC.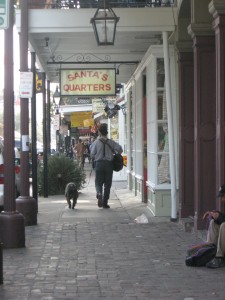 We both agreed that the music was going to be something we would miss. And that definitely made it on my to-do list, to look around for live music venues. Because it's different then, when it's everywhere, just saturating the air. Not like going to a piano bar or a larger club to see a band you like. It's not spontaneous, or surprising…listening to someone you've never known before and didn't seek out. I kind of like that.