This April finds many of us adapting to new routines. This may be more time at home or following new guidance and measures at work (thank you, essential workers!). Existing routines have changed. And for me that also includes my yoga practice. I was very much excited to learn that I was still going to be able to take class, and sometimes around the times that were part of my routine. In addition to the movement, one of the things I value about my studio are the teachers and the people I have practiced alongside with, so I look to the week ahead on The Mat Yoga Studio's schedule for classes I can take from home. Because yes, my studio is still holding space and community, something for which I am grateful.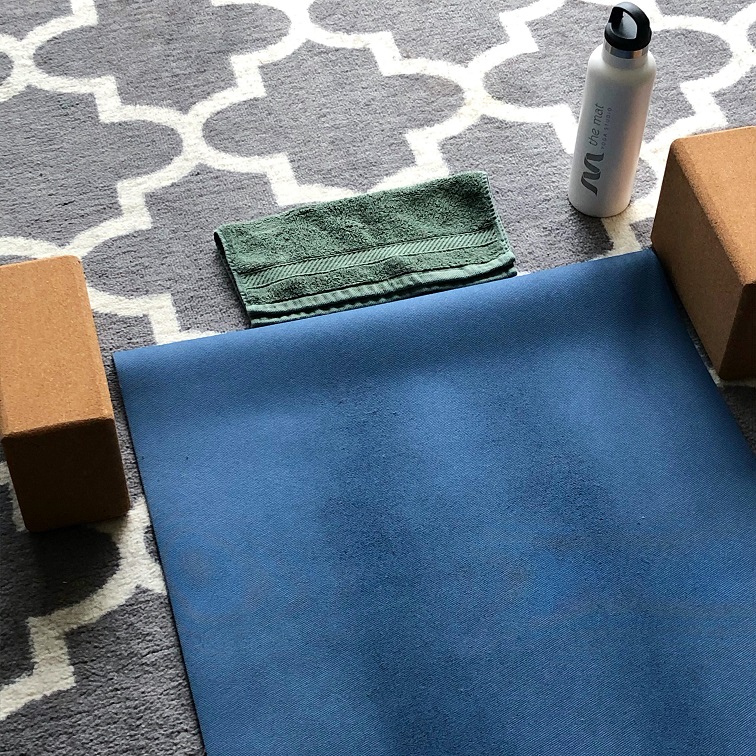 So how do I still take class? Answer: without leaving home.
The Mat Yoga Studio's classes have moved to streaming online and I still treat this time as I would if I were going to the studio. I'm not going to be distracted (at least, not purposefully…more on that below) and I shift my focus from whatever I may have been doing before to the yoga class I'm preparing to take.  I'll sign-up in advance for class, set my mat up about fifteen minutes before (just like I tried to arrive 15 minutes before class previously) and settle myself in for class. I do have a set of blocks that I place at the top of my mat, though I've heard teachers suggest books of a similar size if blocks are not available. I also have a towel and mat cleaner for after class, so that I am still following my class routines.
There's still the community here, too. I hear quite a bit of chatter before class begins, and I think it's great. Maybe it's because we're set up right at our computers that it feels natural to still chat this way – virtually – before class begins. There are hellos with the teachers and each other as others sign on. Some of the previously scheduled workshops have also shifted online (book club is happening virtually on the 19th!). And in addition to classes and workshops, the studio also offers a periodic call to check-in and see how The Mat community is doing.
There are of course some differences between home and a studio. For one, I push aside furniture before and pull it back after. Now, some of those unintentional distractions I mentioned?  Sometimes the cat is more interested in laying on my mat in the middle of a practice than snoozing in that patch of sunlight on the other side of the room.
The classes give me some routine and more movement, and a reminder to focus on the breath. And even though I may not be practicing next to my teachers and friends, it is nice to know that we're practicing with each other.
This is the part of a series of posts for The Mat Yoga Studio, sharing my thoughts and observations as a student only. The views and opinions are my own.