I have exciting news to share. This summer, The Mat Yoga Studio expands with a second location in Plano!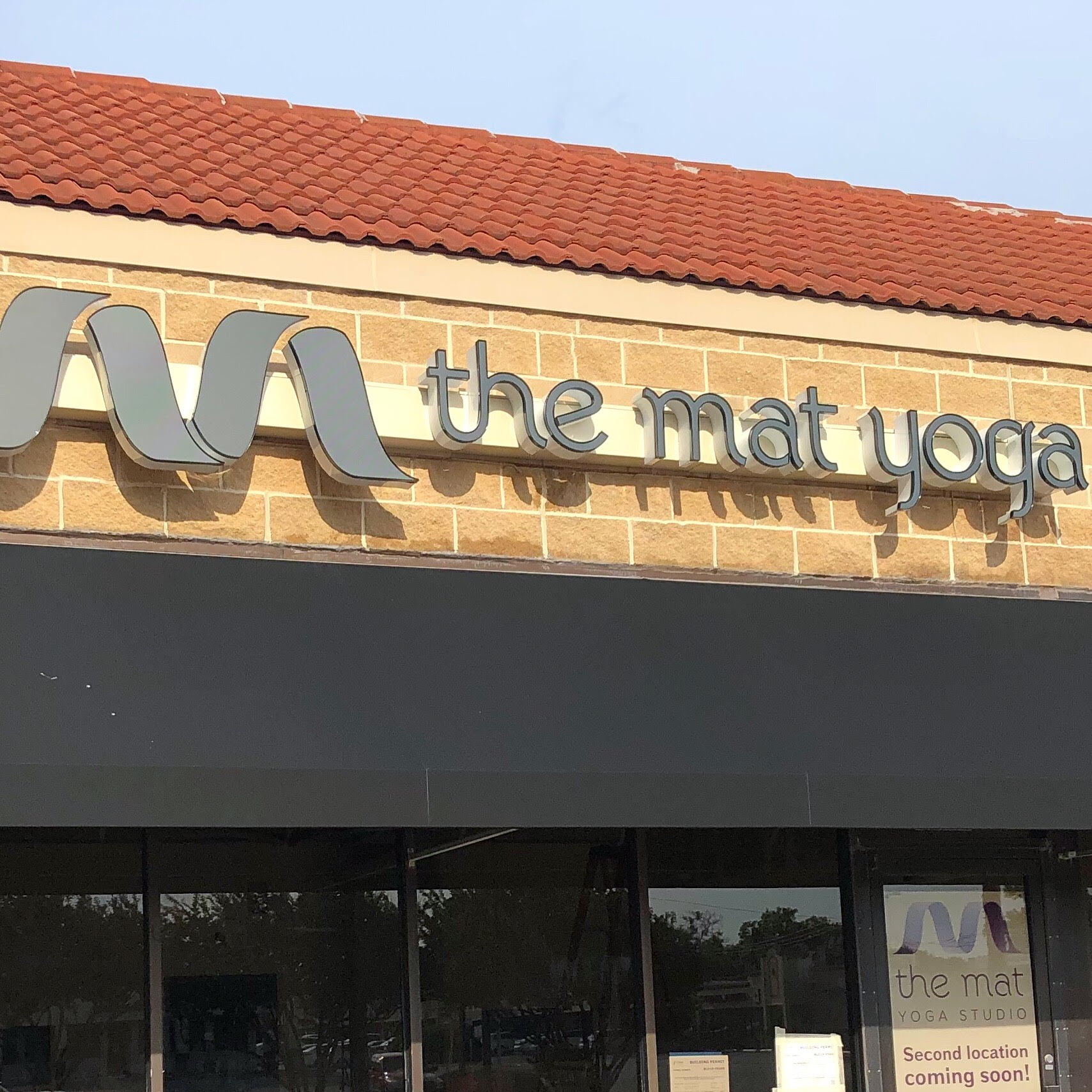 Many of us love more than just class offerings at our studios – the rooms, the classes, the community, and teachers, but we don't often see what it takes to create those spaces. With the expansion ongoing, I asked The Mat owner Samantha Martin, eRYT 500, some questions about what it's been like to open a second studio.
Studio teachers play such an important role in creating the atmosphere – from welcoming students walking in, teaching creative and informative classes, and answering questions after class. And that was definitely a consideration. The Mat Plano location was chosen with distance in mind to the current location so that many teachers had the option and the ability to teach at both studios to keep the same kind of experience that The Mat students have come to love.
The Plano location is also going to give another option to students who may take class infrequently due to class schedules or work schedules and locations. The distance away from The Mat Dallas provides an option that may be closer to home or the office. Near enough and far enough were both important considerations.
"So far, the challenges I've encountered have been waiting," Samantha said when I asked her what challenges came with creating a space from the ground up. In the time that she has owned The Mat, she has added her mark – her personality – to the space with a welcoming lounge area, the classes and social events, and workshops. "The lease negotiations took much longer than what I would have expected. Then once the lease was signed, getting the go ahead from the city was a lengthy process with lots of waiting and not knowing what was happening behind the scenes. Now that construction has started, I'm hoping things will go more smoothly. I have plans for promotional events and special pricing offers to begin building the Plano community."
I had some additional questions around the vision of a second space: One of the many things that is fantastic about The Mat Dallas are all the class offerings (open flow, strong flow, yin, chair, meditation, etc.).
Patricia Heatherington (PH): Will you offer a similar variety of classes at The Mat Plano?
Samantha Martin (SM): Initially the schedule will offer open, gentle, and deep stretch. Then, once we know who the students are and what they want from their yoga practice, I plan on adding more classes and more variety.
PH: What are some of your considerations for creating a class schedule for a second location?
SM: This was much more challenging than I anticipated. Working around the availability of the teachers was the first hurdle, and then trying to create a schedule that's appealing to most yoga students without knowing yet who those students are. [I'm also] making sure there's variety and the class styles are taught by the teachers who are a good fit for that style.
PH: Will you also offer workshops at The Mat Plano?
SM: Yes! Hopefully this fall we'll start with some workshops taught by our local teachers.
(Note: Since The Mat Plano only has one studio, weekend-long workshops are expected to stay at the Dallas location, which has two studio spaces. But Samantha did point to an added benefit when large workshops offered at Dallas result in moving classes to the smaller studio, students will now have the opportunity to also take class at the Plano location.)
PH: What has been something you've learned from opening a second studio?
Nothing goes as expected. So much of the process is out of my control and I need to practice patience.
Thank you to Samantha for answering my questions! I for one am also practicing patience to see the new studio open. I'm looking forward to having additional classes that I can choose from around my schedule.
If you are a Dallas area-based yoga teacher interested in subbing at The Mat, you can reach out to Samantha, with contact information on The Mat's website. Currently the sub list is closed, but as the schedule grows there may be additional opportunities. The Mat Plano is looking to open in early to mid-July. Keep an eye on the website and social media for more!
This is part of a series of posts for The Mat yoga studio, sharing my thoughts and observations as a student only. The views and opinions are my own.