So it finally happened.
In July I got to see the emergence of thousands of bats – up to a million or more – creating their own clouds as they streamed out over the river and on into the Texas sunset. Or rather…away from the sunset as it was setting behind us, but still. Pretty cool, right? In downtown Austin when you see scores of people lining up along one side of the Congress Avenue bridge just before sunset, or bring their kayaks and paddle boards to a stop on the Colorado River just beneath, it's to see these bats. I've posted before about my attempts to see them, but when it comes to the bats, apparently fourth time is the charm.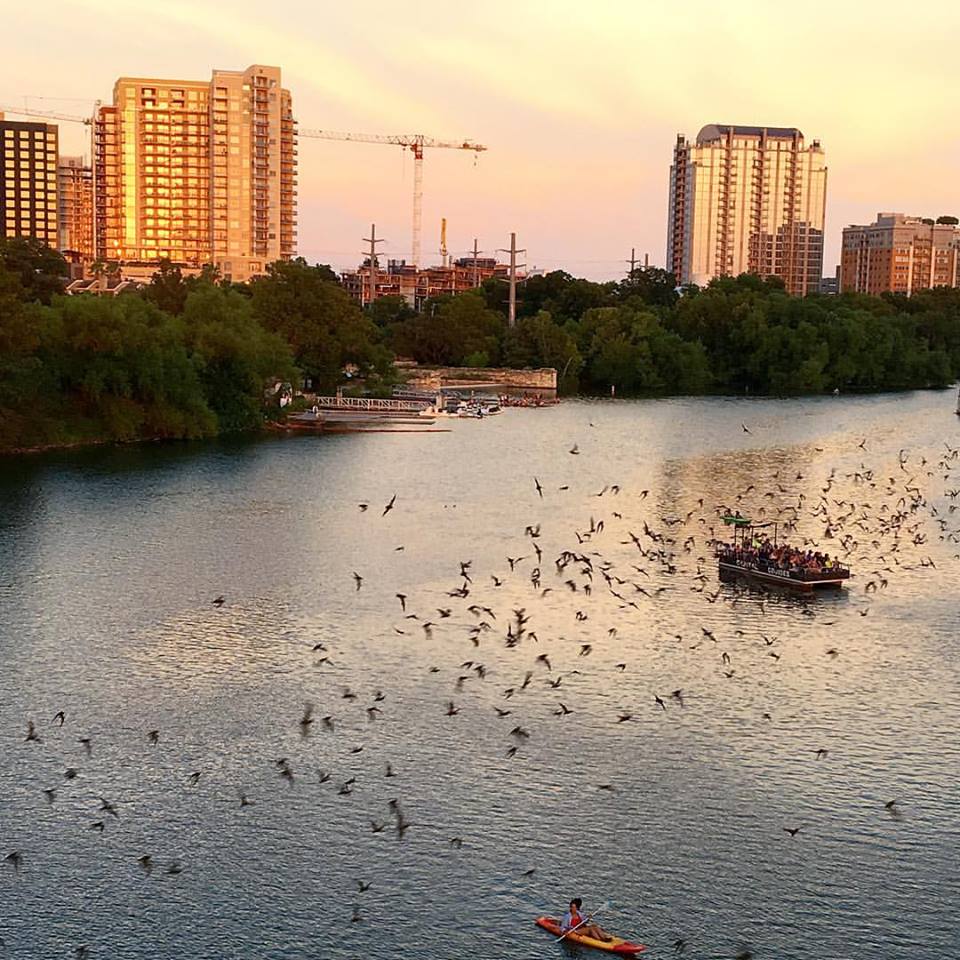 What makes this worth seeing?
For starters – it's said to be the largest urban bat colony in North America, if not larger. Intrigued what that looks like yet?
We all stood there, enjoying the gorgeous view of the river, the sun low behind us casting pinks and purples and oranges all along the water and the sky. And then a whispering trickles through the crowd, before someone near me points. I look to my right and just barely against the trees see a stream of bats flying out and up – a veritable cloud moving east. And then another cloud. And another. Bates weave out and under the bridge, putting on a show and yet completely unfazed by their audience. Just when I think the clouds of bats are thinning, a new swarm of them comes out, too many to say that these were merely stragglers.
The colony can be as large as 1.5 million. That's hard to imagine, as the bridge doesn't seem that wide or that long when you stand on it or walk across it. But then again, individually the bats are small.
Can you imagine that?
If you haven't seen them and find yourself in Austin, I definitely recommend checking the phenomenon out. Bat Conservation International has additional information on viewing times. The bats are Mexican free-tail bats, and they do migrate further south to Mexico in the winter months – as I learned by experience – but I once read July-August was some of the best times to see them. At that point too, the young bats born in the spring are able to fly out, swelling the numbers coming out each evening. Though I think they start settling back in Austin sometime in the spring. This summer, mid-July worked out beautifully for me. The bats emerge around sunset, but it's good to get there a little bit before. The bridge is downtown and parking can be a little tricky. Not to mention that if you're going to the bridge, you'll want to find a good spot!