Yesterday I had my first outdoor yoga class with nearly 1,100 fellow yogis. That's right! And it was an incredible experience that I'm already marking my calendar for next year's Yoga on the Bridge.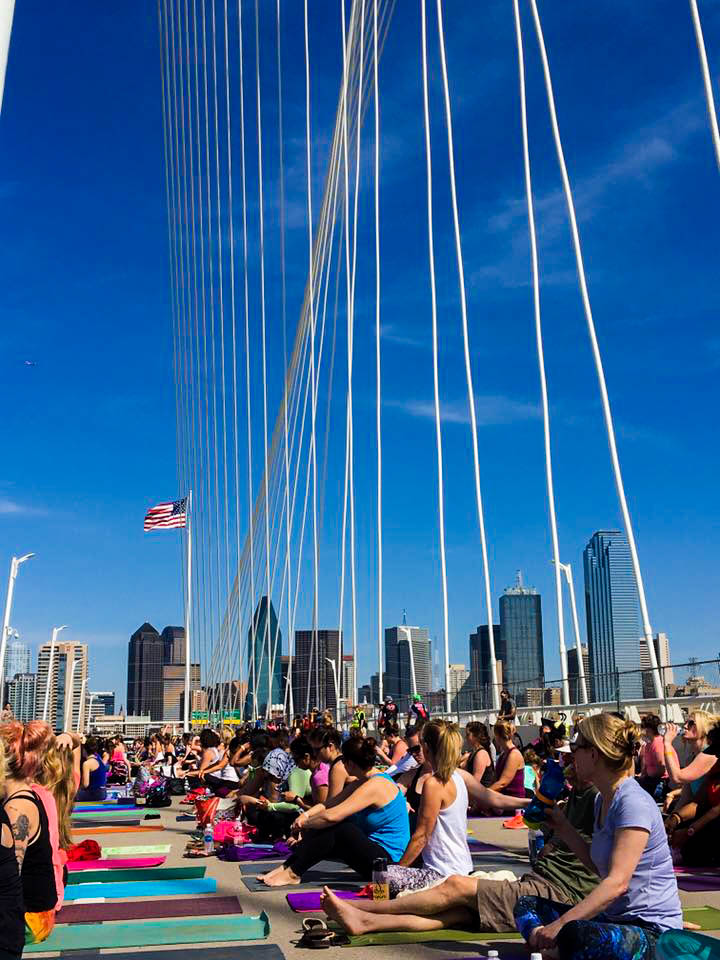 It helped that we had such amazing weather: blue skies, warm sunshine, a cool breeze. And the studio? The west-bound side of the Margaret Hunt Hill Bridge was closed for us to lay down our mats with the Dallas skyline to one side. How incredible it was to flow into Warrior II looking at that view. Not to mention just seeing my fellow practitioners spread out to either side of me. With traffic still passing on the east-bound side, there was also new meaning to balance poses as the bridge vibrated – especially during savasana as a large truck drove by!
The class was a one hour open flow, with each 20-minute segment taught by a different instructor from three studios around the city. And of course we started – and ended – our practice with bridge pose. It was only appropriate, don't you think?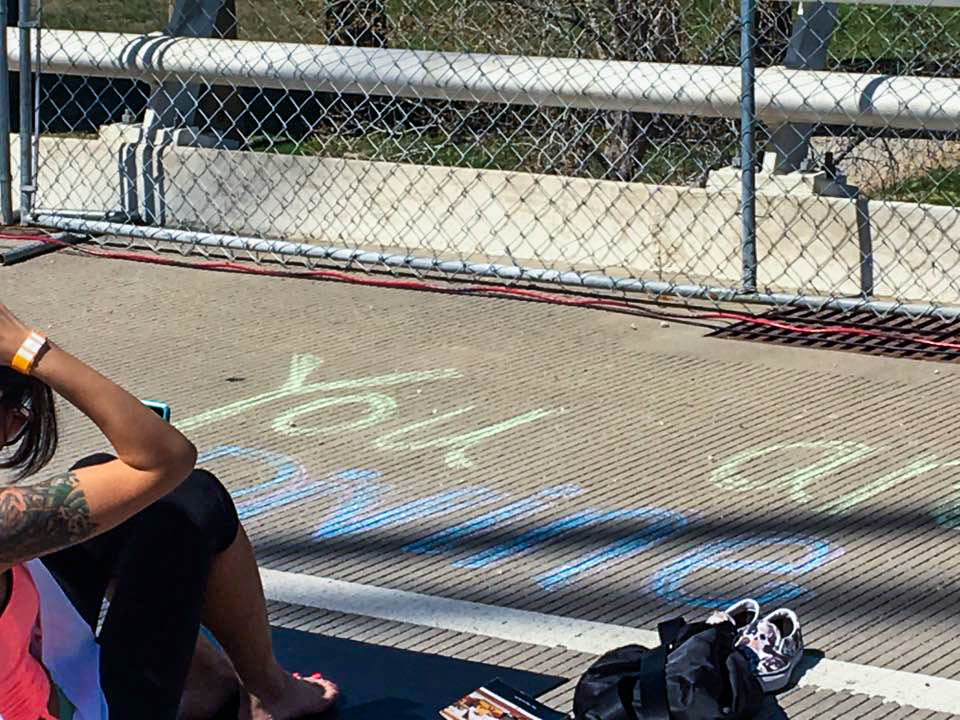 The yoga community is uplifting and so positive. Which is good since our mats were roughly six inches or so apart, moving closer and closer together as more yogis filled the bridge and the time ticked down to start the class. There were these affirmations spaced out over the bridge, like the "You are Divine" above.
Check out #YogaOnTheBridge for more amazing photos from yesterday's practice.
Yoga on the Bridge was part of the larger All Out Trinity's fitness festival yesterday. But if you don't want to wait a full year for another outdoor yoga session, like me, there are lots of other opportunities around Dallas. Now that I'm hooked on yoga under the sun, I'll be checking them out. Klyde Warren Park offers a practice Saturday mornings, and in April you can take class at AT&T's Performing Arts Center's Sammons Park along with other classes in March or May. Not to mention I've seen a few postings for outdoor classes in the surrounding suburbs.
All of the above photos were taken with my phone. While we were on the Margaret Hunt Hill Bridge, there is a pedestrian bridge running alongside to enjoy the Dallas skyline views. The Continental Bridge is at 109 Continental Avenue, within walking distance of Trinity Groves.