Bangkok is a busy metropolis, full of people and tourists hurrying from one place to another amid the soaring buildings, honking cars, all while under a scalding sun. But among the harried neighborhoods stand serene temples that transport you into another time. And I don't mean they take you back through the centuries, but stepping into a place where time dictated no one's schedule, least of all mine. Stepping into Wat Pho was like stepping out of the clock, stilling the second-hand while I just…was.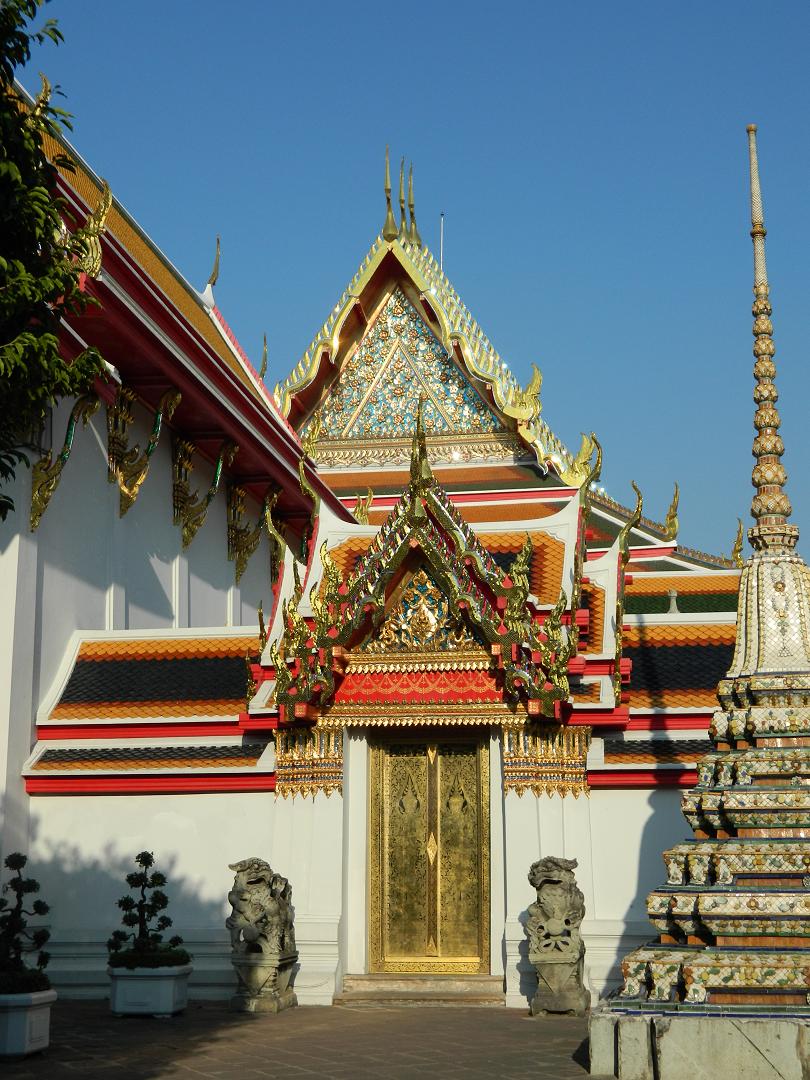 On my return trip from Cambodia, I had only the afternoon in Bangkok before my very early morning return flight to the US. But I was definitely going to make the most of the time I had and planned to visit the Royal Palace and Wat Pho to see a site I'd heard off – not lease of all in Murray Head's "One Night in Bangkok" – the Reclining Buddha.
Wat Pho has over one thousand Buddha images, but perhaps the most famous of the temple's relics is the Reclining Buddha. When I visited over two years ago, there were not many clear signs pointing the way. So I wondered around the grounds and in and out of welcoming doorways until I stepped into the building housing this Buddha. Almost 50 feet high and over 140 feet long, the Reclining Buddha is awe-inspiring.
I could see down the length of him in the glittering dimness, though it is a little difficult now to remember exactly what I thought or how I felt then. But thinking back on it now, about I walking around his head and staring up at his serene expression, I feel…quiet. Small. But not in any sort of negative way, in a small way that reminded me that I am just one thread in this giant, interconnected planet. That the people who carved this image may not be remembered individually, but look at what has been left behind down through the centuries and longer still. It's a testament not just to any one faith, but to humanity, to what man can accomplish.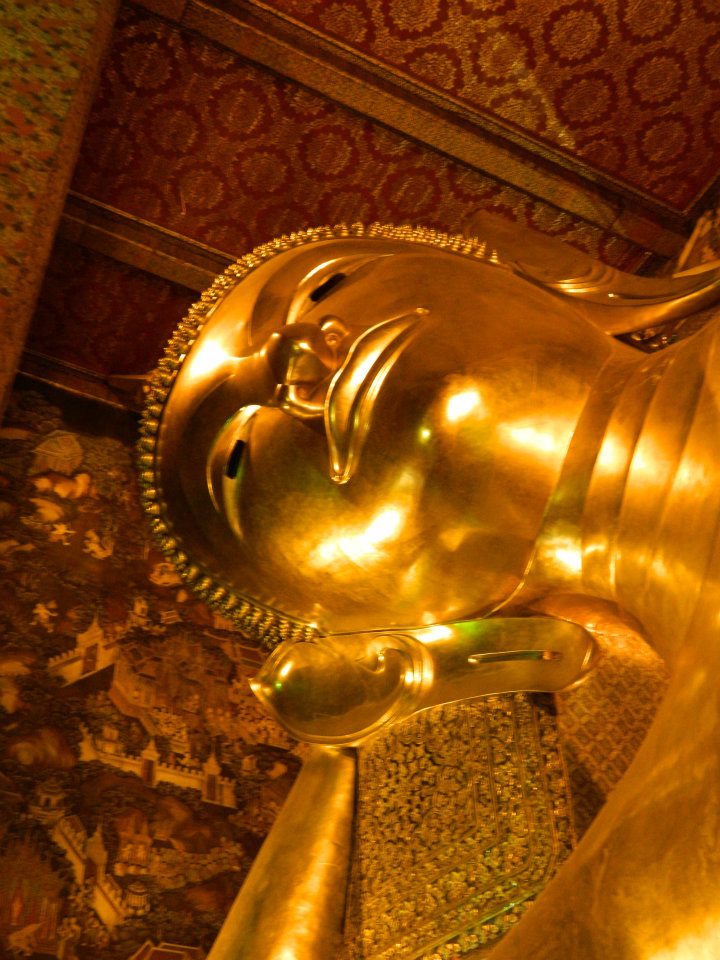 I remember taking my time walking down the length of the Buddha, stopping to try to take photos that would ultimately disappoint in trying to capture the feeling. I admired the small alters spaced throughout, always looking up at the Buddha to see at a different angle. And at the base, his giant, flexed feet were carved with the 108 auspicious symbols of Buddhism.
Behind the Buddha was a long row of bronze bowls lining the temple wall. There was a table of tiny little bowls filled with coins and instructions directing me to drop coins into each of the 108 bowls to bring luck (and what it didn't mention was the good feeling of helping the monks maintain the temple, after all, this was purely optional). I dropped my baht into a box, collected my small bowl of coins and proceeded to make my way down the line, fortuitously the only person doing so at that moment. I could pretend that I was alone in the temple, as the other visitors stood on the other side of the Buddha taking pictures (or attempting to, since I know none of my photos did the temple justice).
And I enjoyed my time there, thinking about how lucky I was to be there, at that moment, with each clink of coin into the bowl.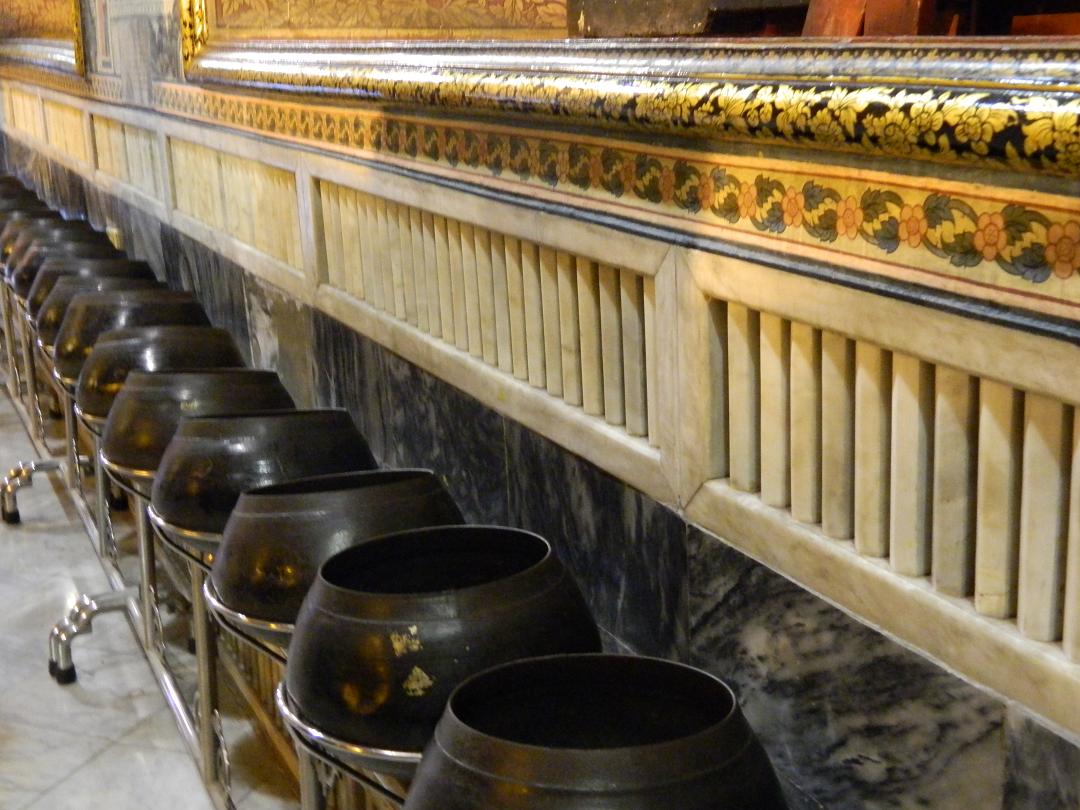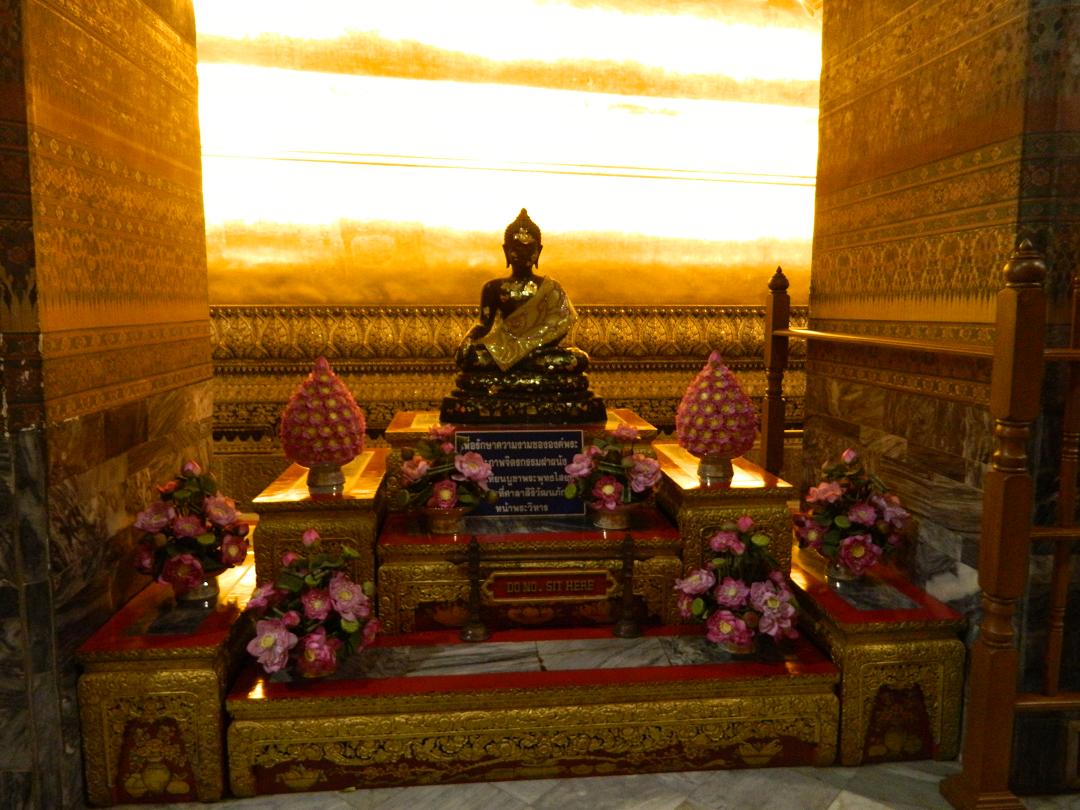 Wat Pho is located at 2 Sanamchai Road, Grand Palace Subdistrict in the Pranakorn District in Bangkok, and is within walking distance of the Grand Palace. The temple complex is open daily from 8am to 6:30pm with an admission fee of 100 baht (roughly $3).