One of my favorite things about living in DC was the annual Library of Congress' book festival. I found out about it early on in my years living there, and after I did, I never missed it. And I knew it was going to be one of the main things that I would miss after moving away (and I also plan in future years to make fairly regular visits to DC in September!). So. If you live in/around DC, I would highly recommend checking out the 2013 National Book Festival. It's taking place this weekend on Saturday and Sunday.
I took a look at the list of writers after initially thinking I wouldn't in order to not be jealous/sad, but it's definitely a great list. As always! Some of the writers I would try not to miss, if I was there of course, are: Margaret Atwood, Khaled Hosseini (at least I saw him earlier this summer), Veronica Roth, Joyce Carol Oates (at least I've seen her at a past festival), and Kay Bailey Hutchison.
During the time I lived in DC, I've had an opportunity to see and listen to so many amazing writers talk, both at the festival and at other events. I've also been fortunate to have had a couple of books autographed. Though I came to realize that I would rather listen to more writers' talk than to wait in line (I've waited in some long lines!). I had to look at the schedule and really sort of plan. A few years ago I went with a couple of books to have signed and missed listening to some writers I really wanted to see after long lines. However, there are also some writers that I've just really been kind of starstruck with and knew waiting in line was more than worth it.  For instance, Mario Vargas Llosa, the 2010 Nobel Prize winning writer. With that day's schedule too, I also got to sit and listen to him speak.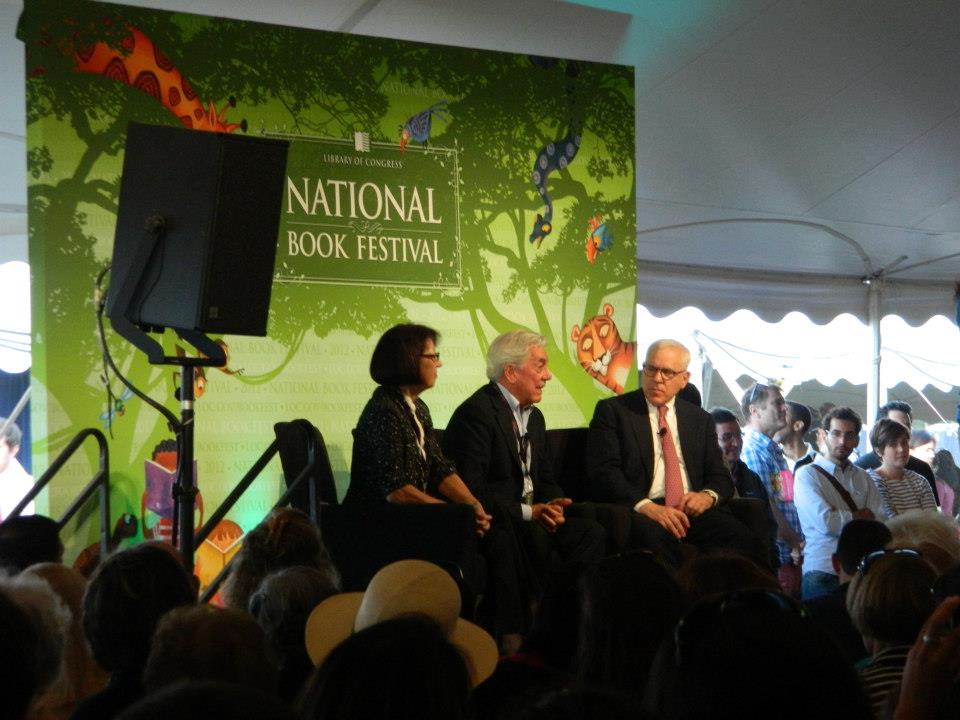 When I first started going to the festival, it was only one day. I think this might be the third year it covers two days. I remember being so excited the first year I went with it spanning two days. One additional day of books, writers and fellow book lovers? Yes, please!
So if you live in DC, or happen to be visiting: Go. Go and tell me about it and make me start planning my visit next year. Go and have fun. And maybe go and feel a little inspired to get back to writing after the festival. I know I always did.