Continuing with the pleasure of reliving memories from Cambodia, I move on to Ta Prohm. It would be difficult to name a favorite temple from this visit, because just when I thought I decided on a favorite, I would remember sunrise from Angkor Wat or the faces of Bayon. But one of the top temples I wanted to see, and did see, was Ta Prohm. You might recognize it: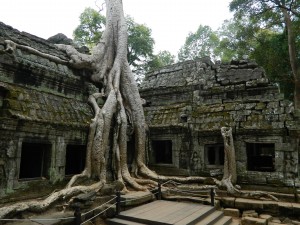 It seems inconceivable that the jungle could reclaim such a structure, but reclaim it the jungle did.
Ta Prohm, built late 1100s – early 1200s, is still very much a part of the jungle. It was left nearly as it was found for the atmosphere, though there is renovation going on. When I visited, you could see some of the posts going in to reinforce the walls, but that was up close. Ta Prohm has Ambiance. Yes. With a capital A.
While its entrance may be one of the more photographed places among the ruins of Angkor (perhaps with the exception of Angkor Wat), Ta Prohm stretched out with corridors and what must have been many different rooms and courtyards.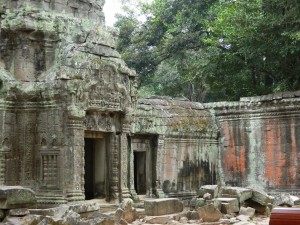 It was like being in a different world, wandering across the courtyard and stepping around the large stones, some perhaps had fallen there and others were placed carefully during the renovation work. And then there was stepping into a darkened corridor to emerge into another ruined courtyard. Again I had to wonder what it must have been like ages and ages ago: Did these cool, darkened halls provide shelter from the hot, Southeast Asian sun? Or were the trees already encroaching upon its walls, providing relief enough?