A couple of months ago, I had the amazing opportunity to visit Cambodia, a country I instantly fell in love with (as I had a sneaking suspicion I would). While most of my trip was centered around Phnom Penh, my friend and I did manage to go out to Siem Reap for a long weekend to see the Angkor ruins. And I have to admit. This has been one of the more amazing things I've done in my life.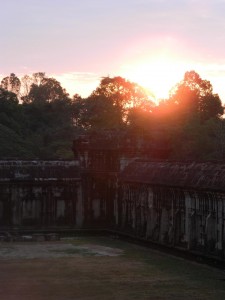 We began at Angkor Wat at sunrise. As the sun rose up, the towers of the temple emerged from the darkness, rising up over the tree tops. The sky turned purple and brightened into pink. And as the run crept over the tree line, the stones of the ruins, normally grey and black, turned golden.
To say that it was beautiful would be an understatement.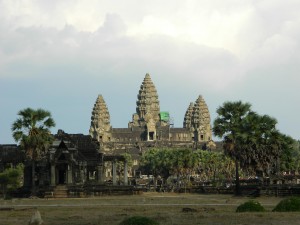 Angkor Wat was built in the early 1100s as the capital city (and temple, of course) of King Suryavarman II, and apparently even means "City Temple." The temple was first a Hindu temple, dedicated to Vishnu, and later was rededicated as a Buddhist temple. It is incredible walking among the outer walls of the temple, seeing the jungle surrounding it and hearing the birds hidden among the leaves. And if it is this incredible now, in the 21st century, imagine what it must have been like in the 12th, when it was a teeming city. Imagine coming out of the jungle and seeing the towers rising up so high above, higher than the trees.