Thanksgiving has come with a well needed break, even if that break means a lot of work catching up on my word count. I have to admit that the other day I resolved myself to the fact that this year I might not make it to the end of my novel by November 30. My days have been very busy, and once a week I've had salsa class (so much fun!) and then also have had some friends in town one week and my cousin visiting another weekend. All of which I would not change or even reschedule.
Until last night. Yesterday morning before I did anything outside, I made sure to get at least 1,000 words in. It wasn't much in the grand scheme of things, i.e., my 50,000 word goal, but it still was a sense of accomplishment. But once I got back that evening, I wrote. And wrote some more. And ended up with a little over 4,000 words. Now that was a sense of accomplishment. So who knows…maybe I will make it to the end by Wednesday?
Yesterday I also made it to the US Botanical Gardens for the first time. Made it just in time for their holiday train display. I think I may have to make it back some time over the winter, particularly the jungle where the glass traps the warm sunlight in and keeps the room warm for all of those leafy green plants.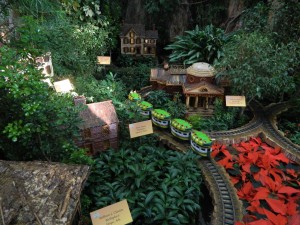 And lastly I made a dent in the new book I'm reading, The Greater Journey: Americans in Paris
. And even though this is Paris in the 1830s or so, it's definitely making me want to get back there. Okay, so honestly, it doesn't take much to make me want to go back to Paris. But when McCullough talks about the Louvre or the Quay or even the Place de la Concorde…I'm ready to start looking at plane tickets.
But there's enough to keep me occupied this holiday season here in DC. From catching up on writing and reading, of course, to the holiday market, Christmas decorations and special holiday exhibitions. I look forward to being fully immersed in the holiday spirit.