One of the many things I love about DC is that there is a lot to do. This fact was highlighted to me over the weekend when a friend came to visit from Texas. We had only two full days and, as it was her first visit to the District, a lot to see.
So what do you see in two days? Well, mostly whatever it was my friend wanted to see, though I did plan those activities based upon location. We saw the zoo, four museums, Arlington Cemetery and many of the monuments at night. We also visited Chinatown and Georgetown for lunches and of course wandered through Dupont.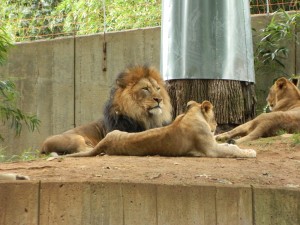 Local Washingtonians I know, myself included, love having people come visit because that's often when we do a lot of the touristy things. Take Arlington. I went once when I first came out here and haven't been back. Or the museums. I had actually never been to the Air and Space museum here on the mall (I know!). So it was great to finally go take a look.
All summer long I've talked about going back to the zoo. And of course, just haven't gotten around to it. Over Labor Day the excuse was to actually get back there. We lucked out that weekend with beautiful weather (fantastic given that much of what we wanted to do was outside, or at least had outside portions for museum jumping). And it did rain while we were at the zoo, but we were close to the small mammal house. Once we were done with that and the reptile house, the rain stopped and stayed away for the rest of the weekend.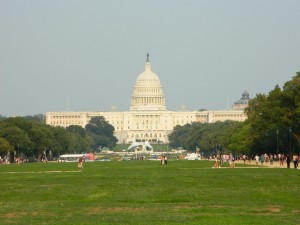 We had a break Sunday afternoon at the National Gallery's cafe. I should state that I think the National Gallery is my favorite museum in DC…and perhaps rivals the Getty for my favorite museum in the US (that I've been to!). It's calming to sit in the cafe with the water pouring down the far window, and then head up to the West building for the paintings and sculptures, including the Hermes (or Mercury I think is the official title) fountain and some of my favorite Monet paintings.
The great thing too about many of the museums, is there right next to each other. Or across the mall. And walking across that stretch of grass, with the Capitol on one side and the Washington Monument on the other is definitely not a bad way to spend an afternoon. And of course, now I can't wait to go back to the National Gallery.