I expected that I would like New Orleans. But I didn't think I would love it.
But I did love it. Do love it. I can't wait to go back. The narrow streets of the French Quarter with the colored buildings and iron balconies are romantic, and walking just over the street car tracks and seeing the Mississippi spread out in front of you is beautiful.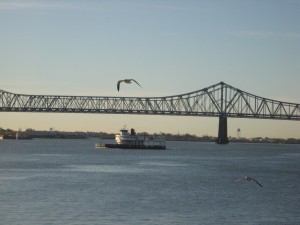 And then of course there's the food and the music. All kind of music and everywhere. There was a band in the back of a truck that drove around, and all around Jackson Square there were musicians and bands engaging the people on the streets. One of my favorite moments (of many favorite moments) was sitting on a balcony over Decatur, eating gumbo and a shrimp po'boy, and hearing a brass band playing down the street. I could have stayed there for hours.
I have to say that it was seriously one of the best weekends I've had in a long time. We had no plans, nothing we had to do (other than coffee and beignets at Cafe du Monde and a Hurricane at Pat O'Brien's). My sister and I just wandered around, enjoyed our conversation, enjoyed the music, the food, the drinks and the scenery. And to be honest, I'm still a little amazed at how much I loved it.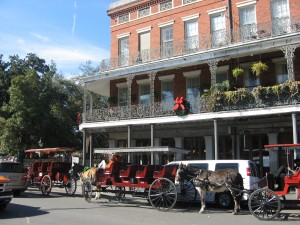 Someone described it to me that everything in New Orleans is an event. And maybe that's a good way to look at it. There's the performance art, the bands, the artwork lining the fences at Jackson Square, the carriage rides and the tours. I could keep listing it. What I am finding hard to do is describe what made me fall in love with it. I don't know. I guess you'd just have to visit and see for yourself.
And on that note…Happy Mardi Gras!