With its beautifully designed streets, pastel painted buildings and glimpses of the Rio Tejo beyond, Lisbon is a romantic city. But Sintra is a force to be reckoned with in terms of romance, starting with the ruins of the Castelo dos Mouros high up in the hills.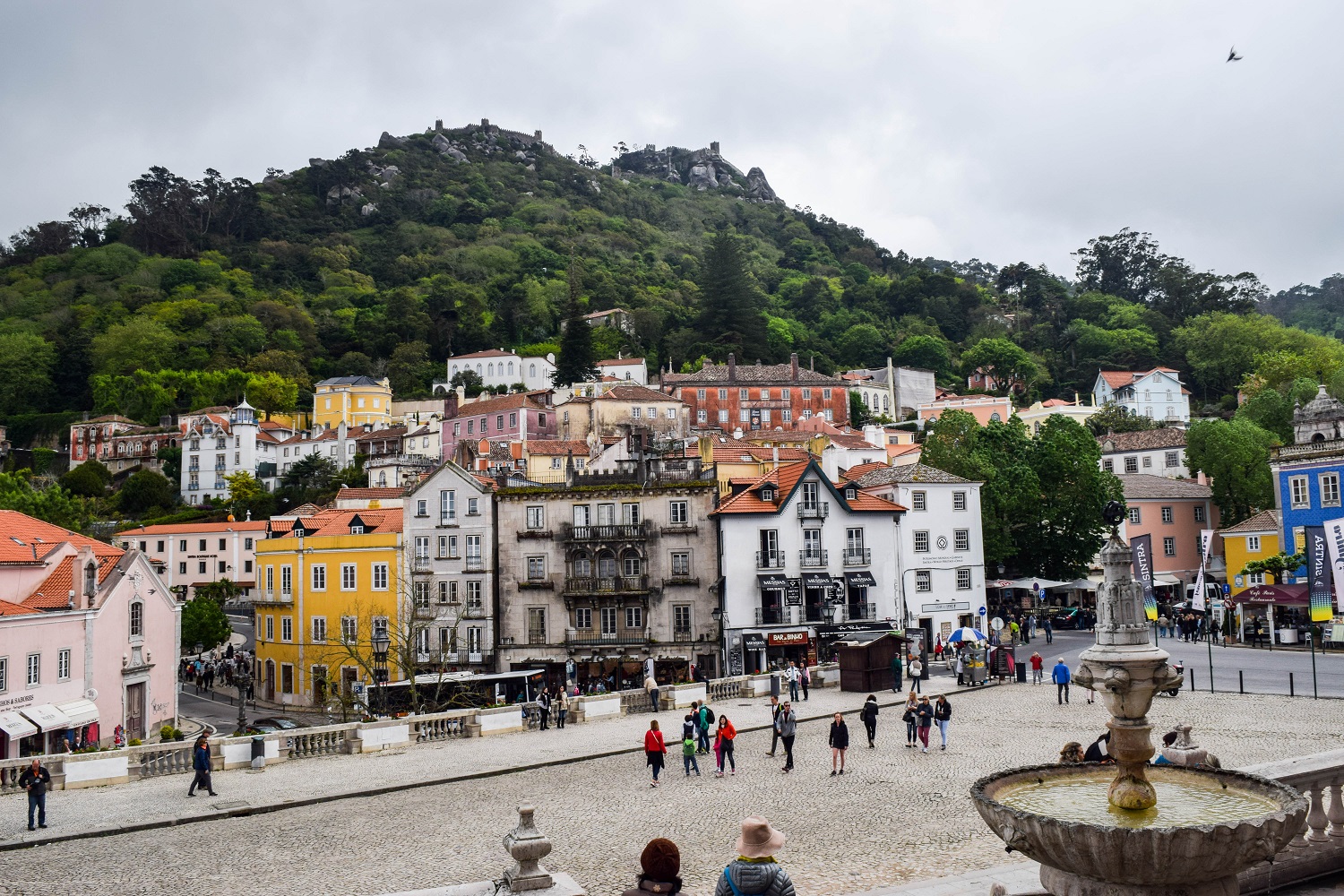 Sintra is a 40 minute trade ride from Lisbon (the train station is very close to Rossio Square). There is a local bus – Bus 434 – that you can take for €5, hopping on and off over the course of the day – and will take you to the three main tourist attractions in Sintra for only a few euros. The bus picks you up in front of the train station and returns to this same spot, so it's a really great way to see Sintra and not have to worry about losing your way back to the station.
National Palace of Sintra
The royal families of Portugal lived in this palace for nearly 400 years! And from various rooms of the castle, you can see the Moorish Castle Ruins. The rooms themselves are a testament to all things Portuguese, from the decorative tiles and Moorish influence, to its pioneering maritime history. But even more so, it felt very coastal with a minimalist design, even with gold gilding along the ceilings. It was open and spacious, as though trying to catch that coastal breeze, even in Sintra isn't right along the coast.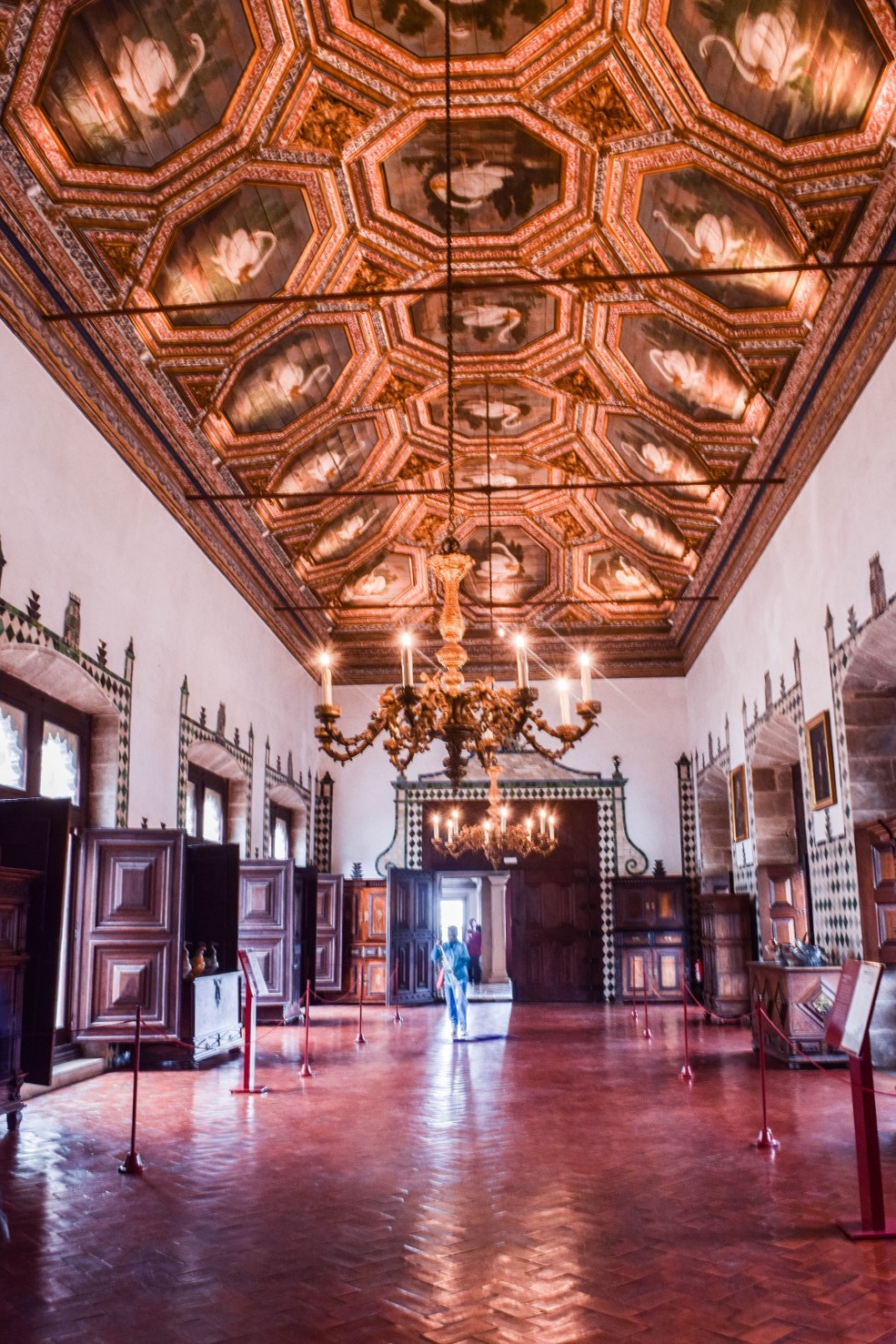 Speaking of decorative tiles – there is one room with amazing murals made up of that signature blue tile work. It is stunning! You walk into this open room and see all sides of it with the blue tiles, telling stories in large murals, windows open and the ceiling extending high up above you.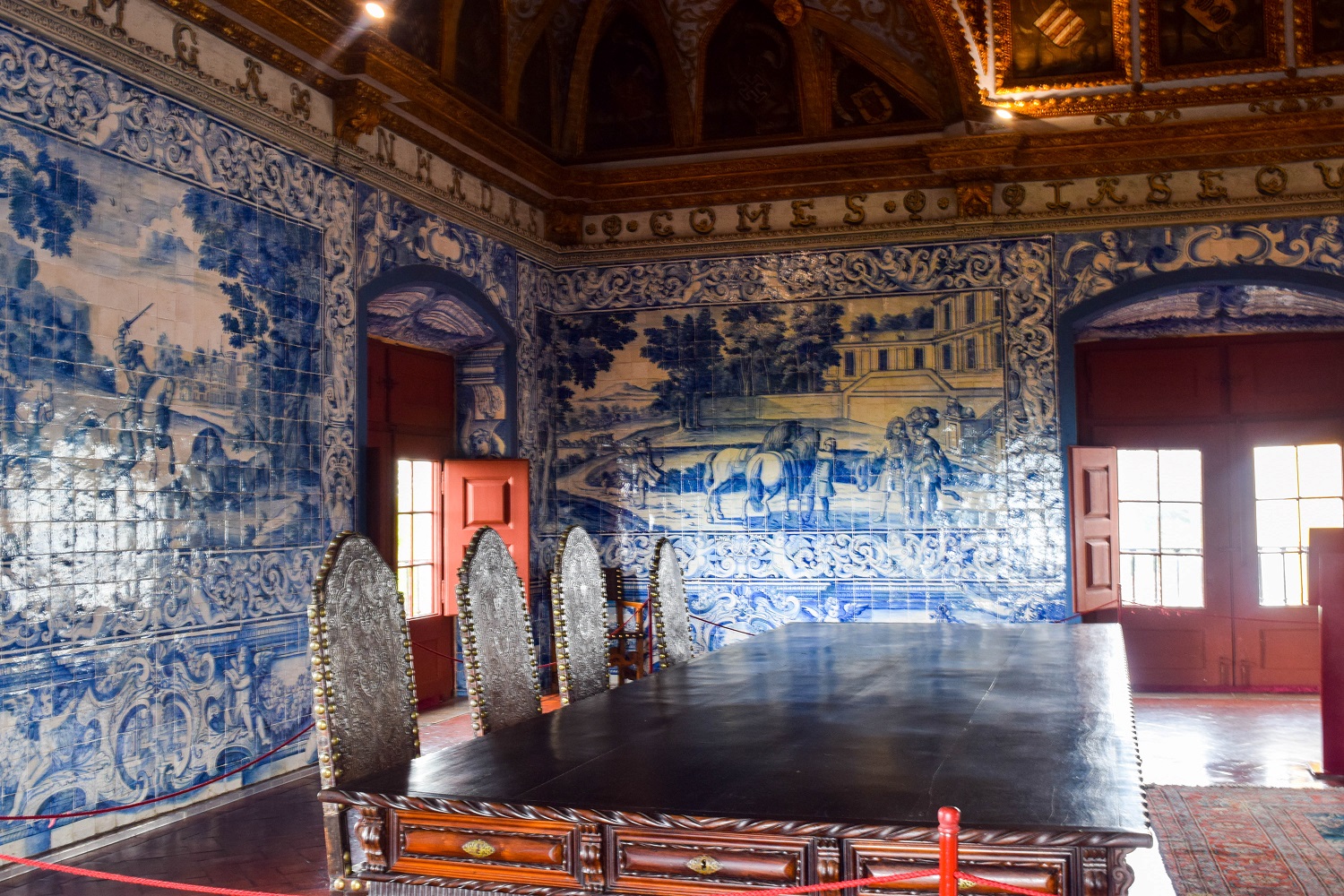 Another favorite room looks just like a ship. The ceiling is painted to look like the curved wooden beams of a ship's hull, along with sailing ships painted along the edges. This room is more  of a showcase room than a furnished how-they-lived example, with cases showing beautiful glass works from Portugal's height.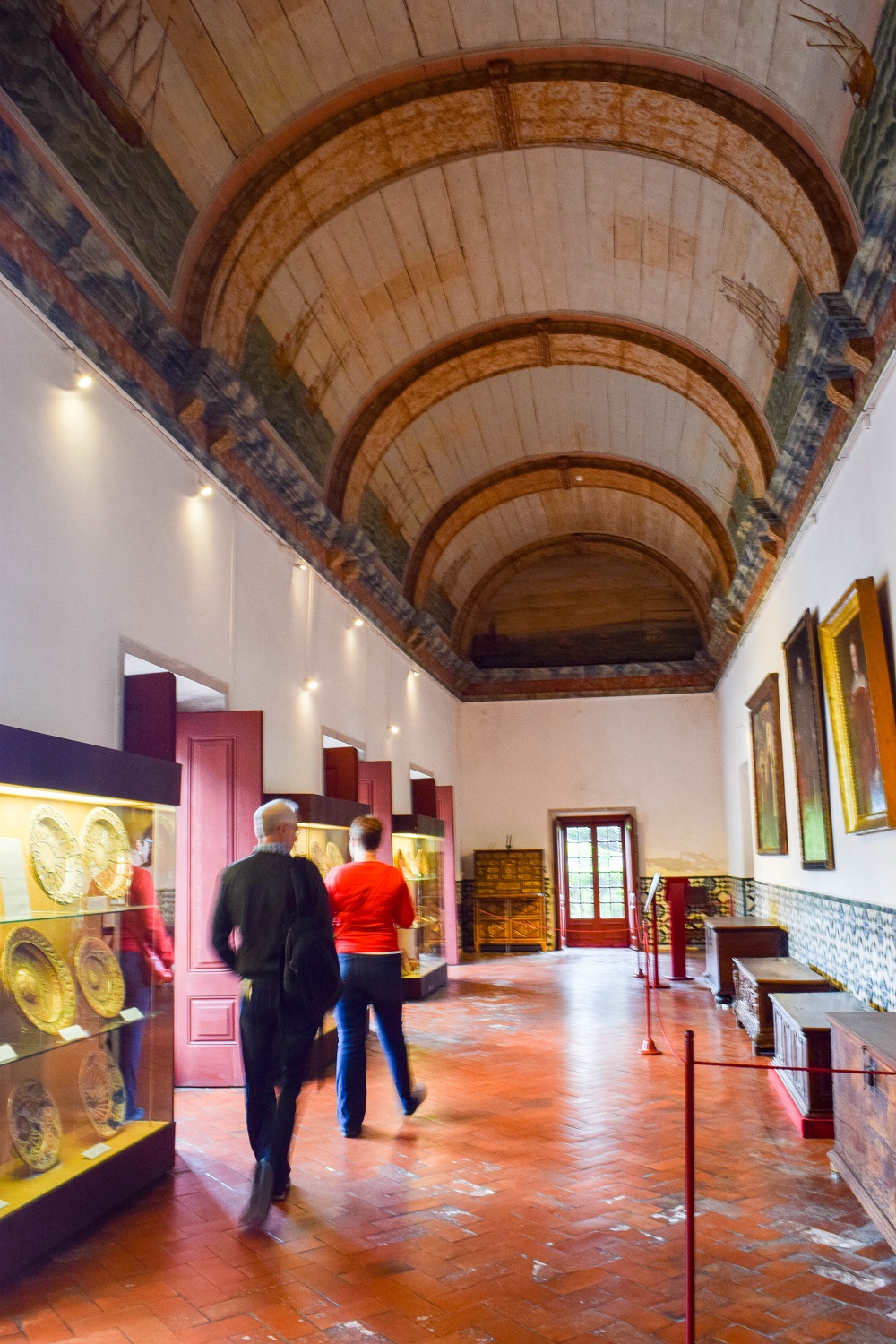 After touring the palace, and while waiting for the next bus to come by and pick you up for the next site, I suggest picking up a little something to eat and eating it there in the front courtyard of the palace. When I visited, there was also freshly popped kettle corn being sold by vendor carts, but there was a small cafe just across the street selling sandwiches and coffees. Perfect for an impromptu picnic.
Castelo dos Mouros
I have written in greater length about these castle ruins. The crumbling romance of the grounds definitely stand out in my mind when I think back on my trip to Portugal. Here I'll let pictures do most of the talking. Even though there are others walking the paths with you, there is still a sense of discovery as you make your way across moss-covered stone paths, through overgrown trees and finally – up to the top of an overlook tower to look out across Sintra and beyond.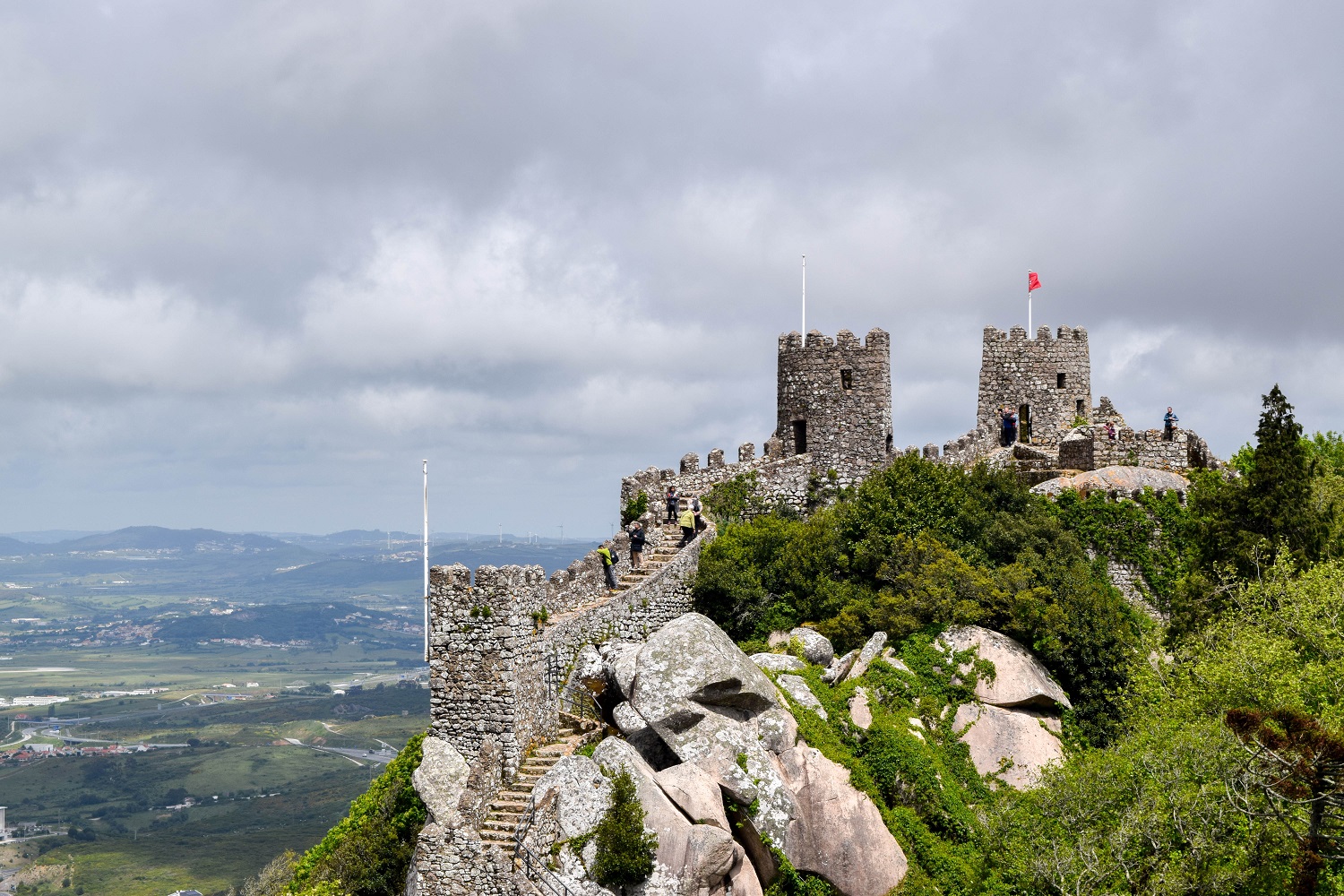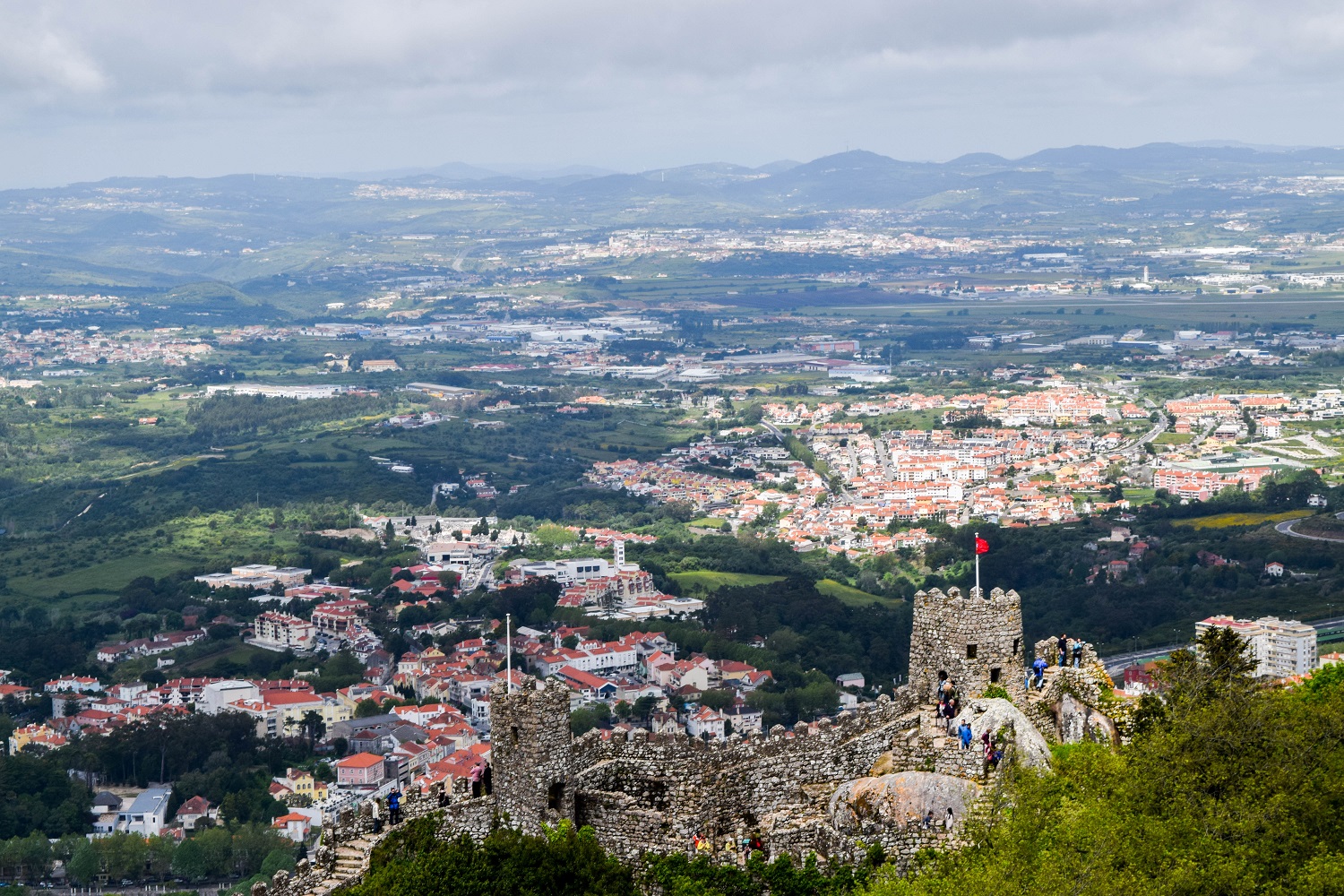 Palácio da Pena
And finally, there is the Pena Palace – a whimsical palace with a much older history as first a monastery before being turned into the palace it is today in the 19th century. I passed by the palace, but my trip to Sintra began a little later than I initially planned. So instead of visiting the palace, I headed back to Lisbon (cognizant of the fact that the train would take 40 minutes to get back, not to mention how long I may need to wait – I looked forward to dinner and gelato near the banks of the river). I also know that Portugal is a place I want to visit again and would love to spend more time in Sintra.
But again, that 434 Bus will take you right up to the entrance of the palace as its third stop, before circling back down the mountain to the Sintra train station.
And the curving streets of Sintra alone looked to be worth exploring. One could easily spend the day there, or what I think I may do on a next visit is overnight in Sintra. That way there is one day of exploring the sites, no rush to get back to wherever you may be staying, and then a leisurely dinner and breakfast at whatever cafe catches your eye.
But of course, if you do what I do, you may be rewarded with a nice evening along the banks of the Tejo back in Lisbon.