Did anyone else forget all about daylight savings?
I did until about 11 last night. And then it was only because I saw on twitter someone said they were springing ahead and I thought "oh that's right!" So for the first time in a long while I slept in this morning…but only because we jumped ahead an hour.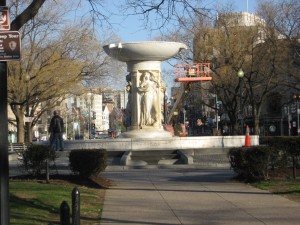 And for all the excitement that goes on in DC during the day and on into the evenings (and the late nights), I absolutely love first thing in the morning on the weekends. I like walking to Georgetown for coffee and a croissant at Dean & Deluca, and much of DC is still inside. Sure there are some cars, and people out for morning runs or off to a cafe for breakfast, but otherwise the sidewalks are quiet. And I like that stillness. It's a nice change of pace.
And even though I left close to an hour later than I would have liked this morning for Georgetown, the sidewalks were still pretty quiet. And I think I have daylight savings to thank for that.